Even though it was founded as early as 1898, Renault rarely caught the attention of automotive historians during its first 60 years of existence. Contrasting to the innovative and trend-setting Citroens, Renaults were conservative cars thus they could hardly enter the automotive hall of fame. This situation was finally broken in 1961 by R4, or simply Renault 4 as it was known later.
The R4 was usually seen as a late response to the hugely popular
Citroen 2CV
. Like the latter, it was designed to be a cheap and practical transport for the majority. It was also the first Renault model to follow the FF layout of Citroen, although its longitudinally mounted straight-4 was not as space-saving (this can be seen from its long bonnet). What really set it apart from anything else at the time was the hatchback body – some called it the first modern hatchback, but in essence I think it was closer to today's small MPVs. Its rear bench seat could be tipped forward or even detached to place cargo. Its flat floor and top-hinged tailgate made loading easy. This was especially useful for young couples and small families to go picnic or camping in the countryside on weekends, suiting the new lifestyle of 1960s.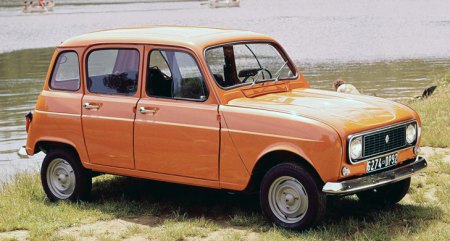 Meanwhile, millions of French farmers also found the R4 highly suitable to their needs. Its all-independent suspensions by torsion bars provided a soft and long-travel ride needed on country roads. Its small engine, which would evolve from 747 cc, 845 cc to 1108 cc, kept running costs to the minimum despite of modest performance. Its simple construction enabled low purchasing and maintenance costs. From the bolt-on body panels, flat windscreen, sliding front windows, basic interior to the engine's close-circuit cooling system, the R4 was designed to be cheap to maintain and repair. Moreover, its separate floorpan and body structure allowed variants like cargo van to be built easily and cost effectively.
Thanks to such a versatile character, the R4 was hugely popular. In its super-long lifespan of 33 years, some 8.1 million units were sold, placing it just behind Volkswagen Beetle (21.5 million units), Ford Model T (15 million units) and Fiat Uno (8.8 million units) in all-time sales chart. Moreover, it promoted Renault to be a global car maker. It was marketed in 100 countries worldwide and assembled in 28 countries, including Morocco and Slovenia where its production ended in 1994.