For the purpose of motor racing, Renault created the exotic
R5 Turbo
in the early 1980s. 20 years later, the same format was revived on the Renault Sport Clio V6, albeit this time primarily for the fun of car enthusiasts. The Clio V6 was the brainchild of British racing ace/engineering consultant/contract manufacturer TWR, the company that brought us exciting cars like Jaguar XJR-15, XJ-220, Aston Martin DB7, Volvo C70, Saab 9-3 Viggen and Holden HSV before its bankruptcy. Tom Walkinshaw was searching for a new product to fill the excess capacity of his assembly plant at Uddevalla, Sweden. It resulted in this modern-day R5 Turbo and the partnership with Renault.
Like its spiritual predecessor, the Clio V6 was derived from the mass production Renault supermini but heavily modified and converted into a funky mid-engined machine. Its much wider tracks and slightly longer wheelbase were masked with extra glass-fiber body work that looked really beautiful and stunning. The cooking Clio donated its windshield, windows, mirrors, head and taillights and much of the interior parts to save cost and simplify production, but these did little to hurt its head-turning appeal. Even facing a Porsche Boxster the Clio V6 could easily stand out.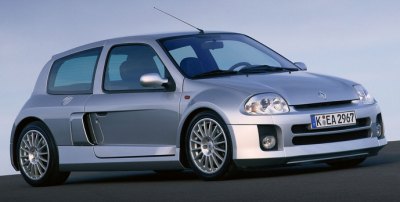 As the production Clio RS already got a 172hp 2-liter engine, the mid-engined exotic needed something more special – what about a 3.0-liter V6? This "French national" V6 was tuned to produce 230 horsepower and 221 pound-foot of torque, giving the little car a claimed performance of 147 mph and 0-60 mph in 6.1 seconds. Moreover, with six cylinders hopefully it could deliver the smoothness, sound quality and image to match the premium sports cars from Porsche and BMW. This also placed it at a unique market position to avoid direct comparison with the likes of Evo, STi or Elise, which were undoubtedly faster and better to drive. Clever.
The transverse V6 and 6-speed gearbox were mounted on a lattice of structural members taking place of what used to be the rear seats. Instead of the original torsion beam rear axle, there was a new multi-link setup to handle the extra performance. Front suspension, though still a MacPherson strut setup, was also new and it was mounted on a stronger new sub-frame. Bigger wheels, wider tires and more powerful brakes were adopted.
While the car had strong showroom appeal, it wasn't as good to drive. Critics said its engine was lazy, slow-revving and hampered by tall gearing. Its performance was worse than claimed and, more embarrassing, was virtually no quicker than the lesser Clio RS because its extra power was largely offset by the extra weight of 265 kg. The cable-operated gearshift was light and crisped, the steering was communicative, but the handling was not perfect. The combination of short wheelbase and a heavy engine that sat high and right above the rear axle could be a nightmare to chassis engineers. To tame oversteer, TWR built quite a lot of understeer into the suspensions and softened the rear roll stiffness. In regular driving, the car felt secured enough, with good grip and traction afforded by the 235 rear tires. Pushed it harder into corner, its rear end rolled a lot more than desired. If you lift off throttle mid-corner at this time, it would spin suddenly like an old-school 911. There was no ESP to save it, so on wet surfaces this could be scary.
Fortunately, most of these weaknesses were corrected by the makeover introduced in 2003. The Mk2 Clio V6 could be distinguished from its facelifted front end (like other Clios). TWR was no longer involved as Renault Sport took back its development while production was shifted to the ex-Alpine Dieppe factory to reduce shipping costs.
Porsche Engineering helped Renault to improve its engine to 255 hp, thanks to hotter camshafts and a bigger intake plenum with shorter manifolds. Peak power now arrived at 7150 rpm, accompanied with delicious noise. The gearbox got a 10 percent lower final drive ratio and the first 3 gears got closer to help keeping the V6 on boil. Performance became easier to access. Renault claimed it improved to 153 mph, 0-60 mph took 5.6 seconds and 0-100 mph could be done in just over 14 seconds, although those figures were once again hard to be replicated.

On the other hand, the tricky handling was sorted by a 23 mm longer wheelbase, a 33 mm wider front track, increased front castor angle, a stiffer rear subframe, thicker anti-roll bars (now connected via drop links to make cornering more progressive), slightly stiffer springs, even larger wheels and wider rear tires. The result? On dry surface, it behaved much more friendly. Pushed hard into corners, it still understeered strongly, but lifted off and the rear end just went out a little bit. This could be countered easily by opposite lock. Handling on wet surface remained a problem though. The too much rear axle roll was also sorted out with these modifications. Now both axles rolled in sync and overall stability was high. The Mk2 was much better to drive than the original. No, it was still no Evo, but it was equally irresistible, thanks to its special looks/construction and the fact that it kept its driver deeply involved in the process of driving, something sadly lost in most modern performance cars.