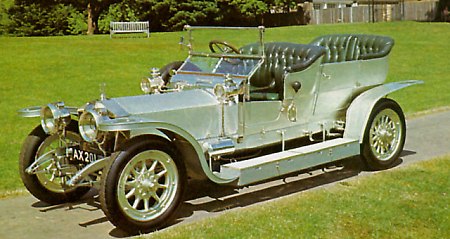 "The Best Car in the World", that was what Rolls-Royce Silver Ghost reputed for in its time.

In the early days of last century, motor cars were mostly rough, noisy and unreliable. In contrast, Rolls-Royce Silver Ghost had a very refined powertrain. Its straight-six engine employed a strong crankcase and 7 main bearings such that vibration was virtually eliminated. Because it was so smooth and quiet, it got the nickname "Silver Ghost" beside its original model designation 40/50 HP.

Following the practice of many European luxury car makers, Rolls-Royce built only the chassis, leaving the body work to be finished by a variety of coach-builders according to customer's requirements. As a bare chassis weighed about a ton, the finished car should be very heavy. Nevertheless, the 7036 cc engine offered a respectable (for its days) 48 hp to enable a top speed about 60 mph. Later on it was enlarged to 7428 cc, producing up to 80 hp and achieved close to 80 mph. While performance was never its strength, it wasn't lacking.

Reliability was also its strength. As a principle of Henry Royce, RR always made cars as strong as possible without considering weight, size and price. This allowed the Silver Ghost to set many long-distance running records. No wonder it was converted to armoured military vehicles during the first World War, serving the troops in Middle East and Africa, including the famous Lawrence of Arabia.

However, by far the majority of the 7876 cars were built for the richest customers. The chassis alone cost about US$5000, roughly 10 times of a Ford Model T!