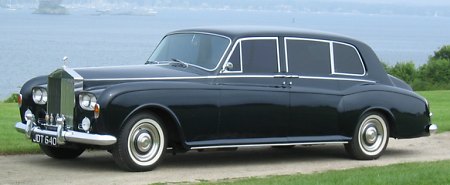 The Phantom line had always been the most luxurious and expensive model in Rolls-Royce' family tree. The earliest Phantom was introduced in 1925 as the replacement of Silver Ghost. It kept evolving after WWII. Some people might rate the Phantom IV of 1950-56 as the classiest of the breed, as only 18 units were built for royal families and the richest people in the world. However, I reckon the most memorable should be the following Phantom V and VI, because they had been in production for an incredible 31 years, influencing our impression on Rolls-Royce a lot.

The Phantom V debuted in 1959. No matter mechanical-wise or styling-wise, it was derived from Silver Cloud II. The ladder frame chassis had its wheelbase extended to an astonishing 3.7 meters so that the Phantom could accommodate 7 people on board – usually with a pair of occasional seats in the middle row. The chauffeur was separated from the passenger compartment by a glass partition so that he could not hear the argument between Elizabeth and Charles. The conservatively-styled body works must delight the Queen and her servant, the governor of Hong Kong. They were mostly built by coachbuilders Park Ward or Mulliner, which were later absorbed into the company. Silver Cloud II donated its new, all-alloy 6.2-liter V8, which produced an estimated 200 horsepower, and 4-speed automatic transmission. No one cared about how fast it travelled or accelerated, but obviously the 2.5-ton-plus limousine was not renowned for performance in any way.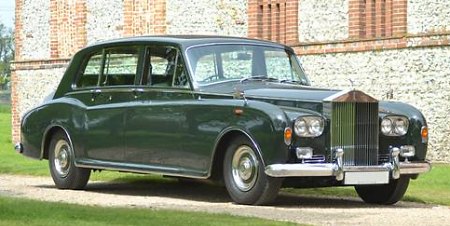 The Phantom VI, introduced in 1968, was virtually the same car with minor revisions. It continued to be built to special orders – Rolls-Royce still received one or two dozen orders a year, even though by now the car's live-axle suspension and body-on-frame structure became outdated besides the independent stuff and monocoque of Mercedes S-class and its fearsome brother 600 Pullman. As early as 1963 the 600 Pullman already became the best limousine in the world. Poor and weak Rolls-Royce had nothing to respond. Somehow, it outlived and outsold the big Mercedes, just. In 1978, it adopted the 6.75-liter version V8 from Silver Shadow. Power was, well, adequate again. It soldiered on for 12 more years. By the time the Phantom left the world in 1990, the art of coachbuild bodyworks also left together with it.