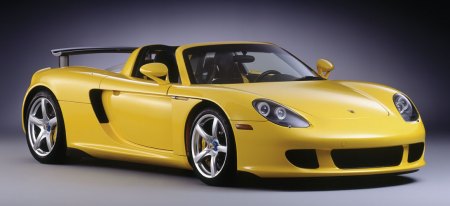 Following 959 and 911 GT1, Porsche lost interest in the high-risk/low-return business of supercars. It had just recovered from its worst financial crisis. New CEO Wendelin Wiedeking committed all resources to new generation production models, including the highly controversial Cayenne SUV. Hardcore fans were not amused, of course. To raise cash to develop the SUV, Mr. Wiedeking sacrificed the company's famed tradition in motor racing. He terminated the development of a new Le Mans challenger, even though the latter had almost completed by then. Perhaps to silence the opposition from fans and internal, he commissioned the R&D department to build a supercar concept based on the new V10 engine and carbon-fiber tub of the stillborn Le Mans car, and displayed at Paris motor show in late 2000. Not exactly a serious prototype it might be, the Carrera GT concept got overwhelming reception and many expressed interests of ordering ones. However, Wiedeking was reluctant to confirm its production until Jan 2002, when he had received more than 1000 advanced orders and was sure the project would make money. The development program got greenlight and 2 years later, the first production Carrera GT rolled off the Leipzig plant.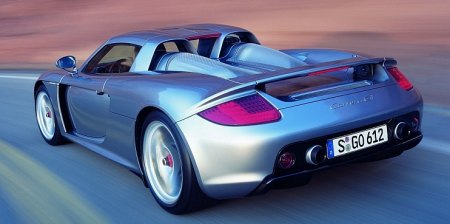 Priced at £330,000 when new, the Carrera GT was 15% dearer than contemporary arch-rival Pagani Zonda, but cheaper than the £450,000 Ferrari Enzo and its predecessor, the £550,000 GT1. Considering as many as 1270 cars were eventually produced, it might not represent as good an investment as its rarer rivals. However, in pure engineering and driving terms, nothing this side of a McLaren F1 could be a better purchase.
The Carrera GT was not another road-legal race car like 911 GT1. Despite of its racing roots, Porsche re-engineered it extensively to suit everyday use. One of the examples was the chassis: the original Le Mans car had its engine bolted directly onto the carbon fiber tub (F50's drivers should know how bad the resultant noise, vibration and harshness could be). The Carrera GT had its engine and rear suspensions mounted to a cage-like carbon-fiber subframe via hydraulic mounts in order to isolate NVH from the cockpit. That was the world's first carbon-fiber subframe, lighter than the alloy subframes commonly employed by other supercars.

Unlike Ferrari and Pagani, Porsche's new supercar employed a V10 engine. It was not only shorter than a V12 (thus benefited weight distribution) but also lighter – 214 kg compared with Ferrari Enzo's 225 kg. However, the most significant advantage to Carrera GT was that its V10 was mounted very low in the chassis, thanks to a new ceramic clutch (PCCC, or Porsche Carbon Ceramic Clutch). The toughness of ceramic materials allowed the clutch to be made much smaller in diameter yet capable of handling tremendous torque. As a result, the engine crankshaft could be positioned very close to the floorpan, lowering center of gravity. Coupling to the ceramic clutch was a transverse 6-speed manual gearbox which reduced intrusion to the rear overhang thus resulted in lower polar moment of inertia.

The V10 engine was a development from the racing unit. Main modifications included stroking out from 5.5 to 5.7 liters to improve torque output and extra strengthening to achieve the reliability and durability demanded by road cars. Strangely, the V10 had a V-angle of 68° instead of the supposedly smoothest 72°. Its firing was uneven, alternating between 68 and 76°, but that was hardly perceivable. The 5733cc unit was made of aluminum alloy. Nikasil cylinder liners ensured minimum friction generated between bores and pistons. The pistons themselves were made of forged aluminum while connecting rods were titanium. This allowed the engine to rev freely to 8400 rpm. As for breathing, the cylinder heads had conventional 4 valves per cylinder. Intake valve timing was continuously variable, but exhaust timing was fixed and there was no such things like variable intake manifolds or exhaust. The combustion chambers ran at a super-high 12.0:1 compression. Moreover, their oversquare profile, with 98 mm bore and 76 mm stroke, favoured rev and power. At 8,000 rpm, it produced 612 horsepower, which translated to an impressive 106.8 hp per liter. Maximum torque was a little less impressive at 435 pound-foot.
Suspension was provided by double-wishbones at all corners. The front suspensions were mounted directly to the carbon-fiber tub. They were connected to racing-style inboard springs and dampers through pushrods, just like the rear suspensions. To cut unsprung weight, most suspension components were made of aluminum, while the wheels were magnesium items. Further weight was saved by PCCB brakes, which consisted of 380 mm ceramic disc and 6-piston aluminum monoblock caliper at each corner. The 265/35ZR19 and 335/30ZR20 rubbers were specially developed by Michelin for the car.
Thanks to the carbon-fiber tub, the Carrera GT could be designed as a Targa without hampering chassis rigidity and handling. The 2-piece carbon-fiber roof panels could be stored at the front boot. The interior was more stylish and made of higher quality than the production Porsches, although it lacked the exclusivity of Pagani. Ergonomics was excellent for a supercar, especially thanks to the high-mounted shifter (which had an oddball wooden knob). As the travel from steering wheel to gear knob was greatly shortened, gearshift became much quicker and easier. Moreover, the shift mechanism was short and slick thus it was a pleasure to use.
Fired the engine, engaged the clutch and you would need some luck to avoid stalling the engine. The ceramic clutch might be strong, but it was difficult to engage smoothly, like an ON-OFF switch, requiring practice and skill. Once the problem was overcome, you would fall in love with the V10. Not only making exciting noise, it was so free revving and so smooth that it felt more like a racing engine, even more so than a Lamborghini V10. The power delivery was absolutely linear, without the explosiveness of some rivals thus performance was easily accessible on public roads.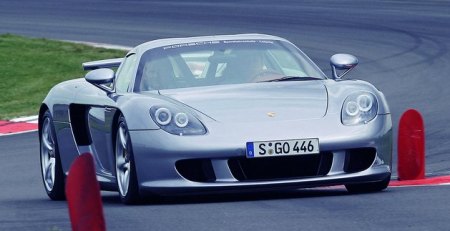 As the engine and transmission were so obedient, you would love exploiting the potential of the chassis, which was remarkably stable and well balanced. This car was better tied down to ground than Ferrari Enzo – more stable and more neutral. It also contained its power better – in the Ferrari, the driver always felt the engine overwhelm the chassis so that the ASR traction control intervened frequently; In the Porsche you felt the right balance between power and handling. It was therefore capable to corner faster than the Ferrari. Porsche's legendary test driver Walter Rohrl claimed the car could beat the Ferrari in Nurburgring despite of its poorer power to weight ratio. His best time was 7 min 28 sec.
Like many supercars bar Pagani, the Carrera GT was not designed to be driven on bumpy B-roads. Its low-speed ride was fidgety, while the steering felt a little numb at lower pace. As the road opened up and speed increased, the ride settled, the steering feel and response improved gradually and eventually communicated with the driver in a way Ferrari Enzo could never dream of. It begged you to exploit its performance envelop. The harder it went, the better it felt.
Its straight line performance might be slightly inferior to Ferrari Enzo, but still 0-60 mph in 3.6 seconds and 0-100 mph in 7 seconds flat were outstanding numbers at its time, at least before the arrival of Bugatti Veyron. As for top speed, the Carrera GT claimed 205 mph. It didn't quite match Ferrari, Pagani and even the earlier Bugatti EB110 and Jaguar XJ220. Blame must go to its "spyder" styling and downforce oriented aerodynamics, which resulted in a drag coefficient of 0.396. Porsche didn't care at all. All it wanted to do was to build a supercar focused on real-world dynamics rather than pursuing wild figures. From this perspective, the Carrera GT was a great success, because it combined the sharp driving thrills of smaller and lighter sports cars with the huge performance and cornering prowess of supercars, something usually mutually exclusive. This made it a rare diamond in the history of supercars.