Call the 914 as the forgotten Porsche and I think no one will disagree. Today, few old guys still remember this car, and even fewer young generations know its existence. It is quite unbelievable that back in the late 1960s to the mid-1970s some 118,947 copies of this car were built, yet the number helped little to gain a reputation that a Porsche deserved. This was because the 914 was not a genuine Porsche but a child of the unhappy marriage between Porsche and Volkswagen.
Planning of the new entry-level Porsche started in 1966. Ferry Porsche realized that 912 (i.e. the 911 powered by VW's four-cylinder engine) was too expensive and slow to be popular. He needed a cheaper replacement. However, to build an affordable sports car would inevitably need higher economy of scale. Therefore he turned to local giant Volkswagen for help. The idea was that Porsche to design and develop the car and Volkswagen's factory to assemble it. Both would get their versions to sell, and the Porsche version would offer more powerful engine, of course. In this way, Porsche would get the giant manufacturer's production power, component sourcing and tooling cost sharing, while Volkswagen would have a product to replace its slow-selling Karmann-Ghia coupe, so this was supposed to be a win-win solution. Having got the verbal agreement by VW boss Heinz Nordhoff, Porsche started the development work of 914.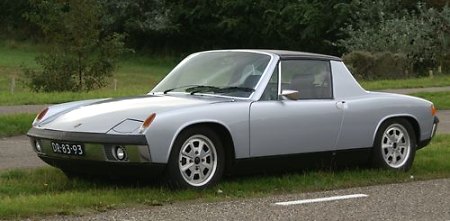 Unfortunately, Nordhoff died suddenly in 1968. His successor Kurt Lotz was not so keen on the project. He revised the terms of the contract in favor of his company. The result was that the car would be offered in 4-cylinder form called 914 and 6-cylinder form called 914/6. The former would be sold under the strange badge "VW-Porsche" in Europe, or simply "Porsche" in the USA but the distribution was actually to be responsible by VW. Production would be handled by coachbuilder Karmann, which was a close partner of VW. The 914/6 was to be exclusive to Porsche, but it would have to pay a very high price to purchase the body from Karmann and then transferred to Zuffenhausen, where Porsche's powertrain was fitted. This led to the six-cylinder car costing 70 percent more than the four-cylinder model and seriously hurting its competitiveness.
Comparatively, the engineering was far more straightforward. Mid-engined layout was chosen instead of the traditional rear-engine for the benefit of balance and image, considering Lotus and Ferrari had already introduced Europa and Dino 206GT in 1966 and '67, respectively. Porsche and Volkswagen's horizontally opposed (boxer) engines were so short that they could be packed easily behind the cockpit and in front of the rear axle. Located aft of the rear axle was the 5-speed gearbox. The MacPherson-strut and torsion-bar front suspensions were taken from 911, whereas the rear employed semi-trailing arms with coil springs. The steel monocoque body was designed by external design house Gugelot Design GmbH, no wonder it looked completely different to traditional Porsches – something delighting Volkswagen but displeasing fans of Porsche. Due to the low nose, it employed pop-up headlamps to comply with the US regulation for minimum headlamp height. It had a glass-fiber Targa roof panel which could be stored in the boot. The boot was large but shallow because underneath which was the gearbox. The front boot accommodated the spare tire as well as extra luggage. Total luggage capacity was a remarkable 460 liters, so the 914 was highly practical. In Porsche fashion the cockpit was spacious, with minimal door sills and central tunnel. Instrumentation was clear, ergonomics was good, but the seats were criticized as too flat.
When it went on sale in late 1969, the 914 was powered by Volkswagen's 1.7-liter air-cooled pushrod boxer engine. It offered just 80 horsepower. 110 mph top speed and 0-60 mph in over 12 seconds were probably good to Volkswagen, but definitely not the performance a Porsche deserved. Oddly, the 911-sourced gearbox had a poor gearchange in this car. It worked a lot better with the Porsche 6-cylinder engine. The latter came straight from the outgoing (pre-1970) 911T, displacing 2.0 liters and producing 110 horsepower. It enabled the car to top 125 mph and sprint from rest to 60 in less than 9 seconds. Motoring journalists were generally pleased with its performance as well as handling, which was better balanced than the 911 at the limit. However, the 914/6 cost nearly the same as the new, 2.2-liter 911T, which was faster, better built and looked more graceful. Blame to its "un-Porsche" looks and Karmann's lower standard of build quality, the 914 was never accepted as a real Porsche. As implied by its VW-Porsche badge, it was something between a VW and a Porsche.
The unreasonable price meant 914/6 survived for only 2 years, with only 3351 units sold. By 1972, it was replaced with 914/4 2.0, powered by Volkswagen's new 2-liter pushrod flat-four with 100 hp. Performance was definitely improved over the old 1.7-liter, although it still failed to match rivals with more modern engines, such as Fiat 124 Spider, Alfa Romeo Spider, Lotus Elan Sprint and Datsun 240Z. The gearshift problem was finally sorted out. Sales of the four-cylinder 914 remained pretty strong until its replacement by 924 in 1976. However, it did not earn much profit for Porsche. Neither did it earn the recognition from Porsche hardcores.