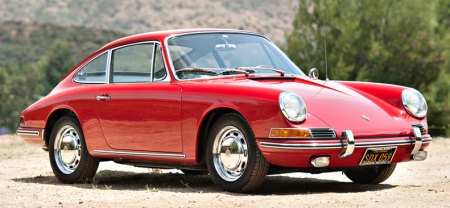 The earliest 911 2.0
Porsche's first production car, 356, was an unexpected success. It earned a good reputation and turned its maker into a volume sports car manufacturer. However, owing to its Volkswagen roots its development potential was running out in the late 1950s. As a result, Ferry Porsche started working on its successor. It kept the now-famous "Porsche" shape and 2+2 seating. Rear-engined layout was once again favoured as Ferry believed front-engined machines had little potential in motor racing, but this time a more powerful six-cylinder boxer was chosen to take performance to a higher level. The car was a clean sheet design and it no longer borrowed parts from mass production manufacturers – with an annual capacity of 10,000 cars, Porsche was now large enough to fund its exclusive design. The car was originally called "901" following its project number, but as Peugeot objected to the use of its traditional three figures designation with a zero in the middle, Porsche simply renamed it to "911". This would become the most iconic name in automotive history…

Although the tradename 911 is still being used to great effect today, historians see only the cars built from 1964 to 1998 as the classic 911. Admittedly, there were not a single component shared between the first and the last cars, but they did share the same bloodline as the car evolved gradually and continuously during those 34 years, in contrast to the leap-frog approach of the following 996. One indicator was the flat-six engine, which remained old-fashioned air-cooled throughout the years. Therefore many people simply referred the classic 911 to "air-cooled 911".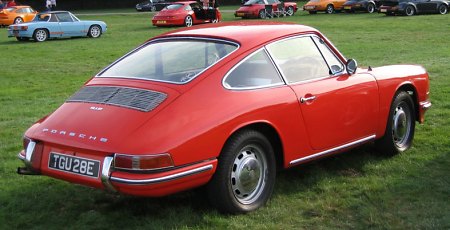 The earliest 911 2.0
The original Type 901 engine displaced only 1991 cc and produced 130 DIN horsepower. It was constructed with aluminum heads and crankcase, biral cylinders (cast-iron cylinder liners with aluminum cooling fins casted around), cast-aluminum pistons, forged steel crankshaft and 7 main bearings. Each cylinder head had a single overhead camshaft operating 2 valves. The exhaust valves were hollow and sodium-cooled. Obviously, its high-specification design had a lot of potential to upgrade – the original idea was to be capable to enlarge to 2.7 liters, but with some miraculous works it eventually grew to 3.8 liters many years later!
The steel monocoque body was narrower but considerably longer than the 356, although its rear seats remained no more than child seats. Its styling was responsible by "Butzi" Porsche, son of Ferry. Practicality was well taken care as space-saving MacPherson struts were chosen as front suspensions to enable a usable front boot. At the rear, semi-trailing arms were adopted in place of swing-axles to tame oversteer.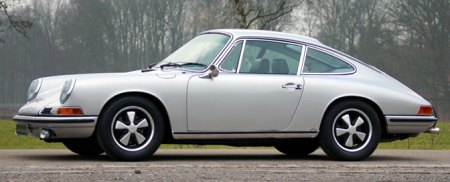 911 S
When British magazine Motor tested the original 911 in 1964, it was impressed with the engine's smoothness and its willingness to rev to 6800 rpm. For a 2-liter motor, its 130 hp output was impressive, but even more so was the 130 mph top speed and 0-60 mph acceleration of 8.3 seconds. Praises also went to its fully-synchromesh 5-speed manual gearbox, which changed gears effortlessly, and the powerful all-round disc brake. Unexpectedly, Motor reported that the 911 had virtually no rear-engined handling characteristics, thanks to adequate tuning of suspensions. At least that was how the tester viewed it for normal driving on dry roads. However, on slippery surfaces or when the car was pushed to its (albeit very high) limit, oversteer would come suddenly with little warning as body roll and tyre squeal were largely absent. This nervousness would be tamed with wider rear tires, extended wheelbase and more sophisticated suspensions in the following years. The early 911 did require an advanced driving technique to maximize its performance, i.e., slow in fast out. Should you master it, the big oversteer would be a great help to exit corner quickly.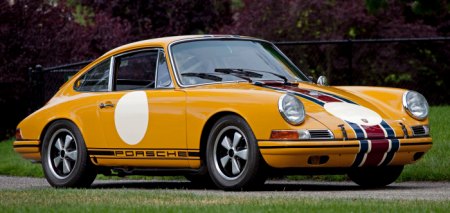 911 S was keen to take on motorsport

That special handling characteristic means the 911 was a good basis for motor racing. In 1967, Porsche introduced 911 S to fulfill that task. While the engine remained at 2.0 liters, it got larger valves, higher compression ratio and forged pistons to boost output to 160 hp. Light alloy wheels (with the signature 5-leaf design) and ventilated disc brakes were employed. Performance improved to 138 mph and 0-60 mph taking only 6.5 seconds according to independent test by respected racing driver and motoring journalist Paul Frere.

The 911S was only part of the act to differentiate the 911 range and widen its audiences. As early as 1965 Porsche transplanted the 356's 1600cc pushrod 4-cylinder engine to the 911 body, creating a cheaper model called 912. Unfortunately, it was not well received by the market, so 3 years later it was replaced with 911T, which had the standard 6-cylinder engine detuned to 110 hp, and its gearbox was downgraded to 4-speed to enable a lower price. Meanwhile, the standard 911 took care of the majority customers. It would be renamed to 911L and then 911E later on.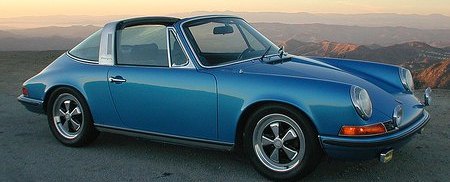 The early Targa
1967 also saw the first Targa, a 911 with removable roof panel and wraparound glass rear window. That was the closest thing to open-air motoring until the arrival of 911 Cabriolet (1982) and Speedster (1989). The concept of Targa would evolve to full-length sliding glass roof in the 1996 version.
The 2-liter engine soldiered on for the first 6 years. Entering the 1970s, it started growing gradually as a response to stronger competition and tightening emission regulations, firstly to 2.2 liters (1970), then 2.4 (1972), 2.7 (1974), 3.0 (1976), 3.2 (1983) and 3.6 liters (1989) for the standard engines. This was made possible by advanced technologies developed and proven in racing programs. Besides, each evolution received up-to-date technologies such as fuel injection, electronic ignition, engine management system, increased compression ratio, variable intake, freer exhaust and lighter moving parts, although the fundamental SOHC and air-cooling architecture was never deviated. Power output increased and kept the 911 competitive throughout its live.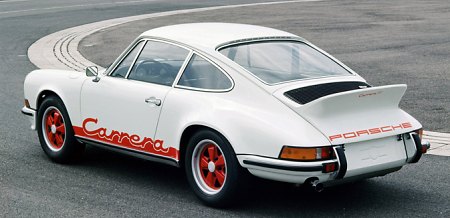 Carrera RS 2.7 is jewel of the crown
To many hardcore 911 drivers, the 1973 Carrera RS 2.7 was probably the best 911 of all. This car was created to homologate for Group 3 GT racing – hence the name Renn Sport (race sport), so everything was designed to be lightweight – thinner body panels, hollow doors, thinner glass, lighter buckets, no rear seats, no sound-deadening materials and of course no equipment at all. It tipped the scale between 960 and 975 kg, undercutting the regular car by nearly 100 kilos. At the same time it got a far more powerful 2.7-liter motor, which utilized Nikasil cylinder coating to enlarge its bore to 90 mm and to reduce friction. The result was 210 horsepower, 150 mph top speed and 0-60 mph in an astonishing 5.5 seconds. That straight line performance was more than enough to beat any contemporary supercars this side of Ferrari Daytona, let alone any rivals with six cylinders or less than 3000cc of capacity!
In terms of overall performance, the RS was even more impressive. It had the sharpest handling and the most feelsome helm to aid storming through the twisty. A new "ducktail" spoiler was introduced to reduce aerodynamic lift at the rear. No wonder it is still a formidable player in vintage racing today. Porsche built a total of 1,036 lightweight RS, plus another 564 units finished in fully-equipped form. It is the most sought after 911 of all.
Just one year later, the Carrera RS evolved to 3.0 liters and 230 hp. It formed a stronger basis for race car, though the road car was actually slower than the 2.7 due to its increased weight and larger frontal area. Only 106 cars were built. The RS 3.0 can be distinguished from the 2.7 with wider rear fenders and a "whale tail" spoiler.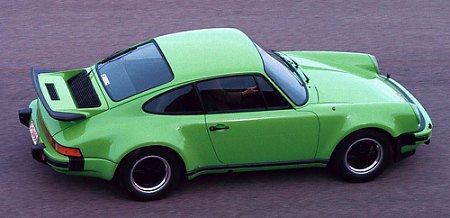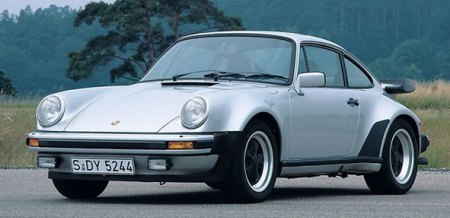 Turbo 3.0 (top) and Turbo 3.3 (bottom) had wider rear track
The same "whale tail" spoiler can be found on next year's 911 Turbo 3.0. This was the first turbocharged Porsche road car as well as one of the pioneers of the technology. A KKK turbo boosted its output to 260 hp, accompanied with a lot of mid-range torque. By using a recirculating valve to keep the turbine spinning without stress under off-boost, it managed to reduce turbo lag significantly, getting rid of the biggest drawback of contemporary turbocharged engines. The Turbo provided superior in-gear acceleration hence more accessible performance than the racy Carrera RS, thus it was quicker in the hands of ordinary drivers. Tail-happy handling was largely tamed by wider rear rubbers and rear track (which necessitated those signature flared fenders), although it still demanded respect from its driver.
In 1978, the Turbo engine was enlarged to 3.3 liters and added with intercooler, pumping output to a full 300 horsepower. It took only 5.3 seconds to sprint from 0-60 mph, making itself the most accelerative production car in the world, beating even the mighty Ferrari 512BB and Lamborghini Countach LP500. Braking was also upgraded so that finally matched its performance, thanks to 4-pot aluminum calipers and ventilated discs. In later years, the Turbo 3.3 was improved further with electronic fuel injection/ignition and finally a 5-speed gearbox (early version used a 4-speed unit to handle its strong torque). It was a long-lasting model, surviving for 13 years from 1978 to 1991 without major makeover.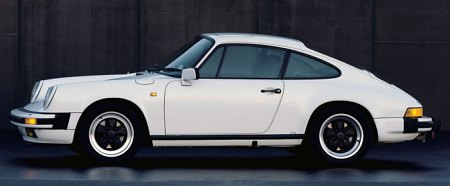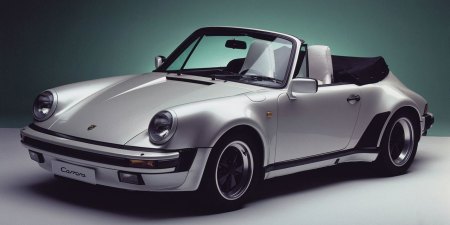 Carrera 3.2 in standard form (top) and Turbo-Look Cabriolet body (bottom)
Running in parallel to the Turbo was the naturally aspirated 911 SC (1978-82). Under the direction of Dr. Ernst Fuhrmann, the director of Porsche then, the 911 was to be replaced by 928 and phase out in a few years' time. Therefore its development was reduced and the naturally aspirated models were replaced by a single model, SC. Its 3-liter engine was detuned to 180 hp in order to prevent it from having a higher top speed than 928. That was probably the darkest days of the line during its 34 years history. Nevertheless, sales of the 911 remained stronger than its supposed successor. By the time Fuhrmann was replaced by Peter Schutz, the latter scrapped the previous plan and restarted the development of 911. Eventually it would outlast the 928 for more than a decade!
Consequently, the SC was not as good as it deserved thus it was less loved by fans. In contrast, the succeeding Carrera 3.2 (1983-89) was far more welcomed. Its larger engine, with Motronic engine management system, improved output to 231 hp, lifting performance to more than 150 mph and 0-60 mph in just 5.4 seconds. Later, a variety of derivatives were introduced, including the Turbo-Look body, Cabriolet, Club Sport (the striped out version) and Speedster (with cut-down windscreen and a simple soft top like the original 356 Speedster). Meanwhile, the Turbo 3.3 got a special edition Turbo SE, which incorporated a 935-style "slant nose" and pop-up headlamps along with higher turbo boost and a steep price hike. Thanks to these derivatives, the 911 line was given a new lease of life.
Type 964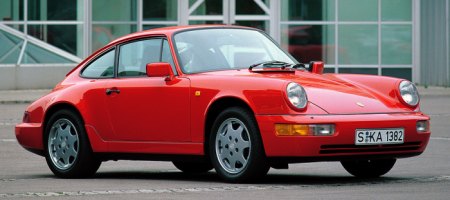 964 Carrera 4
Until now, the 911 was still 911. In 1989, the largest ever update was introduced accompanied with a new codename, 964. Although the car was still evolved from the old, Porsche claimed 87 percent of parts had been changed. Externally, the body got more aerodynamic thanks to smooth bumpers, flat undertrays and an automatic retractable rear spoiler. This reduced its drag coefficient dramatically from 0.42 to 0.32. The flat-six received heavy modifications hence a new codename M64. It was bored and stroked to 3.6 liters, employed a high compression ratio of 11.3:1 which was made possible by twin-spark ignition, knock sensor and advanced Motronic engine management. A 2-stage resonance intake manifold was introduced to improve mid to high speed power. All told, the new engine produced 250 hp yet it complied with all international emission standards.

In the chassis, the front MacPherson strut got coil springs instead of the traditional torsion bars. At the rear, the semi-trailing arm was converted to aluminum and its new tuning enabled passive rear-wheel steering. However, the biggest breakthrough must be the introduction of 4-wheel drive, hence the new name Carrera 4. The 4WD system was a simplified version of 959's unit, with electronic-controlled torque split and an active rear LSD. Ridiculously, it turned the rear-engined machine into an understeerer thus many customers actually preferred the RWD Carrera 2.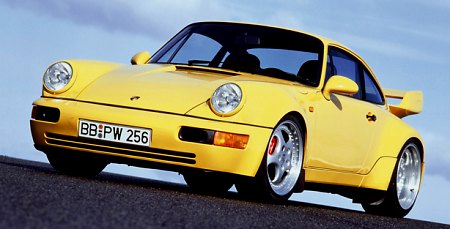 964 RS 3.8
Derivatives of the 964 series included Tiptronic, Carrera RS (260hp, harder suspension and less weight), Turbo 3.3 (320hp), Turbo 3.6 (360hp and 0-60 in 4.5 sec) and Speedster. Near the end of its life came two more hardcore special editions. The RS 3.8 was again designed for racing. Its engine got the ultimate enlargement to 3746 cc thanks to 102 mm bore. This liberated a full 300 hp. Turbo-Look body got a bi-plane adjustable rear spoiler, aluminum doors and rock-hard suspensions. Porsche built only 100 units of RS 3.8 and its racing version RSR.
Meanwhile, Turbo S was prepared by the motorsport department based on the old 3.3-liter engine. It was heavily tuned to 381 hp. Racing treatment like thinner glass, striped-out interior, no rear seats, composite doors/bonnet/engine lid allowed it to undercut the standard turbo by 190 kg. However, it was quite difficult to drive. Only 81 cars were made to special orders.
Type 993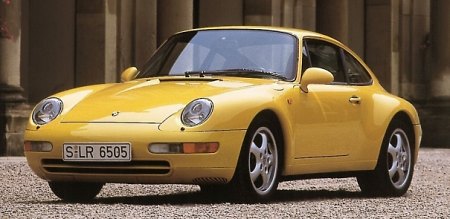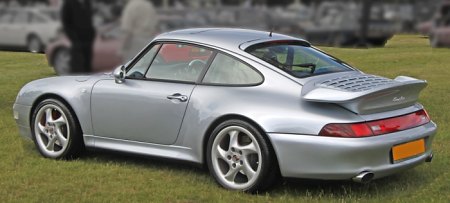 993 Carrera (top) and Turbo (bottom)
No one would have thought the already radical 964 would receive even more radical changes, especially those used to the rhythm of the 911's development. Somehow, that happened in 1993, and the new car got a codename 993. The biggest change of 993 was the aluminum-intensive multi-link rear suspension that was developed from the project 989 canned a few years back. It improved wheel control, ride and NVH suppression a lot over the old semi-trailing arms, finally making the 911 the best handling sports car around. The body shell also got big changes. It was strengthened by 20 percent, front and rear tracks were widened considerably, the frog-eye headlights were tilted back to enable a sleeker shape, and the bonnet was raised to increase luggage space. The 3.6-liter engine got lighter pistons and con-rods and reduced back pressure, boosting output to 272 hp. Later on, the introduction of Varioram 3-stage variable intake system lifted that figure further to 285 hp along with 29 lbft more mid-range torque. The 993 was the last and also the best generation of classic 911. Nothing could be better than leaving in this way.
As before, the 993 introduced a lot of derivatives, including Carrera 4 (now used a simple viscous-coupling 4WD to save weight), Carrera 4S (the Carrera 4 in Turbo's wide body, bigger wheels and brakes) and Turbo. The latter got twin-turbo, 4-wheel-drive and 6-speed gearbox for the first time. 408 horsepower and superior traction enabled really astonishing performance – 181 mph and 0-60 in 3.7 seconds! Who would believe the kind of 959 performance could be achieved by a standard production car just a few years later?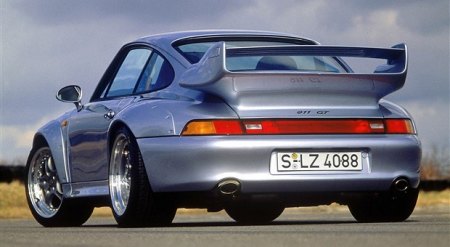 Both 993 RS (top) and 993 GT2 (bottom) were destined to motor racing
993 also offered an RS model. 300 hp 3.8 engine, sportier suspension, bigger brakes and a weight saving of 100 kg resulted in the sharpest handling among all 993 models. To keen drivers, it was probably the most satisfying 911 since the RS 2.7. Meanwhile, GT2 was created to take part in FIA GT2 class racing. This car used a 3.6 twin-turbo engine boosted to 430 hp. 200 kg of weight was shed by the usual RS diet and by reverting to RWD. It was the fastest air-cooled 911 of all. Only 50 units were built.
In the early 1990s, Porsche was hit by global recession and Japanese competition. It nearly got into bankruptcy. Luckily, the successful launch of 993, accompanied with softened Deutsch mark and the burst of Japanese bubble economy, let Porsche to recover gradually. However, a lesson was learned. When new CEO Wendelin Wiedeking arrived, he decided to launch a new small sports car called Boxster. It would share a third of components with the next generation 911 for better economy of scale. This meant the latter had to be redesigned from ground up. The result was the all-new Type 996, launched in 1997. No matter engine, chassis, exterior and interior, all things were new.
Before the classic 911 went into history, a farewell edition called Turbo S was built. With 450 horsepower, it would be ultimately the most powerful air-cooled 911, if not as fast as the lightweight GT2. Finally, in April 1998, the last "real" 911 rolled off the Zuffenhausen production line. Since 1964, a total of 401,232 units were made, among which 32,335 cars were Turbo and 69,137 were the last generation 993. That was the end of a great era.