Undoubtedly, Porsche has the most successful track records in motor racing among all car makers. Since the early 1960s, we saw countless of racing cars came out of Weissach and dominated endurance and GT racing. In race circuits, from Le Mans to Nurburgring, from Sebring to Daytona, usually half of the field was filled with Porsche machines, most of which were privateers rather than factory teams. To its competitors, the word "Porsche" meant nightmare while the numbers 911, 917, 935, 956, 962 etc. were... well, just like counting the number of their victories! All these successes started with 550 Spyder, the first purpose-built Porsche racing car.
Before the birth of 550, Professor Ferdinand Porsche created several awesome racing machines, including Mercedes SSK and Auto Union's V16 mid-engined Grand Prix car. His son Ferry also designed a spectacular GP car for Cisitalia, which had incredible features like a supercharged flat-12 engine, part-time 4-wheel drive and mid engine. Motor racing seemed to be in the DNA of Porsches. However, as Ferdinand effectively retired from work since WWII (before his death in 1951), while Ferry was concentrating on creating the company's first production car 356, their first racing car was not developed until the summer of 1952. The development was led by Huschke vo Hanstein. It was the company's 550th project.
Porsche was still a small company then. Although some money was earned by engineering consulting services to subsidize the program, it still had to utilize existing suspension parts and wheels from the 356, incorporated in a ladder chassis which was also modified from the 356. Engine, again from the 356, was tuned to 78 hp from 1500 cc. Nevertheless, the resultant 550/1500S was still unmistakably a racing car because of its lightweight aluminium body, low center of gravity (the ladder frame ran under the axles), minimal frontal area and the mid-engined layout, a first for Porsche. Weighing at just 545 kg, the car won the 1500cc class German sports car championship that year, 1952.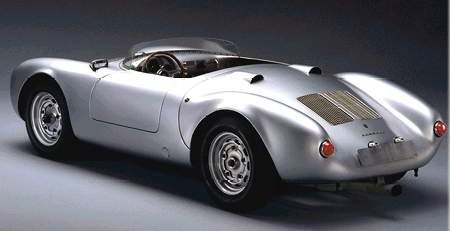 Next year the car was developed into 550/1500RS, which featured a new engine it deserved – a 1498cc boxer four with 4 camshafts and twin-spark plugs per cylinder. This was very advanced by contemporary standards, and each engine took enormous time to build and tune. With 110 hp and a still-outstanding 600 kg weight, no wonder it continued to dominate class racing. Later versions got an upgrade to 5-speed gearbox and a power boost to 125 hp.
Porsche built 8 racing prototypes before selling the car to customers in 1954, which got the name 550 Spyder for better marketing in the USA. About 90 units of 550/1500RS were completed from 1953 to 55. Most of them were used for racing, but some customers used it as road cars, too. One example was actor James Dean, who crashed his 550 Spyder on a California highway and lost his life. The 550 might be road legal by the loose legislation then, but it was certainly not designed to be a safe road car.
Porsche improved the 550 again in 1956. The new car, now called 550A, received a new tubular space frame chassis which was not only lighter but added 3 times torsional rigidity over the ladder chassis. The engine was boosted to 135 hp. 550A handled a lot better than its predecessor.
As the car remained unbeatable in the 1500cc class for nearly a full decade, Porsche became a famous name in motor racing. From 1960 it terminated all development of the 550 and prepared to take a new challenge in F1... I can tell you that was a failure, but after that when Porsche refocused on GT and endurance racing, greater successes came and lasted for nearly 3 decades...