With 5.3 million units sold, Peugeot 205 was unquestionably a big success. It was known for a tasteful design, neat packaging and exceptional ride and handling for a small hatchback. However, what put it firmly as a milestone in automotive history was its hot version, the 205 GTI. Introduced in 1984, the GTI set new standards for hot hatches in chassis dynamics. While some rivals might be faster – for example Renault 5 GT Turbo – the little Peugeot was more entertaining to drive. Its communicative steering loaded up massively in corners to engage the driver. Its 185-width rubbers produced more than enough grip to handle its sub-1-ton kerb weight, but its suspension was set to ride on the knife edge. Its dynamic balance depended very much on throttle. Lift off mid-corner and it would respond with quite dramatic oversteer. Worked skillfully with trailing throttle and counter steer, the car would slide through corners at your will, flowing through twisty mountain roads as if a rear-drive sports car. Such a deep interaction between man and machine had lost in modern cars. Perhaps this is why the 205 GTI is getting more and more adored by car enthusiasts as time goes by. Today, most regard it as the best hot hatch ever built.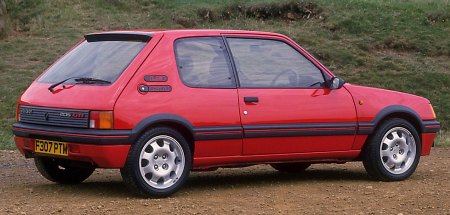 The early 205 GTI was powered by Peugeot's 1.6-liter SOHC 8-valve engine. Compare with Japanese twin-cam 16-valvers it sounded a bit outdated, but at least it got all-aluminum construction (benefiting balance) and a good manner, being smooth, flexible and eager to rev. Performance was sparkling, if not class-leading. 1986 saw the engine improved to 115 hp thanks to larger valves and hotter cams. It enabled a freer top end without losing low-end response. Performance improved to over 120 mph and standing start acceleration to 60 mph took 8 and a half second. A close-ratio gearbox and light gearchange suited perfectly the use on mountain roads.
In late 1986, a long-stroke, 1.9-liter and 130 hp version of the engine joined the range. The resultant 205 GTI 1.9 offered much improved flexibility and straight line performance. 0-60 mph now dipped under 8 seconds. Stiffer suspension setup reduced pitch and roll at the price of ride quality. Oversteer was tamed to be more progressive, giving the driver more time to correct. However, the extra torque meant the 1.9 was more prone to wheelspin if the driver was less gentle on throttle. Purists thought the 1.6 had a better balance between power and handling.
Great cars deserve great success. The GTI enjoyed a long production run of 10 years and a remarkable sales total of 333,000 units, and that's not including its cabriolet version 205 CTi.