Packard Twelve (1932)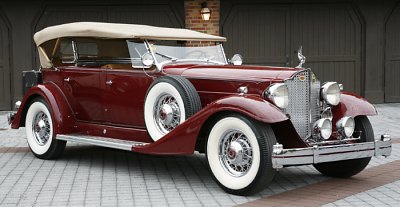 Packard jumped to the premier league of luxury motoring with the 12-cylinder Twin Six in 1915-1923. However, the V12 was expensive to build. To increase sales and attract wider audiences it turned to use cheaper 6 and 8-cylinder inline engines. Cheaper new models helped it to survive the Great Depression triggered by the 1929 Wall Street crash (its rivals Pierce-Arrow and Peerless were not so lucky), but by the time Cadillac introduced V16 in 1930 and V12 a year later, Packard felt it had to respond in order to keep its status as the top American luxury car brand. The answer was a new generation V12 model, which was called Twin Six again in the first model year and then renamed to Twelve in order to distinguish from the lesser six-cylinder models.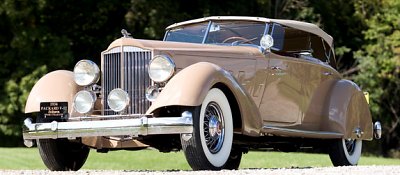 The Twelve was conservatively styled, but it looked graceful and pleasing to the rich people that could afford it. Again it was available in various body styles, including some specials from coachbuilders. As the chassis alone weighed 1900 kg, the whole car was guaranteed to exceed 2300 kg, or even 2600 kg in the heftiest versions. The V12 was all-new but the technology it employed changed little from the last Twin Six. An L-shape cylinder head breathed through side valves that were driven by a single camshaft located in the V through rockers. The V-angle was widened slightly to 67 degrees. Displacement increased to 445 cubic inches or 7.3 liters. Its 160 hp output lagged behind the 175 hp Cadillac V16, let alone the 320 supercharging horsepower of Duesenberg SJ, but it guaranteed peerless smoothness and quietness. Output increased to 175 hp in 1935 with new aluminum cylinder heads and a displacement increased to 473 cu (7.8 liters), by now the Twelve could top 100 mph.

No, the Twelve was never renowned for performance or innovations. What it achieved were the best craftsmanship, materials, customization and running refinement. It represented the golden era of American luxury cars.
Specifications
Model

Packard Twelve


Year of production


1932-39

No. produced

7,000 units


Layout, Gearbox

Front-engined, Rwd, 3M

Engine

V12, side valves, 2v/cyl


Capacity

7300cc (from 1935: 7756 cc)


Power

160 hp (from 1935: 175 hp)


Torque

322 lbft


Weight

2310-2600 kg


Top speed

100

mph

0-60 mph

20 sec

---
Copyright© 1997-2012 by Mark Wan @
AutoZine