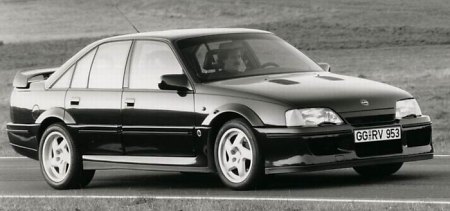 In the road test conducted by Autocar magazine in 1990, Opel Lotus Omega (or more precisely speaking its British equivalent Vauxhall Lotus Carlton) recorded some astonishing performance figures: 0-60 mph in 5.1 seconds, 0-100 mph in 11.1 seconds and 30-70 mph in 3.8 seconds. These figures not only put its key rival BMW M5 and Mercedes 500E in shade but also edged out top tier sports cars like Ferrari Testarossa and Porsche 911 Turbo! As for top speed, although the British magazine had no suitable facility to verify its claim of 176 mph, Lotus engineers said they saw 175 mph in Italy's Nardo test track, and the test car did that with four people on board! This was easily the fastest saloon in the world, and it would keep that title for many years.

The super saloon started life as a standard Opel Omega 3000GSi 24v. It was shipped from Germany to Britain where extensive modifications carried out. The straight-six engine got new forged pistons and forged steel crankshaft to stretch its capacity to 3.6 liters. Two Garrett turbochargers and an intercooler boosted its output to 377 horsepower, nearly matching Ferrari's 12-cylinder boxer engine, accompanied with an astonishing 419 pound-foot of torque. In comparison, the M5 and 500E offered only 266 lbft and 354 lbft, respectively. Moreover, its peak torque arrived at merely 2500 rpm, no wonder the Lotus Omega accelerated like a rocket.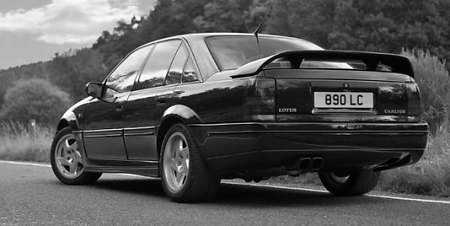 Predictably, there were enhancements to the rest of the car. To handle its tremendous power it employed an ZF 6-speed gearbox that was originally developed for Chevrolet Corvette ZR-1. Top speed was achieved at 5th as the top gear was an overdrive. The semi-trailing arm rear suspension of the standard Omega was converted to a multi-link setup with vastly better geometry. 17-inch alloy wheels shod with fat rubbers offered enhanced traction and grip, as was a limited slip differential. Huge ventilated disc brakes, measuring 330mm front and 300mm rear, accompanied with four-pot calipers provided astonishing stopping power – and is still considered to be good today. Outside, the sounded aerodynamics of the original Omega meant Lotus needed no more than small spoilers and air dam to achieve zero lift at both ends and simultaneously a drag coefficient of 0.31. Inside was perhaps what it failed to impress, where bucket seats and leather trim met an appliance-like dashboard made of cheap plastics. After all, the Opel was not meant to be luxurious.

On the road, the driving experience was dominated by the powerful engine. This is not to say it drove like a hot rod. In fact, the Lotus Omega handled its power very well. Deliberate understeer and strong grip kept its tail planted up to very high limit. When its traction was overwhelmed, the tail swung out in a reasonably progressive manner, so it was not as difficult to drive as it sounded. Nevertheless, the Opel did lack the driver interaction of BMW. Its steering delivered little feel. Its ponderous gearchange was no match to M5's. Its turbocharged exhaust note sounded flat beside Mercedes V8. Its chassis didn't respond as crisply as its German rivals. As a result, its driving excitement centered strongly around the spectacular power and sheer speed.

Commerically, the Lotus Omega was not very successful with less than 1000 units sold. All cars were painted black. That said, the British-engineered performance saloon did lay a milestone in automotive history. It would take BMW, Mercedes and Audi more than 10 years to come up with faster machines.