Everybody loves high-tech powertrains, sophisticated chassis and classy interior, but in the real world our purchasing power is limited by wallets. Young drivers cannot afford fast BMW sedans or Italian roadsters – unless they have wealthy parents like Dustin Hoffman in The Graduate. In the 1970s, if you wanted an affordable coupe, your choices were pretty much limited to Ford Capri and Opel Manta. Built from off-the-shelf mass production parts, they were hardly perfect cars, but they were sold in huge numbers – 1.9 million Capris and 1.1 million Mantas in total – thus their significance to European motorists was just as strong as Ford Mustang to American drivers. Between them, I reckon the Opel was more worthy of our admiration. Although it was less popular in the English world (because the Capri was built in UK and Australia), it usually won comparison tests against its rival, thanks to a more modern design and superior handling.

We would skip the first generation Manta (1970-75) as it looked hopelessly outdated compared to the second generation, or Manta B, that arrived in 1975. Neither was the latter a work of art, but at least it followed the latest folding-paper school of design that allowed it to endure well into the mid-1980s, especially after some go-faster spoilers added in the 1982 facelift. Even if you don't like its looks, you would appreciate its no-nonsense proportion that gave its driver unrivalled outward visibility and its rear passengers generous headroom by the standard of 2+2, at least on the hatchback version. The interior was simple yet solidly built. Overall build quality was better than Ford and worthy of the German brand. No wonder some called it the poor man's BMW.

The Manta was derived from the component set of Ascona (the predecessor of Vectra). Its conventional rear-wheel-drive layout gave it a solid basis for good handling. While its live axle rear suspension was not exactly modern, at least it got coil springs (versus the leaf springs on Capri), and the front suspensions were double-wishbone type. Contemporary road tests found the Manta offered superb roadholding and chassis balance. Its understeer could be balanced by throttle and steering, and the resultant oversteer was easily controllable. Its steering offered superb feel and precision. Its effort built up naturally according to cornering speed, while the level of grip and surface texture telegraphed through the steering to the driver's hands. Equally confidence inspiring was its good manner at the limit of adhesion. Unlike Ford Capri, its cornering stability was not easily unsettled by bumps or mid-corner throttle lift-off. As a result, it could be driven faster and more fluently on mountain roads.
Less remarkable was its engines. The CIH (cam-in-head) family engines lacked both outright power and free-revving manner of the best overhead-cam engines. The early range-topping 1.9-liter unit produced only 90 horsepower to enable a top speed of 105 mph and 0-60 mph in 11.0 seconds (tested by CAR magazine). A larger 2-liter unit improved those figures to 100 hp, 112 mph and 10.7 seconds in 1979, and eventually 110 hp, 120 mph and 8.5 seconds in 1983 with the introduction of electronic fuel injection, higher compression ratio and 5-speed gearbox. At no stage the Manta had adequate performance to match its great handling. Sadly, it did not offer a 6-cylinder engine like Capri.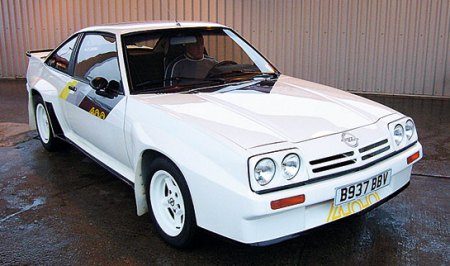 Manta 400
The only exception was Manta 400, a homologation special built to take on Group B rallying. The name 400 was employed to make a reference to the earlier Ascona 400, which was designed to FISA Group 4 specifications that required at least 400 cars to be built. By the time the Manta version was developed, the rules had changed to Group B already, thus only 200 cars needed to built. The car was developed jointly by Opel and German tuner Irmscher. Eventually 245 units were built, and most were used for racing.
The 400 was powered by a 2.4-liter DOHC 16-valve engine whose cylinder head was built by Cosworth and the block and crankshaft were derived from Opel's diesel engine, believe or not! In road trim it produced 144 horsepower, not quite remarkable for a 16V, but in racing tune it could produce up to 275 horsepower. The body shell of the road car differed little from the lesser Manta GT/E, but there was an optional kit from Irmscher to convert it like the rally car, with extended wheel arches made of Kelvar. Other modifications included all-round disc brakes, wider tires and a stronger rear suspension taken from the large Commodore sedan. The road-going version was claimed to be capable of sprinting from rest to 60 mph in just over 7 seconds, backed by a 130 mph top speed. For a Group B special, however, its performance was rather modest.
Back to the production Manta, it survived until 1988, well past its expected lifespan. Admittedly, in the last few years it became terribly outdated compared with the new generation Japanese coupes. Even so, in our mind the Manta remains to be the last rear-wheel-drive affordable coupe produced in Europe, one that offered great handling and value for money.