I used to have a soft spot for Nissan Silvia 200SX ever since seeing its rally car practicing for Hong Kong-Beijing rally in 1986 or '87. It must be the loudest engine noise I have ever heard until today. However, the road-going Silvia then was not quite outstanding. Not bad, but not good enough to be rated as classic either. It was not until the next generation S13 that took the 200SX to the prime time…

RS13 (1989)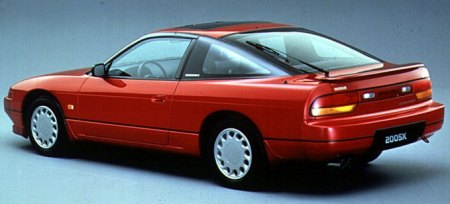 Good looking, fast, fun to drive and affordable, the 1989 200SX was as good boy racers could dream of. When other affordable 2+2 coupes, such as Toyota Celica FF, Honda Prelude, Volkswagen Corrado and Opel Calibra, had switched to front-wheel drive, the Nissan kept classic FR layout thus it had an inherent advantage in handling. Another advantage was performance. Its 1.8-liter 16-valve turbocharged engine produced 171 horsepower, taking the car from rest to 60 mph in less than 7 seconds and topping more than 140 mph, far quicker than other affordable 2+2 coupes on the market. Thanks to turbocharging, it could be easily modified to deliver big power and performance. No wonder it was a favourite to car tuners and boy racers.

Codenamed RS13, the 200SX was born as a sportier derivative of Silvia S13. Despite of much the same underpinnings, its exterior design was definitely more delicious – more streamline and more futuristic. Apart from fashionable pop-up headlights and 300ZX-style full-width taillights, it got a few nice touches, most notably the glass-covered greenhouse and hidden pillars. This made it look incredibly sleek and high-quality.

Contemporary motoring journalists also preferred its road manner. CAR magazine of UK praised it for progressive power delivery, little turbo lag, great performance and an accomplished chassis, although its light power steering was not renowned for communication. Autocar magazine was equally impressed, described it as a giant killer and "the best Nissan for years".

It must be noted that in Japan this car was called 180SX instead to reflect its actual engine displacement. It kept the name even though its engine was upgraded to a 2-liter 16V turbo with 205 hp a couple of years later. Ridiculously, European car was called 200SX from the outset but it would never receive the 2-liter engine. The most honest was the American market 240SX, which employed a 2.4-liter non-turbo engine with far less firepower. Only the Japanese version got gadgetry 4-wheel-steering option.

The RS13 was so popular that Nissan kept selling it in Japan for an incredible 10 years. This mean its production ran in parallel to the next generation S14 until its grandson S15 was born.

S14 (1993)

The biggest achievement of S14 Silvia 200SX was probably that it demonstrated how a sounded basis could be ruined overnight. Theoretically, its direct predecessor was the civilized S13 Silvia instead of the sportier RS13 mentioned above, but still we didn't quite understand why Nissan made it so much softer and uninspiring. Even by the standard of civilized GTs it looked conservative and old-fashioned, more 1960s than 1990s. A facelift in 1996 attempted to add a bit more aggressiveness but the result was another failure. Not just styling, the suspension setting also went soft, deteriorating body control and response in exchange for more ride comfort. Inevitably, such a change of tone did not please motoring journalists.

On the plus side, the car had its performance improved. The SR20DET engine was adapted from the last domestic market 180SX, fitted with a larger turbo and a new intake variable valve timing system. It pumped out 220 hp in Japan or 200 hp in Europe (American version 240SX again employed a 2.4-liter NA engine which hardly caught my attention), raising performance to 146 mph at least and 0-60 mph in 6.4 seconds, just enough to keep rivals at bay. Besides, rear-drive adjustability was still its advantage, as it was the last breed of rear-drive affordable coupe on sale.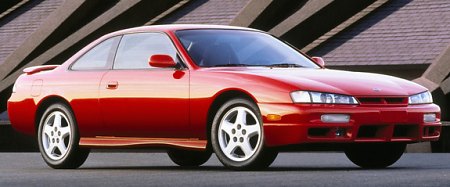 S15 (1999)
S15 went on sale in the beginning of 1999, replacing S14 and S13 180SX altogether. In terms of styling, it bounced back in flying colors. A sleeker, faster proportion incorporated stylish headlights and rear fenders inspired by Ferrari 456GT, in addition to the must-have aero kits it looked really striking. The underpinnings were largely carried over from the old car but with plenty of improvements. In order to enhance agility, its body shell was made shorter, narrower and slightly lower. A transverse brace was added to reinforce the rear structure. The suspension remained struts up front and multi-link at the rear, but its tuning was thoroughly reworked to tighten handling. This resulted in far better body control and turn-in response, despite of a hard ride. A helical limited slip differential enabled better traction and a progressive power slide.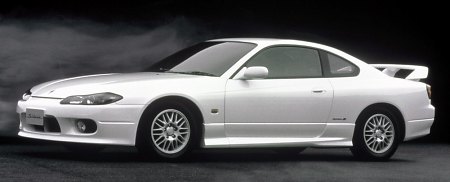 Thanks to an enlarged intercooler and new turbo, the SR20DET engine was improved to 250 horsepower, enabling a class leading performance that eclipsed Fiat Coupe 20V turbo, Alfa Romeo GTV V6 and Honda Integra Type R. Equipped with a new Aisin 6-speed manual gearbox, it was good for 153 mph and acceleration from 0-60 in merely 5.5 seconds. Sadly, few people outside Japan could see such a giant-killing performance as the Silvia was no longer exported, except to Australia and New Zealand where the engine was detuned to 200 hp.

Apart from performance, the S15 was renowned for good handling. Its linear power delivery, well-weighted and precise controls (steering, brake and throttle) offered great feedback and inspired confidence. The FR chassis was very well polished after all those years of development. It made possible an uncorrupted steering and adjustable power oversteer that were missing on its rivals. As a result, it was usually rated as the best driver's car in the class. On the downside, the long-serving platform showed its age in comfort and refinement, e.g. a hard ride, lots of drivetrain noise and vibration, tire roar, a stiff gearshift, cramped rear seats and a small trunk.

Unfortunately, at the time Nissan ran into financial crisis. Le Cost Killer Carlos Ghosn decided to cut excess nameplates and concentrated resources to fewer core models. The Silvia was one of the victims. Its production ended just after 3 and a half years. Rear-drive affordable coupes would be absent from the world for the next decade until the arrival of Toyota 86 / Subaru BRZ.