No other cars are more worthy of the name "living history" than Morgan. Since 1936, Morgan's 4/4, Plus 4 and Plus 8 series of sports cars had changed little. Not only they retained the classical appearance of pre-war sports cars, they still relied on old-fashioned technology, such as a ladder chassis, ash wood-frame body, sliding pillar and live axle suspensions, to name a few. Somehow, old fashion became the most valuable asset of the British car maker. People buy Morgans solely for their old-fashioned looks and driving experience. The more outdated they look and the more flawed they drive, the more attractive they are. No wonder the company still enjoy a healthy order backlog when most other British sports car companies either got broke or fell into the hands of foreigners.
The original Morgan sports car was named 4/4, meaning 4 wheels and 4 cylinders (in contrast to the 2-cylinder 3-wheelers that Morgan used to produce). In 1950 it was joined with a more powerful model called Plus 4. However, what made the Morgan famous was the 1968 Plus 8, which introduced Rover's 3.5-liter light-alloy V8 into a chassis adapted from Plus 4. With 161 horsepower to propel a car weighing just 900 kilos, it was once the fastest accelerating British car. 0-60 mph was achieved in just 6.7 seconds, although the wind-blocking shape started working against acceleration from 100 mph, and eventually called the job done at 124 mph. Following its footprints, TVR and Marcos also started using Rover V8 on their low-volume sports cars to deliver big performance.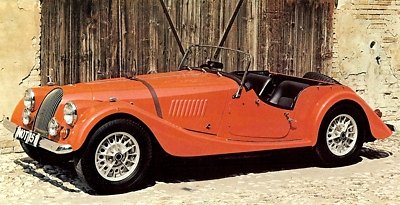 Between 1968 and 2004, Morgan built around 6,000 Plus 8s, which should return a good profit considering its negligible investment. Morgan always resisted the idea of modernization, but still it had to update the car to comply with new emission and safety regulations. Thankfully, Rover / Land Rover kept updating its V8 in the following 30 years, so Morgan could take a free ride and only needed to adapt its car to fit the new engines. The original 3.5-liter engine saw its output dropped to 155 hp and then bounced back to 190 hp in 1983 with the introduction of electronic fuel injection. It was then enlarged to 3.9 liters in 1990 and then 4.6 liters in 1997, getting cleaner yet improving performance a little. The chassis was largely untouched through the years, except in 1976 it was widened by 5 inches to accommodate wider tracks. In later years, Morgan made the Plus 8 more luxurious by trimming its interior with leather and wood, and even fitting air bags. Its market positioning was gradually shifting from a performance bargain to a luxurious collectable.

Following the demise of Rover V8, production of Plus 8 came to an end in 2004. Morgan turned its attention to the more modern Aero 8 but found there was still strong requests for bringing back the old-looking car. Therefore in 2012 the Plus 8 was reborn. Now it had the Aero 8's aluminum chassis, all-independent suspensions and BMW 4.8-liter V8 good for 367 hp. In other words, a new car dressed in old looks only.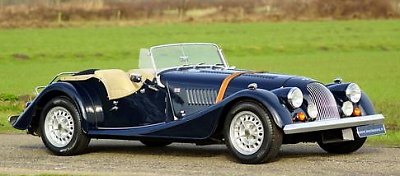 Back to the classic Plus 8. How did it feel like on road? Quite terrible actually. While its performance looked good, it could get terrifying at high speed. With ancient non-independent suspension and a weak chassis, not only it was crashy on bumpy roads but any small bumps or road irregularities on motorway could hamper its stability, leading to the lost of traction and grip and even spectacular slide. This could be difficult to save as the unassisted steering was slow yet heavy. Likewise, the unassisted brake was difficult to modulate smoothly. Such a poor combination of handling and ride was rare in 1968, let alone in the following 36 years. Meanwhile, the cramped cabin was an ergonomic nightmare. Its serious lack of width meant you have to drive with one elbow outside the cockpit and another rubbing with the passenger's. The narrow seats punished long-distance journey. Ditto the steering wheel that was always too large and too close to the driver. On the plus side, the open cockpit exposed you to the raw engine noise and rush of air flow. As some motoring publications said, the Morgan Plus 8 was thoroughly outdated but strangely engaging to drive in a bad way.