Mitsubishi Space Wagon (1983)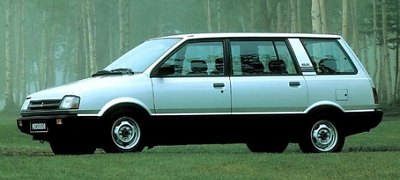 Most people remember Chrysler's Voyager/Caravan and Renault Espace as the pioneers of MPV. However, in my opinion Mitsubishi Space Wagon should be given greater credit. Previewed in Tokyo motor show as early as 1979 and went on sale earlier than its rivals in February 1983, the Space Wagon was unquestionably original. Moreover, given four years of thoughtful development, it was also better finished than its rivals. Based on a modern car platform with front-wheel drive, transversely mounted engine, all-independent suspensions and an efficient small engine, the Japanese MPV drove like a proper car rather than a van. The driver seated low as in ordinary cars. Its handling was good and ride comfort was exceptional. The 1.8-liter engine delivered adequate performance and good economy. Noise was well insulated from the cabin. This was easily the most car-like people courier of its days!

The Space Wagon was smaller and lighter than its rivals. It measured only 4.5 meters long and weighed less than 1100 kg, but its interior was highly accommodative. The 3 rows of seats could take 5 adults and 2 children with comfort. While the interior configuration was not as flexible as Renault, both the last 2 rows could be folded to expand cargo space. In addition to low prices and running costs, it was considered to be great value for money. No wonder it was hugely popular in the 1980s. Most Japanese cars had a model cycle of only 4 years, but owing to its exceptional competitiveness Mitsubishi let it survived for 8 years until replacement by the second generation in 1991.

Specifications
| | |
| --- | --- |
| Model | Space Wagon |
| Year of production | 1983-91 |
| No. produced | N/A |
| Layout | Front-engined, Fwd |
| Engine | Inline-4, sohc, 2v/cyl. |
| Capacity | 1755 cc |
| Power | 89 hp |
| Torque | 97 lbft |
| Gearbox | 5M |
| Weight | 1073 kg |
| Top speed | 99 mph* |
| 0-60 mph | 11.8 sec* |

* Tested by Motor


---
Copyright© 1997-2012 by Mark Wan @
AutoZine