1990s was a dream decade for affordable coupes. Masterpieces like Alfa Romeo GTV, Fiat Coupe, Nissan Silvia 200SX, Honda Integra Type R and Peugeot 406 Coupe were all born in the decade. Even though facing such strong rivals, Mitsubishi FTO still caught the hearts of many car enthusiasts with its characterful design, good chassis dynamics and a great engine. Not many affordable coupes can be described in the same way.
Unlike many contemporary designs, the FTO's sculpted shape was truly unique. When the car was introduced in late 1994, I was not totally convinced with its styling as it appeared a little weird to me. However, over time the FTO grew on me. By the time Chris Bangle revolved the world of automotive styling with complicated surfacing, the FTO was proved to be 10 years ahead of its time. Today, whenever I see an FTO on the street – though it is no longer a common sight – I can't help amazed how timeless it is. No matter the original model or the post-1997 facelifted model (shown in the last picture below), the FTO still looks up to date. This should be one of the best designs Japanese manufacturers have ever created!

Apart from good looking, the car was also good to drive. Its best element was engine. While most rivals opted for four-cylinder turbo or big V6 engines, the Mitsubishi used a DOHC 24-valve V6 displacing only 1998 cc. It offered the smoothness that four-pot engines could only dream of, and a frugality and low weight that conventional V6s failing to match. The lack of capacity was compensated with MIVEC, i.e. Mitsubishi's take on VTEC, which switched from slow cams to fast cams once the needle went past 5500 rpm. As a result, the turbine-smooth V6 could spin to sky-high 8000 rpm, and released 200 horsepower at 7500 rpm. Inevitably, torque delivery was less remarkable, but at least that guaranteed the absence of torque steer, so front-wheel drive was never an issue to the FTO. The 5-speed manual gearbox with its slick and short-throw gearshift helped extracting performance from the peaky engine. The same went for the light and progressive clutch. Road test found the car was capable of reaching 140 mph and accelerate from standstill to 60 mph in less than 7 seconds, not exactly a canonball but fast enough to most drivers.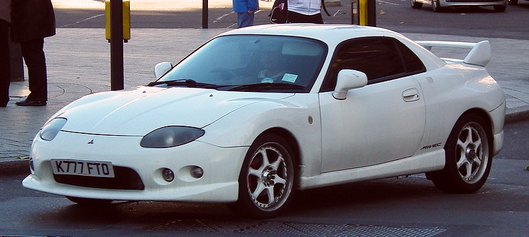 The FTO handled direction change very well, too. Its firm-setting suspension resisted roll and enabled very high cornering limits. Its quick and accurate steering and linear power delivery allowed the driver to exploit the chassis to the full. At the limit it understeered gently. Back off and it tucked its nose into corner without biting you. This car was easy to drive fast.
The downside? Its interior didn't look as good as its exterior, and the rear seats were no more than decorations. More torque and higher performance would not be a bad idea. However, as an everyday affordable coupe, the FTO had little to complain. No wonder it was voted Japanese Car of the Year in 1995. If not because of the domestic economic recession and the lack of left-hand-drive version, it would have been more successful commercially.