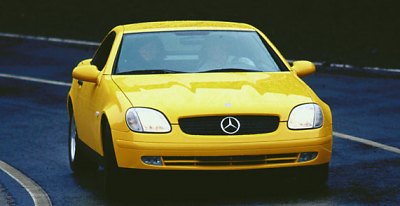 The roadster booming period started from mid-1990s brought us plenty of choices for open-air motoring: Mazda MX-5, Rover MGF, Fiat Barchetta, Lotus Elise, Toyota MR-S, Honda S2000, BMW Z3, Porsche Boxster… However, none of them delivered the same impact to the market as Mercedes SLK. To understand why, you only need to observe how it opens its roof: press a button on the dashboard, the boot lid opens and a folding metal roof rises automatically by means of electrohydraulic mechanism. Within 25 seconds, the open car is converted into a hardtop coupe !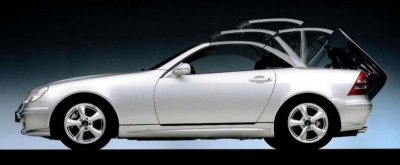 The SLK was not the first car employing retractable hardtop, but it was the first successful example. Why ? because its roof system was very well engineered, being reliable, cost effective and relatively space-saving. It offered the best of both worlds – the freedom of a roadster when the roof was down, and the chassis rigidity and noise insulation of a coupe when the roof was up. It added little weight to the car, so it did not blunt performance. Moreover, the roof operation was really spectacular to look. I suspect many people bought SLK simply for its visual impact.
In seven and a half years, Mercedes sold 308,000 units of SLK, making it the best selling roadster of its time. In the best year it sold 55,000 cars, but even at the end of its life it was still outselling other roadsters on the market. One can see how successful it was.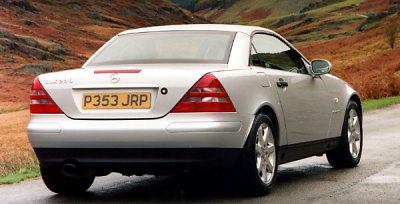 Of course, the success was not purely down to its innovative roof. It also took a stylish look (like a cartoonish SL), quality interior packaging and a reasonable price to succeed. Priced between BMW Z3 and Porsche Boxster, it was deemed to be a bargain considering that roof and a 3-pointed star at its nose. Many people were fascinated with the idea that it was a poor man's SL – at only half the price you got much the same envy sights.
Nevertheless, stepping down from SL to SLK you lost not only space but also some driving dynamics. Although the supercharged 2.3-liter four-pot produced plenty of power (193hp) and torque (206 lb-ft), hence competitive performance, it was notorious for excessive vibration and uninspiring noise at high rev. Not a graceful engine compared with BMW straight-six and Porsche boxer. The 5-speed automatic was not clever enough to know what the driver thought. Considering its short, 2400mm wheelbase, its ride and handling combination was okay, but the old fashioned recirculating-ball steering never inspired the driver.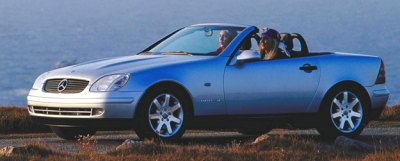 A makeover in year 2000 improved its handling and ride a little, as well as introduced a much sweeter 3.2-liter V6. Next year, AMG modified the car into SLK32 AMG. Its highly tuned supercharged 3.2-liter V6 produced some 354 horsepower, enabling the super roadster to sprint from rest to 60 mph in less than 5 seconds ! However, without a better chassis, the SLK32 AMG was more a hot rod than a Boxster beater. In fact, the first generation SLK will not be remembered for driving dynamics. Its greatest achievement is still the innovative retractable metal roof, which arrived the market at least 4 years before others.
Above: SLK32 AMG