If not the first ever 4-door coupe, Mercedes CLS was at least the first to implement this idea successfully. It attracted 170,000 customers in 6 years and opened a new market segment.
When I first saw its pictures in 2003, the CLS was not so amusing to me. Its radical sculpture, especially the banana-shaped side profile, looked over the top. However, once saw it on the street, I became a fan of its styling. Under natural sunlight it appeared striking, sexy and above all, unlike any other cars on the street. It was a rare exception in nowadays' increasingly common automotive designs. Moreover, it realized the 4-door coupe concept much better than anyone else – if you don't believe, just have a look at Passat CC and you will see what I mean. On the one hand, it preserved enough interior space for four adults and their luggage. On the other hand, it achieved the same visual sleekness and emotional sculpture of coupes. It is this design that earns CLS a place in AutoZine classic car archives.

Style aside, the CLS was predictable if you are familiar with Mercedes of the period. It was derived from the E-class (W211) platform and shared all the major components such as V6 and V8 engines, 5 and 7-speed automatic transmissions, multi-link suspensions, Airmatic DC air springs and adaptive damping, intelligent brake-by-wire... even the wheelbase was unaltered. To achieve the stylish shape, Mercedes made it 95mm longer, 51mm wider and 27mm lower. To give it a sportier ride, its suspensions were stiffened and its steering was quickened by 10 percent. On the road, the CLS was satisfyingly sportier than the E-class, rivaling BMW for driving fun.
Unless you choose AMG models, the CLS was no faster than the E-class with equivalent engines, because it was actually slightly heavier. At launch, Mercedes offered two engines: the mainstream 3.5-liter 24-valve V6 with 272 horsepower, or the more premium 5.0-liter 24-valve SOHC V8 with 306 hp. The latter was an old engine, so it did not bring much performance edge over the V6. In 2006, Mercedes replaced the old V8 with a new, 5.5-liter DOHC 32-valve unit producing 388 horses and 391 pound-foot of torque. This improved its performance a lot.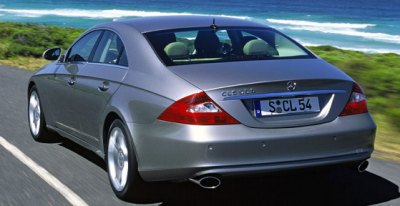 One important thing the CLS did not carry over from E-class was its interior, because it got a completely new dashboard. Seas of wood and leather tailored in style to make you feel like driving a Jaguar coupe. (Note: when it was launched, CLS was dubbed as "Jaguar fighter") Much improved fit and finish washed away the unfavourable memory in the past decade, signaling the first revival of true Mercedes quality. Naturally, the cabin sacrificed a little bit headroom and rear legroom, though six-footers would fit into it. Coupe-low driving position, higher waist lines and shallow windows delivered a sporty driving environment unfound in any other 4-doors.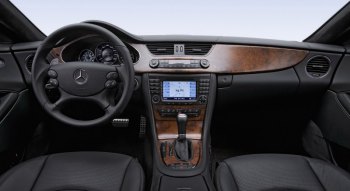 The best version of CLS had always been the AMG models, because they had even sportier styling and chassis tweaks, not to mention jaw-dropping performance. The early CLS55 was powered by the iconic 476hp 5.5-liter supercharged V8 which was first introduced to SL55 AMG a couple of years ago. Zero to sixty mph was claimed to be possible in 4.6 seconds, though many found even quicker. It had performance and handling to match BMW M5 yet it was surprisingly relaxing to do so.
In 2006, the CLS55 gave place to CLS63 following the retirement of the supercharged V8 and the arrival of AMG's new 6.2-liter 32-valve naturally-aspirated V8. Output increased to 514hp, though it lost the sensational bottom-end torque of the old engine. In return, it compensated with a more beautiful sound and new-found eagerness at the top end, as shown by its 7200 rpm cut-out. Thanks to the reduced peak torque, CLS63 could adopt the new 7G-Tronic gearbox instead of the old 5-speeder. Overall performance was more or less the same as CLS55.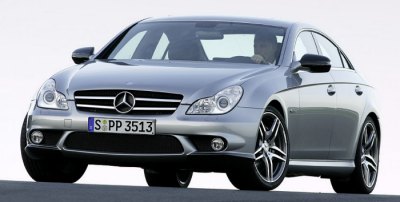 Although we thought BMW M5 was more involving to drive, we declared the CLS63 AMG as the best sports sedan on the market, thanks to its combination of desirable styling, bespoke interior and effortless performance. That was not a small achievement. However, what makes history remembers the first generation CLS is still its trend-setting design as a stylish 4-door coupe. In a few years time, many rivals would follow suit.