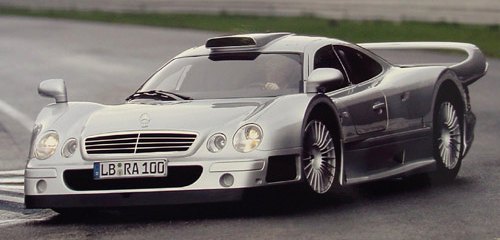 There was only one reason driving Mercedes to build this supercar just after the burst of supercar bubble: to enter motor racing. Since the mid-1990s, FIA loosened its regulations to encourage more manufacturers to take part in its World GT Championship. They no longer needed to produce hundreds of road cars for homologation. Just 25 samples would be enough. Even more ridiculous, The sport governing body actually inspected one car prior to approval, allowing the remaining cars to be completed within a reasonable timeframe. In April 1997, the CLK GTR race car debuted in the Hockenheim round of FIA GT Championship. The first customer road car was completed nearly 2 years later (at the end of 1998), by the time the race cars had already won 2 consecutive championships !
Even considering its rarity, the CLK GTR road cars were incredibly expensive. Each of them fetched £1.1 million, or $1.6m in America or €1.7m in Europe. That was twice the price of McLaren F1 ! Its production was carried out by HWA, the motorsport and specialized car division of AMG. In total, HWA built 20 CLK GTRs between 1998 and 1999. Yes, it did not quite meet the minimum homologation requirement, but who cared ? Apart from McLaren, everybody else seemed to be abusing the ridiculous regulations and governing system. Moreover, FIA would not take away the crowns granted to Mercedes a few years back. Nevertheless, HWA did produced enough chassis and parts for FIA to inspect, and the surplus was used to build another 6 roadsters in 2002.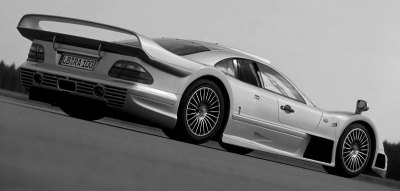 In terms of technology, the CLK GTR was practically a race car, though it did not have any innovations. It followed the motorsport fashion to adopt a carbon-fiber tub as the central chassis. Front suspensions were bolted directly to the tub and rear suspensions were mounted on the transmission casing (like Ferrari F50), which connected to the tub through engine and an alloy subframe. This structure saved weight yet offered high rigidity, if not very good at suppressing NVH. Also like racing cars, it employed all-round double-wishbones suspensions, in-board coil springs and dampers operated by pushrods. The cross-drilled ventilated brake discs had air ducts to help cooling. All these things were packed in a carbon-fiber body whose aerodynamics was obviously optimized for track use.
The V12 engine was relatively conservative. It was modified by AMG from the old S600's 6-litre iron-block unit, with 4 valves per cylinder (of course), forged pistons, titanium con-rods, lightened flywheel, enlarged valves and faster cams but not including variable valve timing. Although it was stroked to 6.9 liters, its 612 hp output still failed to match McLaren's 627 hp. Torque though, at 573 lb-ft, was considerably more than its rival.
The development of the road-going CLK-GTR wasn't as smooth as the way its racing version won races. Although HWA created the cheating "demo" car for FIA homologation just in time, it took longer time to develop the car to be really drivable on road. Many things were changed during the process, such as raising its power from the already announced 560 hp to 612 hp, increasing kerb weight horribly from 1150 kg to 1470 kg, relocating the gear lever of the 6-speed sequential gearbox from the conventional transmission tunnel to the steering column (and adopted shift paddles like Ferrari F355 F1, but it required a foot-operated clutch pedal).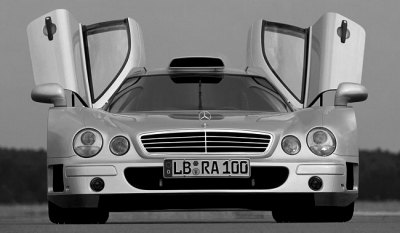 In terms of straight line performance, the big CLK-GTR failed to match the compact McLaren. Its downforce-biased aerodynamics limited top speed to 199 mph, whereas the McLaren managed 231 mph and even 240 mph with rev-limiter disabled. Acceleration from standstill, the tremendous torque of the Mercedes still failed to compensate its weight disadvantage (330kg more than the F1). Official figure was 3.8 seconds for 0-100km/h, or roughly translated to 3.6 seconds for 0-60 mph. 0-124 mph (0-200km/h) required 9.9 sec. No matter at what speed, McLaren F1 still had an edge.
However, when it comes to handling, the AMG supercar immediately shows its strength. The Lola-made carbon chassis, with its rear bulkhead connected to the ceiling, provided unmatchable rigidity this side of the road car world. Its steering was very responsive - just 2 turns from lock to lock - delivered excellent feel, and it was also lighter than you might expect. On the hockenheim race track where Mercedes launched the car for the press to test drive, it behaved very neutral, with a lot of grip generated by the wide 295mm front and 345mm rear tyres as well as good downforce from the big air dam and rear wing. Nevertheless, the engine had sufficient torque to oversteer the car when required.
Driving the CLK-GTR felt very much like a race car, something very similar to Porsche 911 GT1 but unlike Ferrari F50. The 4-plate carbon-fiber clutch had very short travel, obviously a typical racing car design, thus required a heavy and precise foot. The engine was very very loud, because there was no sound insulation at all. While the V12 was screaming mechanically just behind you, its vibration transmitted to the whole cabin via the unitary engine / gearbox / chassis structure. Therefore, although facing you was a very civilized dashboard borrowed from the mass production CLK coupe, and the air-conditioning, electric mirrors, steering wheel and sound system coming from Mercedes' parts bin, the driver won't feel comfortable. What he sensed was the rawness of its racing nature.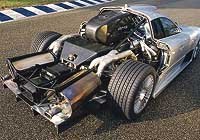 It was very disappointing that a car costing in-excess of 1 million pounds had a CLK dashboard. This didn't match the car's exotic image at all. The sound system was also useless in such a loud car. I'd rather have a musical V12 like those of BMW, Ferrari or Lamborghini.

Its ride quality was also in question. On the launch test, Mercedes did not allow journalists to drive the car outside the super-smooth hockenheim, but it could be felt that the car rode firmly and not suitable for most public roads other than Autobahn. AMG engineers admitted it was impossible to soften the ride further, otherwise the car would oversteer. In fact, they had spent a lot of effort to tame the racing character, such as introducing power steering, power brakes and traction control. This explained the increase of kerb weight and the delay to production.

What they couldn't change was the cramped cabin, which was limited by the wide door sill (part of the tub). Even with the butterfly doors, it was very difficult to squeeze into the seats. Tall people would feel uncomfortable inside. Another problem was the lack of rear window, because the rear bulkhead was connected to the roof for increased chassis rigidity. All the rear vision relied on the electric mirrors located far away over the wheel arches.

Perhaps we should not be fooled by its Mercedes radiator grilles and logo. The CLK GTR was not a true Mercedes, but a thinly disguised race car. It might have beaten McLaren F1 on race tracks, but it won't touch the latter in the hearts of car lovers.