Ever since its establishment, Mercedes-Benz had been renowned for producing large luxury cars. In people's mind, Mercedes-Benz and small cars were simply incompatible in the same sentence. However, this tradition was finally broken in the early 1980s by 190E. In 1997, Stuttgart went one step further by introducing its first small family hatchback, A-class. It invaded into the territory of Volkswagen Golf and broke the barrier between mainstream and premium car makers. The A-class was part of the radical expansion plan by CEO Jurgen Schrempp.
When Mercedes-Benz makes a family hatch, it must be different from conventional ones. The A-class not only looked radical with its monospace shape and distinctive C-pillars, it also introduced an innovative packaging called "
sandwich structure
" - a term referred to the fact that its major mechanicals were sandwiched between the cabin and the floorpan. If you cut the car along its central axis, you will see its cabin floor was raised by 200 mm compared with conventional cars and its transversely mounted engine tilts to the front, so that the driver's feet rested above the virtual axis of the engine. In case of collision, the engine slides rearward and downward to the ground rather than to the driver's legs. This mean the A-class could easily pass whatever frontal crash tests in the foreseeable future without resorting to a large crumple zone, hence saving considerable space and weight at the nose.
The benefits of "sandwich structure" can be seen in the dimensions of the car: the A-class measured just 3575mm from nose to tail, 855mm shorter than 190E yet its cabin was actually roomier than its larger sister. Compared with Golf IV, it was also roomier, while a lighter weight (by around 100 kg) enabled it to employ smaller engines without hurting performance. The early A-class offered the choice of 1.4 or 1.6-liter engines, both had a single camshaft and 8 valves, i.e. not exactly advanced engines. However, performance of A160 was pretty competitive, and it was more refined than the multi-valve Volkswagen 1.8 engine. If that's not enough, the later A190 with 125hp engine and shorter gearing should be more than satisfying. It goes without saying that the SOHC engines were designed to achieve good fuel economy.
So being smaller, lighter yet roomier, the A-class made a lot of sense as a green city car. By the way, with the introduction of A-class and Smart, Daimler-Benz had the most forward-thinking city cars lineup at the time, one serving singles and one serving families. They had the potential to grow D-B into a formidable giant car maker – and that's before they acquired Chrysler !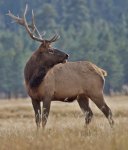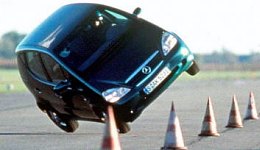 Elk: Look at that !
Unfortunately, the launch campaign was hit by an incident. Swedish car magazine Teknikens Värld put it to a so-called "elk test", which was commonly used in Sweden to prevent cars from knocking down big deers suddenly appears on the road. When the test car suddenly steered at 60 km/h to avoid the dummy deer, it nearly rolled over, blame to the higher center of gravity resulted from its sandwich structure. The scary photograph was published. Soon other magazines followed suit, some actually rolled over the car. Words spread out that the A-class was unsafe to handle and the crisis was widely publicized on newspaper and TV news. It caused serious damage to the launch campaign as well as the reputation of Mercedes. Eventually, Stuttgart had to re-engineer the car, giving it fatter tires, lower ride height and thicker anti-roll bars and equipping Bosch ESP electronic stability control as standard. All were done free of charge. Thereafter, it launched a massive advertising campaign to rescue its image. Mercedes lost substantial money in the incident, though it finally limited the damage and put A-class back on track.
Nevertheless, the modification did hurt its driving dynamics. It resulted in a slow steering, strong tendency of understeer and a ride too hard on B-roads. Body roll was still excessive by normal standard, blame to its tall body design, and the high seating position exaggerate that feeling. The A-class was not as fun to drive as conventional hatchbacks. Moreover, it was impossible to be developed into a proper hot hatch. Not even the 140hp 16V A210 Evolution could do much to change that.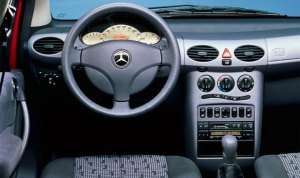 Another commonly criticized drawback was its cabin, which was plasticky and nowhere near the quality level of Volkswagen Golf, let alone the usual standard of Mercedes-Benz itself. Even though the car charged higher prices than conventional hatchbacks, it failed to deliver the expected quality.
Still, wearing a 3-pointed star at its nose, the A-class was easy to attract new buyers. It sold 1.1 million cars in 7 years, not bad considering that disastrous start. However, to say it was a great commercial success would be far from truth. Because the majority of its mechanical parts could not share with other (rear-drive) Mercedes series, the A-class did not achieve very good economy of scale. Mercedes tried to improve its profitability in the second generation by introducing a sister car, B-class. However, when the industry is talking about each platform has to produce in excess of 1 million cars a year, Stuttgart's new approach is still hopeless. A-class was not short of innovation. What it lacked was the right maker, ironically. If it were produced by a mainstream car maker, it could have been much cheaper to produce and achieved solid profits.