The 1929 Wall Street crash and the resultant Great Depression changed the landscape of luxury motoring forever. By the early 1930s, the world's most prestigious luxury marques had either bankrupted (Bentley), been dying (Hispano-Suiza and Duesenberg) or shifted into low gears (Rolls-Royce). However, things were quite different in Germany, where the economic reform by Nazi party produced significant growth in the mid-1930s. Mercedes-Benz became the only shinning diamond.
During this period, Mercedes produced one of the most flamboyant luxury cars ever made, 500K and 540K. They showcased the best style and craftsmanship available then, thus are seen as the ultimate pre-war luxury cars. These cars were impeccably built with the best quality and materials. Unusual to its days, they were bodied by Mercedes itself at its Sindelfingen plant (only very few chassis were available to external coachbuilders). 8 types of bodies were offered, among them the most beautiful and sought after is the Spezial Roadster pictured here, which could cost multi-million dollars today.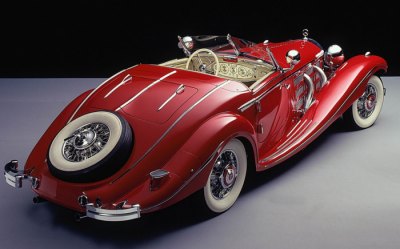 The 500K was introduced in 1934. Its ladder chassis unusually rode on independent suspensions and coil springs all round - double-wishbones up front and swing axles at the back. Powering the car was a supercharged straight-8 engine displacing 5 liters, hence its name 500K, where K stands for Kompressor. Its supercharger technology was carried over from the successful S/SS/SSK series. The driver had to floor down the throttle to engage the supercharger and see the maximum 160 horsepower. Off boost, it produced only 100 hp. Contemporary supercharged models from Alfa Romeo and Bugatti were constantly boosted. In contrast, the Mercedes used its supercharger like today's "overboost" function, which means extended use may overheat and damage the engine.

In 1936, the more powerful 540K was introduced. Engine capacity and output increased to 5.4 liters and 180 hp (115 hp off-boost) respectively, lifting its claimed top speed to 115 mph. This was made possible by its unusual 4-speed gearbox whose top gear was designed to run at the newly built Autobahn. On a banked track, Motor magazine measured 106 mph.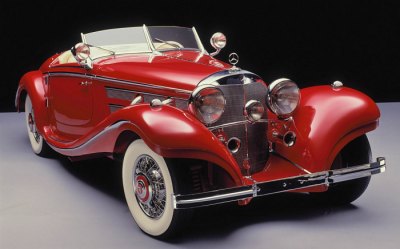 Nevertheless, the 500K / 540K was never a driver's car like Bugatti or Alfa Romeo. Owing to its over-built bodywork and sturdy chassis, it weighed more than 2.2 tons. This hampered its off-boost performance and braking. It also made the unassisted steering very heavy. Another common criticism was its handling - its swing-axle rear suspensions could cause dangerous oversteer on bumps. While it may be one of the most elegant and best built pre-war cars, hence a favourite of classic car collectors, it is not an engineering masterpiece.