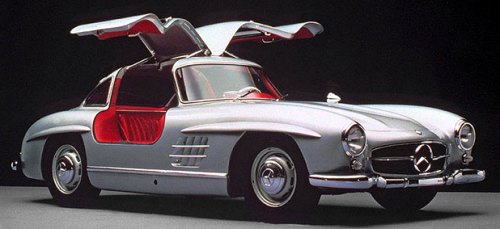 The term "supercar" was first used to describe Lamborghini Miura in 1966. Were it existed a decade earlier, I suppose it could have been used on Mercedes-Benz 300SL as well. This was Stuttgart's first sports car since the second world war. More so than the pre-war SSK and 540K, it showed the world how a modern supercar should be. No matter in styling, technology or speed, it was at the forefront of its time. To understand how sensational it was in 1954, ones only need to see what else were offered at the time – Jaguar XK140, Bentley R-Type Continental, FIAT 8V, Ferrari 250 Europa and 375 America, Porsche 356, the first generation Corvette… all looked rather outdated beside the new age Mercedes. Only the Pininfarina-styled Maserati A6GCS/53 looked as modern (and undeniably sexier), yet it lacked the sensation caused by the Mercedes' roof-hinged doors, which gave it a romantic nickname, Gullwing. People had never seen anything like that.

Apart from the exotic doors, the 300SL showcased a shape for modern cars. Its low and wide stance contrasted to pre-war designs and benefited handling. Its bonnet was set incredibly low, thanks to an engine that was dry-sump and tilted to the left by 40°. It abandoned traditional chromed radiator grilles for a wide air intake, which was cleverly decorated with a prominent 3-pointed star logo. This would become the trademark of all Mercedes coupes until today.

Originally born as a race car in 1952, 300SL enjoyed a near perfect start - it took 2nd place at Mille Miglia - the most difficult road race in the world - in its debut race, then stormed Le Mans 24 hours with a dominating 1-2 and triumphed at Carrera Panamericana (Mexican road race). Seeing its success, Max Hoffman, the US importer of Mercedes, persuaded Stuttgart to build a road version. Eventually, some 1400 cars were built from 1954 to 57, among them at least 1000 cars went to the hands of American buyers. It showed that the vision of Hoffman was correct. The American of the 1950s was so rich and hungry for sports cars.


The racing origin explains why 300SL was the first ever production car to employ tubular spaceframe chassis, which was lighter and stronger than conventional body-on-frame structure. Nevertheless, it had one disadvantage: space-consuming. This mean the 300SL's cockpit was small and its door sills were unusually tall and wide. Now how to ease access to the cockpit ? The answer is gullwing doors ! They are not just styling gimmicks. They open a large part of the roof so that people can enter the cockpit from above. Once in place, they would find the cockpit a tight fit. There was not much storage room either, as the boot was largely consumed by the spare tire. Build quality was as good as usual, but the 300SL was all about simplicity, without any traces of the over-decoration of pre-war Mercedes.

Despite of its name (SL = Sports Light), 300SL weighed 1295 kg with fuel and fluid, not exactly a lightweight by the standard of its time. Unlike many lightweight specials from Pininfarina or Zagato, its body shell was largely made of steel (though bonnet, boot lid and doors were aluminum), offsetting the weight saved by its advanced chassis. Moreover, its 2996cc SOHC straight-six was derived from an existing Mercedes production engine, so a heavy cast-iron block was carried over. That said, plenty of modifications were made to improve performance, most notably dry sump lubrication and the world's first mechanical fuel injection (by Bosch). The latter boosted its output to 215 hp (DIN) (or 240hp SAE gross), a figure being only bested by contemporary Ferrari V12s, let alone 3-liter six-cylinder engines. Even today this figure would be perfectly decent for a 3-liter production engine. One can see how advanced it was.

Thanks to this engine and a relatively smooth body shell, 300SL was King of Autobahn. In fact, it was described as the fastest car in the world. Its 4-speed gearbox was linked to a rear axle with various choices of final drive ratios. With the lowest ratio installed, Mercedes claimed a top speed of 161 mph. Well, this might be overstated, but the fact that Road & Track measured a true 140 mph on a car with standard final drive ratio proved that it might just be the fastest car in the world then, although Ferrari claimed 155 mph for its 375 America. Similarly impressive was its acceleration. R&T timed 7.4 sec from 0-60 mph. In the 1950s, this was a supercar figure.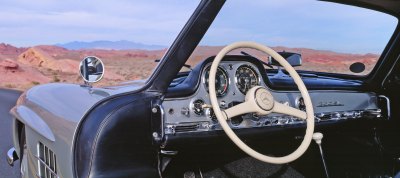 Remark: interestingly, the production 300SL was actually faster than the original race car, at least on straight. Because fuel injection was not in place in 1952, the race car employed carburetors hence produced only 170 hp.
Contemporary road testers loved its performance, the flexibility of its straight-six and the solid build quality, but few loved its handling. To save time and money, the 300SL was designed around many components from existing Mercedes sedans, one of which was the
swing axle
rear suspensions. As many know, swing axle was the earliest independent suspension type. Although it provided better ride quality than conventional solid axle, it had many disadvantages. In particular, camber changed according to body roll in corner, leading to oversteer. On the 300SL race car, oversteer was largely dealt with very stiff springs (which limited body roll) and the skill of racing drivers like Stirling Moss (who actually loved oversteer). On the road car, however, the combination of soft springs, high engine output and unpredictable roads could lead to many scary moments no matter the driver pressed or backed off in corner. This made the Gullwing difficult and even dangerous to drive at the limit. The only way to keep its tail planted was to drive as smoothly as possible in corner, keeping the throttle constant. It is easier said than done.
However, the handling problem did not prevent it from becoming a classic. Few cars had ever delivered an impression so advanced. Undoubtedly, the Gullwing will be remembered as the company of Citroen DS, Lancia Lambda, Lamborghini Countach and McLaren F1.