In the early 1990s, a trio of mini sports cars built to Kei-car specifications was born. Japanese motoring enthusiasts called them "ABC", which denotes Mazda
appucino. The Suzuki was the most conventional of them, being front-engined and convertible. Both the Mazda and Honda were mid-engined mini-exotic, but I suppose the Mazda was the more spectacular of the two, no matter judging from its mini-Ferrari looks or gullwing doors. Unfortunately, a combination of high-price and recession led to its short life. Just over 4,000 units were sold from 1992-94. Today, AZ-1 becomes a collector's favour.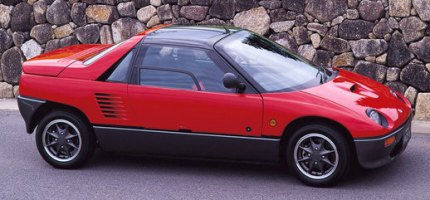 I have been admiring AZ-1 for long, as shown by the inclusion of it in the previous Strange Car Archive. Last year, I finally had a close encounter with an AZ-1, one of the 4392 cars ever built. The red machine was in perfect condition - clean, fresh and flawless. It looked just as spectacular as 2 decades ago. The first thing to catch your attention is its smallness - this car measures no more than 3.4 meters long and 1.4 meters wide. At 1150 mm tall, it is actually lower than a Lamborghini Gallardo, but you won't know that until you squeeze into the cabin, which is tight for anyone taller than 5 ft 9. However, it is a place everyone wants to be in, because it gives you the sensation only the most exotic supercars can deliver. You sit on the high door sill, swing your legs into the footwell like a gymnastic player, move your bottom into the small bucket seat, raise you arm to close the gullwing door, then the glasshouse is right above your head. The glasshouse gives you excellent all round visibility and an air of freedom. Due to its narrowness, the seats are put very close together, and shoulder room is so tight that you have to operate the manual winding window with youir opposite arm. Nevertheless, behind the seats there is some space for the spare tire or luggage.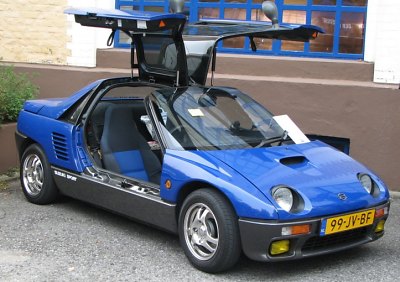 The AZ-1 program was a joint-venture with Suzuki. Mazda was responsible for its design, overall engineering and assembly, while Suzuki supplied its 660cc engine, 5-speed gearbox and many other components from its K-car parts pool. This is not much of a surprise as Mazda has always been outsourcing its K-cars from Suzuki. The joint-venture also produced a sister car, Suzuki Cara. As shown in the blue car pictured above, Cara was identical to AZ-1 except the additional fog lights.

The car had a steel chassis clothed in body panels made of glass-fiber reinforced plastic to save weight. Suspensions were MacPherson struts all round. Like FIAT X1/9, Toyota MR2 or just any mid-engined small cars, the powertrain of AZ-1 was mounted transversely between the rear wheels, so strictly speaking it was not exactly mid-engined. However, thanks to the small powertrain, front to rear weight distribution was good at 44:56. The 657 c.c. turbocharged and intercoolered 3-cylinder 12-valve engine was identical to that of the Suzuki Cappucino. It made 64 horsepower, the maximum allowed by the K-car regulations, but produced significantly more mid-range and peak torque than the naturally aspirated engine of Honda Beat. Coupling to a 720 kg kerb weight, the little car was pretty quick.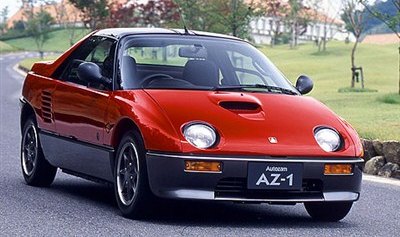 The driving experience was highlighted by the whoosh of the wastegate and the very quick steering. With just 2.2 turns from lock to lock, and little weight at the nose to deal with, the steering was sensitive to the point of nervous. Although the heavier tail offered good grip and traction, once its limit is exceeded, you have to catch the tail immediately with opposite lock. The AZ-1 was not a car designed for power slide. Like its mini-supercar looks suggested, it had to be respected.