The world of grand tourers underwent a dramatic change in the mid-1960s. Lamborghini Miura and De Tomaso Mangusta kickstarted the era of exotic supercars with their spaceage design, mid-engined chassis and powerful engines. Suddenly, the old-school Ferrari 275GTB, Jaguar E-type and Aston Martin DB6 became outdated. Maserati used to be on the conservative side of the GT business. Surprisingly, this time it responded quickly with a trio of exotic GTs - Ghibli (1967), Bora (1971) and Khamsin (1974). They would push Maserati to the peak of its history and, together with Lamborghini and Ferrari, helped Italy to get the title "Kingdom of Supercars".
The success of Ghibli owed a lot to its styling, which was responsible by a rising star called Giorgetto Giugiaro, who was the chief designer of Ghia at the time. Of course, today we know Giugiaro designed many exotic supercars, including De Tomaso Mangusta, Lotus Esprit and BMW M1. Although Maserati Ghibli was his very first one, this did not prevent him from doing a very high quality job. It might be less dramatic than Gandini's Miura, but it was arguably more elegant in details. Moreover, the front-engined layout of Maserati was undoubtedly more difficult to package in style than the mid-engined Lamborghini. The fact that it looks more stylish than Ferrari Daytona proved that Giugiaro did a nearly flawless job.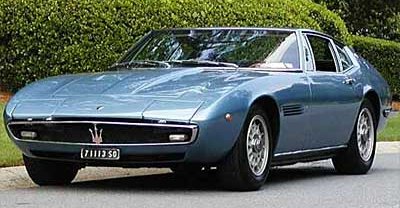 Giugiaro did not try to hide its front-engined layout. On the contrary, he emphasized that with a long long hood, a gently sloping roof line and a short tail. Pop-up headlamps enabled a sleek front end to enhance the sense of speed. The blade on each front fender introduced a sense of aggression. Just as it looks, the Ghibli was a big GT, measuring 4.7 meters long and 1.8 meters wide, though it was incredibly low at 1160 mm.
Despite of its stunning looks, the Ghibli was conventional in mechanical layout. Its all-steel body welded to tubular frame chassis did not break away from previous Maseratis, because it was a shortened and stiffened version of Mexico 2+2. Its live axle rear suspension looked dated against the independent double-wishbones of Lambo and Ferrari. Also, while Ferrari Daytona employed a rear-mounted transaxle for better balance, Maserati still made do with a front-mounted ZF gearbox.
Its engine was also a sharp contrast to its rivals'. While Lamborghini and Ferrari employed short-stroke V12s that could rev beyond 7500 rpm and produce in excess of 350 horsepower, the Maserati continued with its tried and tested aluminum quad-cam V8, whose history could be dated back to the Maserati 450S racing car of 10 years ago. Unlike previous applications, Ghibli received a dry-sump version of the V8 to ensure a low bonnet line and low center of gravity. With a 93.9mm bore and 85mm stroke, it displaced 4719 cc and produced 330 horsepower at a low 5500 rpm. Unsurprisingly, with extra capacity and longer stroke, the Maserati V8 trumped its rivals in torque.
Italian supercar makers always claimed wild top speed figures during that period. However, the Maserati's quoted top speed of 165 mph was relatively close to its true potential, which was about 160 mph. 0-60 mph and 0-100 mph acceleration were found to take 6.4 and 15.2 seconds respectively by Car and Driver, no match with Daytona's 5.4 and 12.6 seconds. People do not remember Ghibli for its performance. Instead, they appreciate its easy-living manner. With abundance of low-down torque, it was easier to drive than most other Italian exotics. Its handling and roadholding were also very friendly, although the firm suspensions and non-independent rear axle returned a harsh ride on poor roads.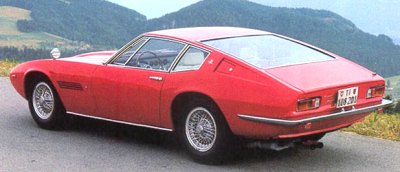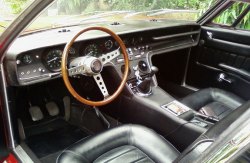 The Ghibli had a relatively spacious, well-built and well-equipped cabin. Unusually, it featured standard air conditioning, power windows and an optional power steering. Moreover, with good luggage space and dual fuel tanks giving a total capacity of 100 liters, it was a good companion for cross-country motoring. From this view, it was a better GT than its rivals.
Because the mid-engined Bora was just around the corner, few changes were introduced during its short, 6 years life span. The most significant of which was a larger V8, stroked to 89mm to give a capacity of 4930cc. Output improved slightly to 335hp and 354 lb-ft. Top speed became an even more doubtful 174 mph (280 km/h), obviously quoted to match its Italian rivals. The 4.9 car was called Ghibli SS.
Indy

The introduction of Ghibli signaled the end of the classical GT era. From now on all Maserati new models would possess the futuristic design theme of Ghibli. The first follower was the 1969 Indy, Maserati's new four-seater GT car.
If you compare the Indy with its predecessors, Mexico and Sebring, you will find the latter hopelessly outdated. In contrast, the Indy's wind-cheating shape, shark nose and pop-up headlamps look every bit spaceage design. Best of all, Giovanni Michelotti of Vignale cleverly shaped it to hide the bulk of its 4-seater layout. Some would call its cabin as 2+2, but in fact the rear seats were roomy enough to carry regular-size adults for short journey. This made the car unusually practical, potentially popular to American customers. No wonder Maserati resurrected its distant memory of Indy victories (so far back in 1939 and 1940) to name the car.
Indy was developed from the platform of Ghibli. However, its chassis construction was different. While the Ghibli was made of tubular steel frames welded to stamped floor panels and steel body work, the Indy introduced a unitary (monocoque) construction for higher rigidity. An increase of 50mm in wheelbase and 135 mm in height brought it the extra interior space it needed. Elsewhere, the car was much the same as Ghibli, including the double-wishbone front and live-axle rear suspensions and much the same running gears.
The Indy was aerodynamically smoother than Ghibli, so in order to avoid outpacing its more expensive sister, Maserati always gave it a smaller engine. Besides, while the Ghibli got dry-sump lubrication, Indy made do with wet sump to save money in the price of higher center of gravity - this also explains why its bonnet was set higher. The launch engine was the older version 4.1-liter quad-cam V8 with 260hp. When Ghibli was upgraded to 4.9-liter SS, Indy got the 4.7-liter unit in 290hp tune. The ultimate 4.9-liter 320hp unit was available only after the retirement of Ghibli. German magazine Auto Motor und Sport found the 4.1 version had a remarkable top speed of 154 mph, although overall performance was some way behind Lamborghini Espada.