Ghibli opened the road for supercar making in Modena. However, that was not enough. Remember, the late 1960s to early 1970s was the era of futurism. On the one hand American spacemen landed on moon, on the other hand Italian realized mid-engined dream cars like Lamborghini Miura, De Tomaso Mangusta and Pantera, and the even more radical Lamborghini Countach and Ferrari Boxer were just around the corner… Mid-engined exotica seemed inevitable if Maserati wanted to maintain its position in supercar business. By 1971, thanks to the financial backing of Citroen, Maserati finally responded with Bora.
Bora was styled by the same designer as Ghibli, Giorgetto Giugiaro. It was another gorgeous design, with beautiful lines and unusually elegant details. Unlike contemporary mid-engined supercars which were usually cramped and poorly finished, the Maserati was spacious and well made. The latter can be seen from its chromed windows as well as unpainted stainless steel roof. It was also more refined on the run, thanks to proper noise insulation. For example, the engine compartment was insulated from the cockpit by carpeted patition wall and double glazing window. The chassis was a combination of steel semi-monocoque and tubular rear subframe on which powertrain and rear suspensions were mounted. The subframe were bolted to the monocoque via four flexible mounts. All these efforts showed how much Maserati cared about refinement.
The packaging of Bora was pretty space efficient. It had a 50 mm longer wheelbase than Ghibli yet the overall length was shorter. Its cockpit left enough space behind the seats for small luggage, whereas a sizable front boot accommodated larger luggage. Behind the longitudinally mounted V8 was the spare wheel, which sat right above the ZF 5-speed transaxle.
Bora was the first Maserati to ride on all-independent suspensions. All corners employed double-wishbones and coil springs. The rear ones got twin-dampers and springs to better deal with the rear-biased, 42:58 weight distribution. Such balance gave the car remarkable traction and roadholding. Road testers praised it for good road manner. Its safe, initial understeer gave way to neutrality once the suspensions were loaded up with g-force. Oversteer was never an issue in real-world driving, as you would need to push it hard to the extent that only possible on race circuit. The Bora displayed rock-steady body control as most of its mass was contained within the wheelbase, and its suspensions setting was hard. A stiff low-speed ride was common to other Italian exotica of the time, but up the pace and it damped beautifully. The superb high-speed ride and relatively low noise level allowed it to bridge the gap between supercar and GT.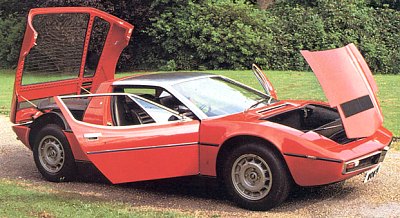 Performance came from the familiar 4719cc DOHC V8, same as Ghibli and Indy, but rated at 310 horsepower. Its strength did not lie on power or rev, but the 340 pound-foot of torque, and most of it was available from low rev. This mean performance was rather effortless. Road test conducted by Autocar recorded 162 mph top speed, 6.5 seconds 0-60 mph and 15.3 seconds 0-100 mph, more or less matched the outgoing Lamborghini Miura P400S. Nevertheless, compared with contemporary Miura P400SV, De Tomaso Pantera and especially the mighty Ferrari Daytona, the Maserati was not exactly the fastest car on earth, although Maserati claimed an over-optimistic top speed of 280km/h (174 mph).
The cockpit of Bora was easier to access and more spacious than rivals, though the driver still need to compromise with the thin, steeply reclined bucket seat. The seat was adjustable in height, but fixed in longitudinal direction. To fit different size drivers, the steering wheel was adjustable in reach and rake, and the pedal box was also adjustable. Interestingly, the seat height, steering wheel and pedal box adjustment were all powered by a high-pressure hydraulic system supplied by Citroen. The same went for the power steering and assisted brakes. Unfortunately, the latter was the Achilles' heel of this car. Citroen's hydraulic braking sensed pedal pressure instead of travel, so it was very difficult to modulate.
The Bora might lack the spectacular performance of some rivals, but it possessed a handsome look and, above all, a sense of solidity, good engineering and refinement usually overlooked by its Italian rivals. The best Maserati in history ? I would say yes.
Merak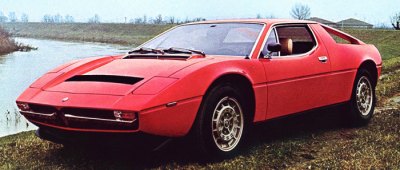 Developed in parallel to Bora was a cheaper, mass-market version called Merak. Naturally, it was designed to compete with Lamborghini Urraco and Ferrari 308GT4. Following its rivals, its cabin was added with a pair of child / dog seats and the V8 engine was substituted with a 3-liter V6. Externally, the car distinguished itself from Bora by employing a pair of thin flying buttresses instead of the glass engine shield. This effectively exposed the flat engine lid, and it was certainly less costly to build.

The Merak project would not had been possible without the participation of parent company Citroen. At the time Citroen wanted to move upmarket with a sophisticated touring coupe called SM. It needed Maserati to supply a powerful V6. Therefore, Modena got the budget to modify its famous V8 into a V6. It retained the quad-cam and all-alloy construction as well as the 90-degree V-angle. In Citroen SM, it displaced 2670cc and produced 170 horsepower. In Maserati, more was required, of course. It displaced 2965cc and pumped out 190 horsepower. Later SS model raised that figure to 220hp. Besides, a tax-friendly 2.0-liter version with 170hp was available to Italian market.


Further cost was saved by employing the whole dashboard, including steering wheel and switchgears, from Citroen SM, which was a little strange to a thoroughbred sports car (remark: following the withdrawal of Citroen in 1973, later cars reverted to the Bora dashboard). Besides, it shared the aforementioned high-pressure hydraulic system with Citroen.

The switch to V6 engine deliberated some space, allowing Merak to fit a pair of small rear seats. Of course, don't expect it to accommodate adults, or even teenagers, as it provided nearly zero legroom. Anyway, Lamborghini Urraco and Ferrari 308GT4 were not much better in this respect.

What it failed to match its rivals was (again) performance. Even the fastest Merak SS managed only 143 mph and 0-60 mph in 7.7 seconds, compared with 154 mph and 6.9 seconds for the Ferrari. Blames went to its less powerful engine and higher weight. Like other classic Maseratis, Merak is not remembered for speed but its combination of style, comfort and good build quality. There were plenty of admirers to these qualities, then and now, as evident from its total sales of 1830 units.