From the end of World War II to the late 1960s was the golden era of British sports cars. MG, Triumph, Austin-Healey, Jaguar and Lotus dominated the global sports car market. Among them, MG was the first to come into shine.

MG, short-write for Morris Garage, was originally a garage specialized in modifying Morris into lightweight sports cars. Having built a few reputed niche models, it turned its vision to more affordable sports cars. The first TA Midget was built in 1936 based on the mass production components of Morris, including the 1292 cc pushrod four-cylinder engine. Even by the standards then, it was far from state of the art. It still employed a wooden-frame body mounted on steel ladder chassis, rigid axle and leaf-spring suspension front and rear, not to mention the modest output of 50 horsepower. However, the MG had its own charm. Its graceful design was the definitive symbol of pre-war sports cars. Its small size, quick steering, stiff suspension and exposed cockpit made it felt not only incredibly engaging to drive but also far faster than it actually was. Its simplicity and mass production parts meant affordable prices. As a result, MG got as many as 3000 orders in the first 3 years.

TC
The TA was lightly modified to TB in 1939. It switched to another Morris engine – marginally smaller yet slightly more powerful. However, the breakout of WWII cut its life short. The factory was turned to produce military equipment. By the time the war ended, the TB was reborn as TC with very few changes again. American soldiers brought it home and caused a fever for the British sports car. Many American drivers loved its responsive handling and connected feel, which was a sharp contrast to their large and bulky Detroit motors. As a result, the TC was hugely successful over there. Some 10,000 cars were sold from 1945 to 1950, with the majority went to the America. It opened a new era for mass production European sports cars as well as European export to the America.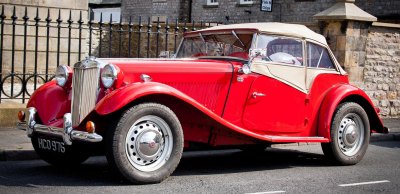 TD
The following TD was even more successful, with nearly 30,000 units built. It was a major update, with a lower, wider and stiffer body, independent double-wishbones suspension and coil springs at the front axle. The classical look remained largely intact, but its modern 15-inch pressed steel wheels were not as good looking as the 19-inch wired items on previous generations, whereas the prominent bumper required by new safety regulations also damaged its classical beauty a little. These changes made the car more comfortable to travel and better controlled in the twisty, if slower in acceleration owing to increased weight.

In 1953 the T-series received its final update to TF ("TE" was skipped due to its difficult pronunciation). The main upgrade was a larger, 1.5-liter engine. However, by this time the car was already outdated in all areas. Newer rivals like Triumph TR2 was much faster and better driving. The birth of Chevrolet Corvette in 1953 also dried up the American demand for MG. Eventually, the T-series went into retirement in 1955. Its place was taken by another classic, MGA.