Having tasted the first mass production success with T-series, MG geared up its effort in the mid-1950s and 1960s for even greater things. MGA and MGB were the most popular sports cars of their time, with over 100,000 and 500,000 units sold respectively. The MGB was also the world's second best selling sports car of all time, standing just behind Corvette C3 and ahead of Mazda MX-5 Mk1. No wonder today many people still see it as the symbol of British sports cars.

Compared with the old-fashioned TF, the MGA was far more modern – a modern enveloping shape, an all-steel body with more cabin space and a new BMC B-series 1.5-liter motor with 72 hp (now MG was part of BMC). Within a year the latter was upgraded to a 79 hp 1.6-liter unit, accompanied with front disc brakes. The sleek low-slung body enabled a true 100-mph top speed. By the standards of 1950s, the MGA must be very attractive. It was praised for beautiful styling, good handling and roadholding (despite of stiff ride) and high reliability (thanks to the use of proven mass production parts).

Among all versions of MGA, the most desirable to collectors was definitely the Twin Cam. It employed a racing-oriented 1588 cc twin-cam engine with 9.9:1 compression and 108 hp output at 6700 rpm, plus all-round disc brakes and alloy wheels. Performance was startling for an engine so small, with 113 mph top speed and 0-60 mph achievable in less than 10 seconds. Nevertheless, the highly tuned engine was temperamental, suffering from low-speed vibration and serious knocking if it was not fed with 100-Octane fuel. Besides, excessive noise, reliability problems and high price also limited its sales to just over 2000 units.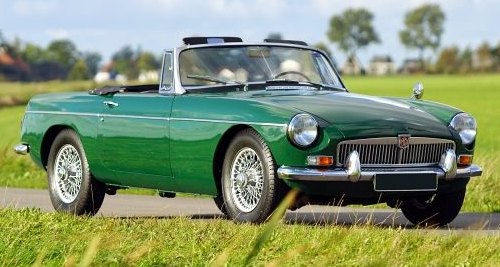 MGB
As time went by, the MGA was substituted by MGB in 1962. A more rectangular shape was now the industrial norm and the new MG roadster followed suit. Autocar magazine called the MGB a much superior car to MGA in all aspects. Its larger 1.8-liter engine not only delivered more power and torque but also ran smoother and quieter. Its chassis and body was now made in unitary (monocoque) construction instead of the previous body-on-frame separate construction. This brought improved stiffness hence better handling and refinement. Softer springs and better mounting returned a more comfortable ride. The unitary construction also afforded more cabin and trunk space without growing the car. Besides, weather protection and comfort features were improved, too.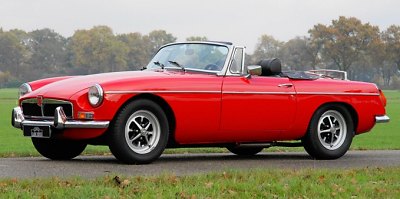 MGB
Performance was never its selling point. However, in the world of affordable roadsters, the MGB was largely free of challenge until the arrival of Alfa Romeo Duetto/Spider and Fiat 124 Spider a few years later. Triumph always produced some faster cars but they were neither as good-looking nor as cheap as MG. In fact, the MGB's sales success was mainly due to its all-round package and keen pricing. The use of standard parts from mother company BMC / British Leyland kept its costs under control.
In 1965, a hard-top hatchback version called MGB GT was added to the range. It looked prettier (thanks to Pininfarina's input) yet offered improved high-speed refinement and better luggage carrying capability. Small children could be fitted at the back seat, but most would fold it to place luggage. This was one of the earliest "Shooting Brakes".
MGB GT
1967 introduced MGC. This was not a successor to MGB but a 6-cylinder derivative of MGB. It was supposed to take the vacancy left by Austin-Healey 3000 as BMC decided to kill the latter. Naturally, its 145 hp 2.9-liter push-rod straight-six came from the parts bin of BMC. Performance was improved to 120 mph and 0-60 in 10 seconds, but sadly, no better than the old Healey. However, what made the MGC notorious was its nose-heaviness. The straight-six weighed 95 kg more than the four-cylinder. In addition to a stronger gearbox, modified front suspensions (to make room for the engine) and other mods the car carried an extra 150 kg, most of which was hung north of the front axle. As a result, the MGC lost the agility and responsive handling for which MGB renowned. Besides, it was hampered by a heavy steering and an engine reluctant to rev. Therefore the car survived for only 2 years and only 9000 units were sold.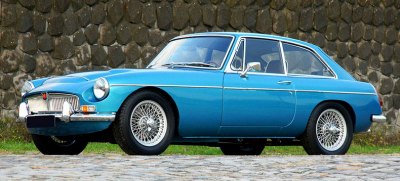 MGC
Despite of that failure, MG tried an even wilder idea in 1973: MGB V8 GT. A few years ago the Rover division of British Leyland bought the patent of a 3.5-liter push-rod V8 from GM. It was compact yet lightweight, thanks to an all-alloy construction. The engine had been used in Rover P6 3500 sedan and Range Rover. With some modifications, MG managed to fit it into MGB GT (the roadster was not stiff enough to take on the extra power thus was not offered). While its 137 hp output was not exactly outstanding, its 193 lbft of torque guaranteed good flexibility and 0-60 acceleration in about 8 seconds. The V8 also brought unrivalled smoothness and cruising refinement to the class. With little extra weight over the front axle, it steered a lot better than the MGC. That said, the rest of the car showed its age. New generation rivals like Datsun 240Z and Lotus Elan Plus 2 brought sharper handling and smoother ride by all-independent suspensions. The MG's solid rear axle on leaf springs was crude in comparison, especially on poor roads. Its dated packaging was also considered too old to justify its 50-percent price hike. Therefore the car did not meet with great success.
The British motor industry declined quickly during the 1970s. British Leyland lacked money to continue developing MGB. Apart from some changes necessary to comply with new regulations, the car was basically left untouched after 1973. Worsening financial health finally forced BL to abandon MGB together with its Abingdon factory at the end of 1980.