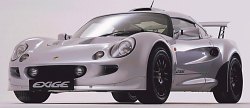 Base on the Elise (now called Elise Mk1), Lotus created a racy coupe late last year. The philosophy is simple: more power, more grip and more downforce.

Nothing could be more straightforward to earn the extra £10,000 over the standard Elise. The heart of the Exige is transplanted from 340R. That's a K-series-derived 1775 c.c. 16-valver generating 177 horsepower and 126 lbft of torque in a peaky manner. Also like the 340R, power is transferred to the road via a set of Yokohama rubbers, although Exige's are A039 instead of A038 and they are bigger by 1 inch in diameter. In other words, 195/50ZR16 front and 225/45ZR17 rear.

The chassis is pure Elise though tracks are widened for higher cornering limit. However, what differs it most from the donor is the body work which comes nearly straight from the Elise Motorsport racer. It has massive front air dam and a huge rear wing which generate 35 kg and 45 kg downforce respectively at 100 mph. Like the racer, it has a composite roof which is high enough to accommodate a driver wearing helmet (a hint that the Exige is a weekend track racer). However, the fastback now incorporates a proper rear window in order to pass EU's type approval. Instead of glass, it is made of transparent polycarbonate. The racer's roof-mounted air intake is retained, forcing cooling air to the engine compartment.

For the purpose of part-time track racing, the suspensions employs Koni racing dampers with adjustable ride height and adjustable front anti-roll bar. Steering ratio is tightened to just 2.3 turns from lock to lock. Brake discs are 282 mm in diameter, ventilated and cross-drilled of course. Front AP and rear Brembo calipers.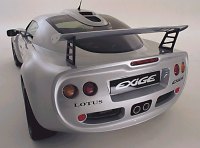 However, the Exige is rather heavy. At 785 kg, it is some 110 kg heavier than the 340R and 60 kg in excess of the standard Elise, therefore it never realised its promised performance of 136 mph, 0-60 in 4.7 sec and 0-100 in 12.3 sec. Autocar magazine found it actually tops 124 mph (thanks to the drag created by aero kit and larger frontal area) and that was achieved in the 4th gear, reaches 60 mph in 5.4 sec and 100 mph in 13.7 sec. That put it just marginally in front of Elise 111S and is well behind the 340R.
In terms of handling, if the speed is under 50 mph, the Exige drives like regular Elise, just has slightly firmer ride and crisper steering. Above that, its real downforce press the chassis firmly on road while the sticky tyres generates tremendous grip, allowing very high cornering speed. Therefore there is hardly any lift-off oversteer as found in the standard Elise.
Nevertheless, what a pity the potential of the chassis cannot be exploited by the weak engine. Yes, it is very loud, but there is no go. Loud is because of the absence of sound-deadening and the roof tends to amplifier the noise from behind. Not only the not-so-beautiful engine noise but there are also abundance of tyre rumble, suspension noise and transmission noise. While the lightweight 340R can be benefited from the peaky engine, the Exige always struggle to keep up with rivals. A better engine is desperately needed.
Although it is EU type approved, Exige will not appear to the majority. Noisy, spartan, untidy-looking, no convertible pleasure. It is actually a road-legal track car. I cannot imagine who will buy it without racing it on track.