From its birth to its last year in the hands of Lotus, the Seven went through 4 series and countless of running changes. Series 2 saw the powerful Cosworth 1.3 and 1.5-liter engines which produced 85 and 100hp respectively. They also brought the name "Super Seven". Series 3 introduced Lotus' own twin-cam 1558cc engine, which could produce 125hp in the hottest Holbay tune. With good power-to-weight ratio, the Super Sevens could match contemporary Ferraris and Porsches in short sprint, and cut them in corners. Top speed was bounded by its poor aerodynamics (Cx was around 0.7), but on smaller, slower circuits it could easily dominate its class. No wonder it was banned from most races.
By the early 1970s, Lotus decided to concentrate its effort on classier road cars such as the still-born Esprit. After some 2500 Sevens had been built (most in kits form), it sold the production rights to Caterham, its sole local dealer for Seven then.
In the first dozen years, Caterham did not alter the Seven much. The only bold decision it made was to revert production from the Series 4 to Series 3. S4 was originally supposed to take Seven to mass production with its simplified structure, full glassfiber body shell and more spacious cockpit. Unfortunately, contemporary production technique for glassfiber body was raw, failing to shape it to the required curvature thus the S4 was square and unappealing to fans. Reverting to S3 was proved to be a correct decision. Today, the Caterham Seven remains in S3 form.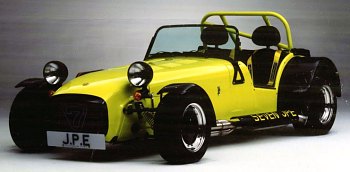 1992 Caterham 7 JPE
The first major change was introduced in 1985. Live axle rear suspension was replaced with De Dion axle for better control. Entering 1990s, the long-serving Ford-Cosworth engine was replaced by new Opel 2-liter 16V (from Astra). This made the 175hp Seven HPC.
1992 came the special edition JPE (Jonathan Palmer Edition), named after the ex-F1 racing driver who participated in its tuning. It was powered by the touring car specification, 250hp version of the same Opel 2-liter engine. Performance was truly stunning – 0-60 mph was claimed to be 3.5 seconds, whereas 0-100 mph took 8.5 seconds. If that was not quite the fastest in the world, its 0-100mph-0 performance was definitely so. With a measured time of 12.41 seconds, it held the world record until a McLaren F1 LM broke that nearly a decade later.
1999 Caterham 7 Superlight R500
Following Opel was Rover K-series engines in the form of 1.4, 1.6 and 1.8 liters. The K-series was renowned for lightweight, thus its marriage with the Seven was made in heaven. Caterham took this advantage and introduced the Superlight series – the 140hp / 470kg Superlight (1996), the 190hp / 470kg Superlight R (1997) and 230hp / 460kg Superlight R500 (1999). Incredibly, the 50-year-old sports car can still teach modern supercars a thing or two in performance and handling. It still provides the closest driving experience to that of a go-cart or even a Formula 3 race car. The formula set by Colin Chapman never gets outdated.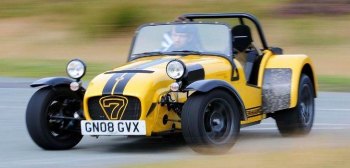 2008 Caterham 7 Superlight R500