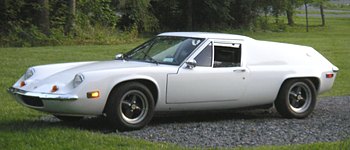 The first time I saw the classic Europa on road, I wondered why Lotus could make a mid-engined sports car look so much like a bread van. I guess many of you had the same feeling. Yes, mid-engined layout was a new concept in 1966. De Tomaso pioneered this concept in its Vallelunga just one year ago, and the paint on Lamborghini Miura hadn't dried yet when Colin Chapman unveiled his own version. Still, that was not an excuse for his inability to package a mid-engined chassis in style. In fact, the Europa was shaped solely for the benefit of aerodynamics. Wind tunnel testing found surrounding the engine lid with high walls would alter the airflow from the roof, driving it to flow horizontally and leave the car straight away. This contributed to an amazing Cx of 0.29 and simultaneously low level of lift.
The early Europa was such a no-compromise machine. People said it was the true successor of Elite, a contrast to the commercial-oriented Elan. This mean it had little consideration for practicality. For instance, its side windows were fixed in place, and its glass-fiber body was bonded to the steel backbone chassis so that any damages could not be repaired without destroying the whole body work. The Series 1 and 2 cars were underpowered and slow, especially beside Elan. Nevertheless, the Europa was still fabulous to drive because it had the best balanced chassis. With the majority of weight acting on the rear wheels, it provided superb roadholding and a sweet, uncorrupted steering. Like other Lotuses, its all-independent suspensions resulted in a supple ride. All its shortcomings becomes forgivable once you drive the car.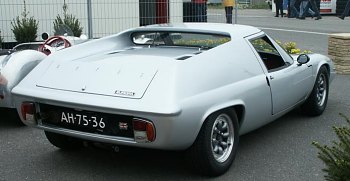 As suggested by its name, the Europa was primarily targeted at mainland Europe. For easier servicing there, it selected a Renault powertrain. The 1470cc push-rod engine came from Renault 16, as was its 4-speed transaxle. They were inverted and mounted longitudinally behind the cockpit. Even with Lotus tuning the engine produced only 82 horsepower. Pushing a 613 kg car this translated to 0-60 mph in an unremarkable 9.5 seconds. For comparison, the contemporary Elan twin-cam managed that in less than 8 seconds. On the upside, the Renault engine was all-aluminum and weighed only 90 kg, benefiting balance and handling. It was also more reliable than the Lotus-Ford twin-cam. Thanks to a very low drag, the early Europa was capable of topping 115 mph.
Series 2 from 1968 corrected many of its faults. The body shell was bolted instead of bonded to the chassis for easier replacement. Electric windows replaced the fixed ones. Interior and luggage space were also improved, though it was still cramped for drivers over 5' 10".
1972 Europa Special
Series 3 from 1971 took an even bigger leap forward. Its styling was considerably improved by cutting down the flying buttresses surrounding the engine lid, making the look less bread van. More important, the Renault engine was finally replaced by the 1558cc Lotus twin-cam with 105hp. That said, the unchanged Renault gearbox means it could not adopt the ultimate 126hp version of the engine as found on Elan Sprint at the time. Autosport magazine found the 105hp car managed 117 mph and 0-60 mph in 8.0 seconds.
The 126hp engine was finally available next year, thanks to the arrival of Renault's new 5-speed gearbox. This Europa Special (usually in JPS-style black and gold livery like Lotus F1 cars) was capable of 123 mph and 0-60 mph in less than 7 seconds. Worth noting is the iron-block engine was considerably heavier than before, thus Lotus lengthened its wheelbase to keep the same balance. This was also the ultimate Europa.
With 9,300 units sold in 9 years, Europa was quite successful, if not as much as Elan. Its experience in mid-engined chassis allowed Lotus to step up its challenge to the supercar territory with the next car, Esprit.