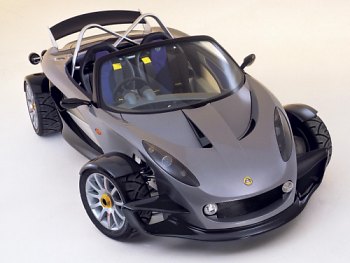 In the late 1990s, Lotus boss Chris Knight wanted to create a track-oriented road car in the same spirit of the original Seven. He invited Autocar magazine to join a brainstorm workshop with chief designer Russell Carr, in which they conceived an uncompromising, thinly packaged machine based on Elise. It was devoid of roof, weather protection of any kind, doors and windows. Like a formula race car, it had four exposed wheels and a pair of winglets at either side of the nose. Its GRP bodywork covered only half the exterior surfaces, letting the bare aluminum chassis tub and a large part of the cockpit exposed. Such a minimalist design saved considerable weight from the already lightweight Elise. In addition to a highly tuned Rover K-series engine, it set a power-to-weight target of 340hp per ton. This also led to its name, 340R.
Disappointingly, the production car born in 2000 did not quite meet this target. Due to the safety, emission and noise compliance measures required by EU type approval, it was a little heavier and less powerful than desired. Consequently, it resulted in 295hp per ton. On the upside, with European type approval its sales was not bounded in Britain, unlike Caterham. Only one-third of the cars were sold domestically. The remaining went to European mainland and Japan. To keep the name 340R meaningful, Lotus promised to limit its production to 340 cars.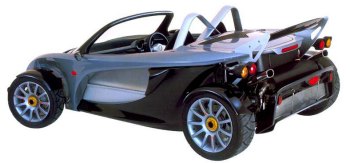 No other track-oriented lightweight specials were as stylish as 340R, at least before the arrival of Ariel Atom. It was engineered for simplicity in the first place, but it did not forget style. Everywhere showed signs of artistic execution, such as the McDonald-style rollover protection bars, the ecliptic headlights, the chromed exhaust, the aluminum bracket rear spoiler, the blade-style center console and the arc on which main instruments mounted. Besides, the way the mechanicals exposed at the back was done with amazing visual impact.
Underneath the extraordinary look was basically an Elise. It shared the latter's extruded aluminum tub, double-wishbone suspensions and unassisted steering, but it got enlarged brakes, uprated springs and dampers and stickier rubbers. The Rover 1.8-liter 16V engine was tuned to 177hp, not as extreme as the 190hp Elise Sport but it came with catalytic converter and complied with European emission regs. The close-ratio 5-speed gearbox from Elise also helped acceleration, although its cable-operated gearshift was a little vague and notchy. Autocar road test found the 340R could top 132 mph, accelerate from rest to 60 mph in 4.6 seconds and to 100 mph in 12.5 sec. This failed to match the claimed 4.3 sec and 10.9 sec respectively. Neither could it challenge the lightning Caterham R500 (3.4 and 8.1 sec). However, it did beat the fastest Elise and Porsche Boxster convincingly.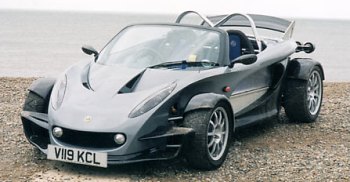 What made the 340R special was its real-world performance, especially in curves. In Autocar's handling test conducted in year 2000, the 340R lapped quicker than all oppositions bar Caterham R500. These included supercars like Lamborghini Diablo GT and Porsche 996 Turbo. It lost to Caterham just because of lacking straight line speed. In fact, it cornered with higher speed than the Caterham. The 340R could carry so much speed into corners because its Yokohama semi-slick A038 tires generated immense grip (on dry) and its large brakes were extremely powerful for a car weighing only 675 kg, or 100kg lighter than Elise. Moreover, the 340R balanced so well and it never understeered, allowing the driver to extract the most from its engine. Besides, the aggressive wings generated positive downforce to help cornering.
Of course, as a track-oriented car it got none of the creature comfort you would expect on a regular sports car. We don't talk about air-con or power windows because it had no roof (not even a soft one) and windows at all. Without doors, you had to climb into the cockpit as if a Le Mans racing driver. When the sky open, the only way to prevent getting wet was to drive fast enough so that the windscreen could deflect raindrops above your head. If it get pouring, watch out the Yokohama tires as they could be extremely slippery. Nevertheless, it don't think people would drive in such condition as the car had no weather protection at all.