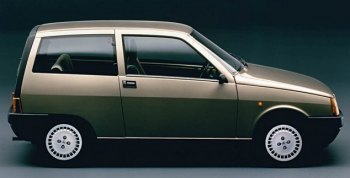 FIAT Panda, Uno and Lancia Y10 gave Italian the renaissance of their small car empire in the 1980s. While Panda and Uno were made in Giugiaro's school of folding paper design, the in-house styled Y10 delivered an unusual sense of elegance, thanks to its subtly curved body, simple lines, flush windows and black clamshell tailgate. It is a timeless design.
Like its siblings, Y10 was tall and spacious for its size. Its spare tire was stored under the bonnet next the engine to free up luggage space. Its interior carried the same minimalist design language as the exterior, finished in classier materials than contemporary small cars. No wonder Lancia positioned it as an upmarket mini car.
Mechanicals were largely shared with Panda and Uno, such as the 999 cc FIRE engine (45hp only but pretty torquey), 5-speed gearbox and a part-time 4WD system as option. Though by no means fast, the little car was a willing performer in urban area, and returned excellent fuel economy. Y10 turbo employed a 1049cc turbocharged four to produce a remarkable 85 hp, but it was suffered from turbo lag, so eventually it would be replaced by a normally aspirated 1.3-liter. All Y10s were nimble to handle but suffered from small-car ride quality.
It should be noted that Y10 was actually developed by the Autobianchi division of FIAT group. It was therefore badged as Autobianchi in its home market. For marketing reasons, Lancia name was used for export. Following the retirement of Y10, the Autobianchi brand also came to an end.