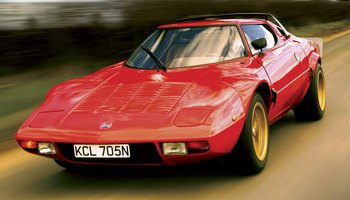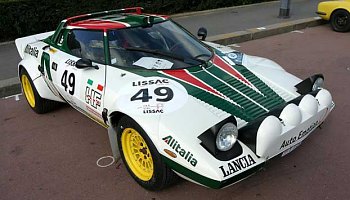 Lancia Stratos was unquestionably one of the most exotic looking cars ever built. Its wedge shape body, wraparound windshield and kick-up side windows made it look more like a 22nd Century spaceship than a car born four decades ago. Admittedly, the early 1970s was the golden era of automotive design. Fueled by the mania of space exploration and Sci-Fi movies like Stanley Kubrick's 2001: The Space Odyssey, car designers often came up with futuristic ideas. Especially Bertone's Marcello Gandini. Today we all know how great the impact Mr. Gandini made to automotive design. The early 1970s was exactly his peak. During that period he created what I would call a trio of "

Gandini Wedges

" – Lamborghini Countach LP500, FIAT X1/9 and Lancia Stratos. These were the most dramatic designs ever put into production.

The original Stratos was a concept car shown in the 1970 Turin motor show. It was very different from the production car we are talking about, but it caught the attention of the motorsport director of Lancia, who was finding a replacement to the aging Fulvia HF. Eventually, Lancia decided to work together with Bertone to develop its next generation rally car.



No matter Porsche 911, Renault Alpine, Ford Escort RS or Lancia's own Fulvia, contemporary rally cars were all derived from production models. Lancia Stratos broke this tradition. It was the first ever purpose-built rally car. Motorsport governing body required at least 500 cars to be built in order to qualify for world rally championship (that limit was lowered to 400 units later). This was easily fulfilled by the small scale coachbuilding facility of Bertone. Lancia and Bertone set out optimum specifications for the car: mid-mounted engine for best balance, a compact size for good agility (3.7 meters long, 1.1 meter tall and 2.2 meters wheelbase) and lightweight construction by central monocoque attached to front and rear space frames, then dressed in bodywork made of glass-fiber. The front suspensions were unequal-length double-wishbone. The rear was suspended by struts and lower wishbones to make room for the engine compartment. Ventilated brake disc was provided at each corner.

The only question was powertrain. Lancia V4 or FIAT twin-cam were considered not powerful enough to make a winner. Fortunately, Ferrari, which had been acquired by FIAT, agreed to supply its Dino V6 to Lancia. This 2418 cc quad-cam motor was good for 190 horsepower in road trim and, even better, was designed for mid-engined application in Ferrari 246GT, so transplant to the mid-engined Stratos was pretty straightforward. Came together with the V6 was the 5-speed ZF transaxle. Both were mounted transversely in the engine compartment. No matter looks, chassis or engine, Lancia seemed to be ground-breaking in the rally world.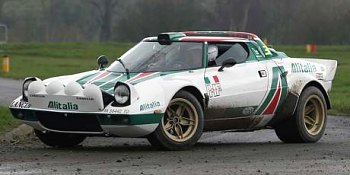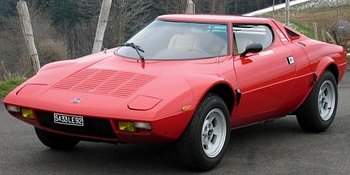 No wonder it swept WRC immediately, winning 3 consecutive manufacturer titles from 1974-76 and triumphed no less than 4 times in the highly challenging Monte Carlo rally. Its achievement could have been greater if not the Italian group turned its works team to FIAT 131 Abarth from 1977 for marketing purpose. Even so, Stratos ran by private teams continued to score numerous wins, including the 1979 Monte Carlo rally. It was one of the best rally cars ever made, and definitely the best looking by far.

Among the 492 units built, around 50 were race cars, and the rest were Stradale (street cars). Autocar magazine conducted a road test in 1975 and found the Stradale could top 140 mph and accelerate from 0 to 60 mph in 6.8 seconds. Unsurprisingly, it was more accelerative than Ferrari 246GT but a tad slower at the top. The British magazine praised the car for its swiss-watch precision in handling, steering, braking and throttle response. It was very well balanced, producing no understeer and minimal pitch under braking. Its 205/70VR14 tires, nearly the same width as those of the contemporary Lamborghini Countach, produced endless grip to the sub-1000 kg machine. The limit of adhesion was so high that Autocar described it could only be exceeded on a racing track.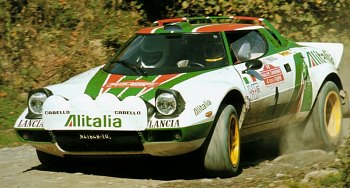 Put it into the hands of racing drivers, however, we can see how it behaved at the limit. Stratos drivers Bjorn Waldegaard and Walter Rohrl thought it was nervous when being driven at 10/10ths. Due to the short wheelbase and low polar moment of inertia, the Stratos would rotate about its center when it ran out of adhesion, so it should be driven with caution. Nevertheless, from its domination in the rally scene, it is fair to say the Stratos' speed and accuracy were more than enough to compensate for its nervousness at the limit.

As a road car, the Stratos was not as good to own as its predecessor Fulvia HF. Because it was designed for homologation, build quality was poor and little consideration was made to practicality. Its cabin was very cramped. Rearward vision and luggage space were nearly non-existent, though its wide doors had spaces to store your helmets. But thanks to its exotic appearance and glorious racing records, today the Stratos remains to be the most loved rally car in history.