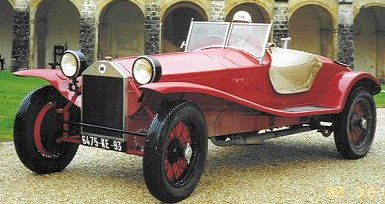 If you see Citroen Traction Avant as the most advanced pre-war car, what about Lancia Lambda ? Launched in 1922, or twelve years before the Citroen, Lancia Lambda introduced many world's firsts – the first monocoque chassis, the first independent (front) suspension, the first V4 engine, the first production aluminum engine block and the first four-wheel brakes. Many of these features would be adopted by Citroen - and were still thought to be state of the art in 1934 !
Lambda demonstrated Vincenzo Lancia's pursuit of engineering innovations. Contemporary cars all rode on separate chassis, i.e., the body was mounted on a ladder frame chassis. As a result, they were unnecessarily heavy and had high center of gravity. Lancia came up with the idea of unitary construction which did without chassis frame. Transmission tunnel and rear axle tunnel doubled as the backbone, reinforcing the monocoque structure. They also allowed the body to be mounted closer to the ground to improve roadholding. As shown in the 1928 Mille Miglia race, the Lambda could keep up with the far more powerful Alfa Romeo race car thanks to its superior handling.
Independent front suspension was another innovation. Vincenzo Lancia pursued low unsprung mass well before the Lambda. In the previous Kappa, he employed lightweight front axle made of pressed steel. However, a Kappa broke its axle in a race, leading Lancia to think seriously of independent suspension, which could survive bigger impact yet improve roadholding further. He ordered his engineer Battista Falchetto to design an IRS. It employed sliding pillar, coil spring and hydraulic shock absorber.
The engine was also very innovative. While contemporary production cars employed inline-4 or 6 cylinders engines, Lancia pioneered a narrow-angle (only 13-degree) V4, whose single overhead camshaft operated valves of both banks. It was unusually compact, and lightweight owing to the use of aluminum block. This concept would be reused by Volkswagen's VR6 engine some 70 years later. The V4 initially displaced 2.2 liters and produced 49 horsepower, then enlarged to 2.4 liters (59hp) and eventually 2.6 liters (69hp), by then it could top nearly 80 mph.
The Lambda was not conceived as a sports car, unlike contemporary Alfa Romeo or Bugatti. It was a mass production car, with close to 13,000 units reached customers' hands. This made its innovative technologies even more appealing.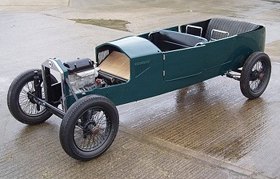 The monocoque chassis of Lambda