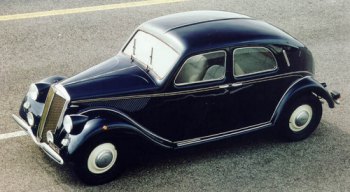 Vincenzo Lancia died in 1937 at the age of just 56. However, he left the world a very advanced small saloon called Aprilia. In many ways the Aprilia was a close match to the contemporary Citroen Traction Avant. Both cars featured monocoque chassis, all-independent suspensions and hydraulic brakes, technologies that led the rest of the world by 20 years. In addition, the Lancia was probably the first European car shaped in wind tunnel (just 3 years after American did that with Chrysler Airflow). Testing at the wind tunnel of Polytechnic of Turin found its drag coefficient was only 0.47, no wonder it needed no more than a 1.4-liter engine to achieve 80 mph top speed.
The engine of Aprilia was again the company's trademark narrow-angle V4, with single overhead camshaft and aluminum block. To serve the compact saloon, its displacement was reduced to 1352 cc, lowering output to 47hp and fuel consumption accordingly. From 1939, the V4 was enlarged to 1486cc, though maximum power barely increased to 48hp.
Aprilia survived through the WWII until 1949, with only 27,635 cars built, far less than the 760,000 units of Citroen Traction Avant. Admittedly, Lancia always positioned its cars in the middle to upper class, charging premium for its engineering excellence. That limited its commercial success as well as its influence to the world.