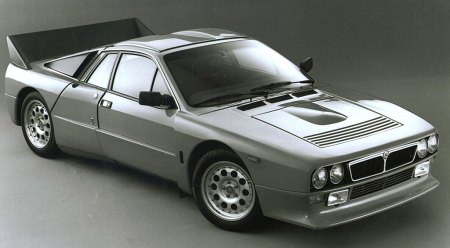 I have never seen a Lancia 037 in person. Being a one-off built to Group B rules, this car was as rare as Ferrari 288GTO or Porsche 959. Only a little over 200 units were produced, among them 150 units were designed to road use. Of course, these road cars existed simply because of the need to homologate for World Rally Championship. They were not supposed to deliver Ferrari or Porsche level of quality and user friendliness, despite of their high price.

037 seemed like a derivative of (Beta) Monte Carlo, Lancia's mid-engined coupe. Lancia would have preferred a clean sheet design, but a rush to homologate for the 1982 race season meant it had to settle on some off-the-shelf components from Monte Carlo. Basically, the central monocoque cockpit section and the stuffs of interior came straight from that car. However, everything else was new. Tubular steel space frames were bolted to the front and rear of the monocoque to support powertrain and suspensions. The outer skin was made of lightweight Kelvar-reinforced glass-fiber. Suspensions were double-wisbhones all round. The biggest change was the engine. Although it was still based on FIAT's 2.0-liter twin-cam four, it was derived from the 16-valve version last used in FIAT 131 Abarth rally car. Furthermore, a Roots-type supercharger was added to boost its output to 205hp in road trim, or 280-325hp on race car. Most important, unlike the transverse installation on Monte Carlo, the new engine was mounted longitudinally behind the cockpit for better weight distribution, and drove the rear wheels via an ZF 5-speed transaxle with limited slip differential. The street car was capable of reaching 140 mph and sprint from zero to sixty in sub-6 seconds.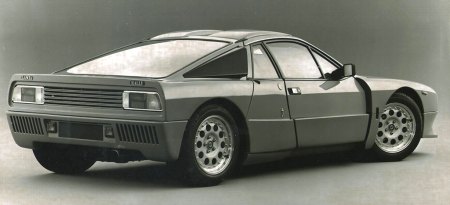 Like Monte Carlo, the styling and production of bodyshell were responsible by Pininfarina. The development of powertrain and chassis was done by Abarth, now became the motorsport division of Fiat group. The 037 never matched its predecessor, Stratos, for visual impact. Not only more conservative, its form was somewhat compromised with functions and the use of existing components. Nevertheless, by the standard of Group B rally cars, 037 was one of the better lookings. After all, its styling was derived from a mid-engined sports car.

The first race season was not very satisfying, as the Lancia was usually hit by reliability problems. In 1983, its performance and reliability were both improved. Having won 5 races, it was crowned the manufacturer title of WRC. That was also the last time WRC won by a rear-wheel-drive machine. 037 competed for two more seasons, but its rear-drive chassis and supercharged engine could no longer keep up with 4WD powerhorses like Audi Sport Quattro and Peugeot 205T16. Lancia decided to work on another, even more ambitious car...