Lamborghini LM002 (1986)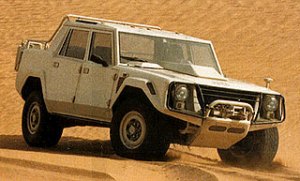 If you know Ferruccio Lamborghini made his wealth in tractor business before establishing his supercar company, you won't be surprised to see this Lamborghini super offroader. Like AM General's Hummer, Lamborghini LM002 was designed to win military contracts in the beginning but eventually found more success in civilian applications. Many private customers bought it just for fun. It was especially popular in the rich oil countries in Middle East. Around 300 LM002s were sold from 1986 to 1993, including 40 units bought by Saudi Arabian army.

The LM002 had a steel tubular frame chassis and body panels made of aluminum and composites. Despite that, its sheer size and robust structure meant a 3 ton kerb weight. Fortunately, Lamborghini powered it with Countach's 48-valve 5.2-liter V12 engine, with 455 horsepower to make it the first ever performance offroader in the world. It could top 125 mph and accelerate from 0-60 mph in 7.7 seconds. (Later cars installed with Diablo's 492hp 5.7 V12 were even quicker) For comparison, a contemporary Range Rover V8 could only top 100 mph and did 0-60 in 10 seconds. Moreover, unlike today's so-called performance SUVs, the Lamborghini was a true offroader, one that could run at 100 mph on desert or climb 50 degree incline angle, thanks to those huge Pirelli Kevlar-reinforced super tires, lock-up 4x4 system, 2-speed transfer case and fully independent suspensions.

The LM seated 4 people in the cabin and optionally another 4 in the open cargo area. Though cabin space was not huge, it was fully trimmed with leather and walnut to reflect its supercar pricing. Offroaders had never been so exotic. Never before and never afterwards. This made it so unique in automotive history.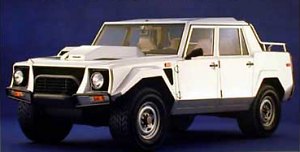 Specifications
| | |
| --- | --- |
| Model | LM002 |
| Year of production | 1986-93 |
| No. produced | 301 units |
| Layout | Front-engined, part-time 4wd |
| Size (L / W / H / WB) | 4900 / 2000 / 1850 / 3000 mm |
| Engine | V12, dohc, 4v/cyl |
| Capacity | 5167 cc |
| Power | 455 hp |
| Torque | 369 lbft |
| Gearbox | 5-speed manual x 2-speed transfer case |
| Weight | 3085 kg |
| Top speed | 125 mph |
| 0-60 mph | 7.7 sec |
---
Copyright© 1997-2009 by Mark Wan @
AutoZine