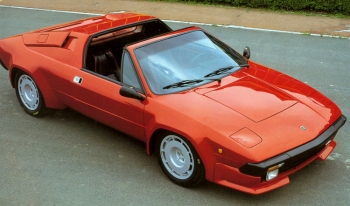 Jalpa was Lamborghini's entry-level model in the 1980s and intended to compete with Ferrari 308/328GTB. Despite of this positioning, it was actually larger than the flagship Countach in all dimensions except width. Thanks to the use of steel monocoque chassis and body, its cabin was a lot roomier than that of Countach, whose spaceframe chassis required very wide and tall sills. Access to the cockpit of Jalpa was also made easy by using conventionally hinged doors. Besides, the baby Lamborghini had a Targa roof to let its occupants enjoy sunshine and fresh air. The roof panel could be stored conveniently at the space behind the seats. This was the most user-friendly and least temperamental Lamborghini to date.




The Jalpa was evolved from the 1976-79 Silhouette, which was a commercial flop with only 52 units sold. The Silhouette was in turn derived from Urraco. Basically, both Silhouette and Jalpa carried over the underpinnings of Urraco, such as all-strut suspensions and the transversely mid-mounted powertrain. However, they discarded the rear seats to concentrate on serving 2 people. What they differed mainly from Urraco was a new angular exterior and interior design by Bertone, which should please those seeking a characterful style while different from the more popular Ferrari.

The biggest problem of Silhouette was its lack of low end grunt from the 250hp 3-liter DOHC V8. Therefore Jalpa had it stroked to 3.5 liters. It remained 2 valves per cylinder during its life, so horsepower was limited to 255 (Ferrari 328GTB's Quattrovalvole V8 produced 270hp). However, the longer stroke brought much needed improvement to tractability in town drive, with 231 lb-ft of torque appearing at an easily accessible 3500 rpm. Apart from drivability, the Jalpa was also slightly quicker than its predecessors. Its top speed was close to 150 mph while 0-60 mph took 6.2 seconds.




In many ways the Jalpa was up to the league of Ferrari, such as handling, roadholding, performance and practicality. The Bertone design was charismatic too, if not as beautiful as Ferrari. However, the Jalpa also preserved the weaknesses of its predecessors, namely difficult controls (heavy clutch and clunky gearshift), firm low speed ride and general lack of refinement. Moreover, it still suffered from the unreliable image got in the last decade, although it was actually not. As a result, Jalpa failed again to realize the potential of "baby Lamborghini". It sold only 410 units from 1982-88. Ridiculously, actually rarer than Countach.