Lamborghini Espada (1968)

Combining exotic appearance and V12 performance with 4 adults accommodation and everyday usability, Lamborghini Espada was so unique that it had simply no rivals then – Ferrari and Maserati did not offer full 4-seaters, while Aston and Bentley were never seen as exotic. Espada hit the sweet spot of the market and got 1,217 orders throughout its 10 years life. It was therefore the most successful Lamborghini model until then.




The dramatic exterior design of Espada was once again responsible by Marcello Gandini. This time he adopted an angular theme and very long visual effect to excite our emotion. In fact, the Espada was shorter than the previous 400GT. It did have a roomy cabin thanks to the 2650mm wheelbase (100mm longer than 400GT) and the forward placement of the V12 (some 200mm further forward than 400GT). Apart from an Italian-style driving position, people praised everything else in its cabin. It had room for four normal size adults and a weekend's luggage under the glass tailgate. It had excellent rearward visibility thanks to a second glass window at the tail. It offered air conditioning, electric windows, power steering, leather upholstery and sunroof to ease your long journey. Even a Chrysler 3-speed automatic was offered as option, although Lamborghini's own 5-speed manual was always the better choice. Unquestionably, this was the most comfortable Lamborghini ever.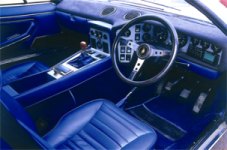 On the other hand, the Espada had power to excel. Its 3929 cc quad-cam V12 was basically the same unit as Miura's, only with side draught carburetors to enable a lower bonnet line. Power rating was 325hp initially, then rose to 350hp from Series II accompanied with higher compression ratio. Despite of a 1600-plus kg kerb weight, it could still reach 150 mph and sprint from 0-60 mph in 6-point-something seconds, easily being the world's fastest 4-seater. Admittedly, that was exactly what customers expected for a car costing even more than Miura.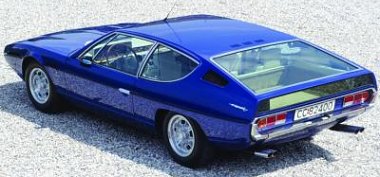 On the road, Espada was praised for good temper - smooth and free-revving engine, manageable controls, compliant ride and neutral handling. Certainly much more friendly than its looks suggested. What a contrast to the mid-engined Miura and Countach produced alongside it.



Specifications
| | |
| --- | --- |
| Model | Espada S2 |
| Year of production | All Espada: 1968-78 |
| No. produced | All Espada: 1,217 units |
| Layout | Front-engined, Rwd |
| Size (L / W / H / WB) | 4735 / 1860 / 1185 / 2650 mm |
| Engine | V12, dohc, 2v/cyl |
| Capacity | 3929 cc |
| Power | 350 hp / 7500 rpm |
| Torque | 290 lbft / 5500 rpm |
| Gearbox | 5M |
| Suspensions | All: double-wishbones |
| Weight | 1685 kg |
| Top speed | 158 mph* / 155 mph** |
| 0-60 mph | 6.5 sec* / 6.9 sec** |
| 0-100 mph | 15.0 sec* |

* Tested by R&T
** Tested by CAR


---
Copyright© 1997-2009 by Mark Wan @
AutoZine