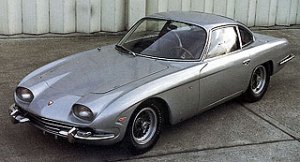 Lamborghini had long been famous for producing uncompromising supercars. However, its very first car, 350GT, was actually a grand tourer in the mold of Ferrari 250GT Lusso. From the beginning, Ferruccio Lamborghini intended to produce better road cars than Enzo Ferrari, who devoted most of his energy to racing. Ferruccio established his sports car company near the hometown of Ferrari and hired some ex-Ferrari men to design his first car, such as Giotto Bizzarrini (who had created Ferrari 250GTO and Iso Grifo) and the highly talented young Giampaolo Dallara. Other important figures in the development team included engineer Paolo Stanzani, who assisted Dallara, and test driver Bob Wallace.

To better his arch-rival, Ferruccio Lamborghini commissioned Bizzarrini to design a 60-degree V12 engine with 3464cc (500 more than Ferrari), quad-cam (versus SOHC) and six Weber carburetors (versus three). It pumped out 280 hp in production trim, 30 more than 250GT Lusso. Moreover, its ZF gearbox had 5 forward ratios instead of 4.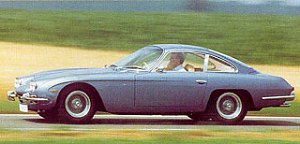 Dallara designed a tubular steel spaceframe chassis with all-independent double-wisbhone suspensions to shame Ferrari's live axle rear end. It was clothed with a lightweight aluminum bodywork hand-built by coachbuilder Touring of Milan. Weighing just 1050 kg, the 350GT was clearly faster than its Ferrari rival. Road & Track clocked 0-60 mph in 6.8 seconds and a remarkable top speed at 152 mph. Not even the new Ferrari 275GTB could better it in real world.

Just two years after debut, 350GT was upgraded to 400GT. Its V12 was bored out to nearly 4 liters and output increased to 320 hp. At the same time, the expensive aluminum body was replaced by a steel body as Ferruccio no longer wanted to lose money on each car. Weight went up by 250 kg, thus performance actually took a slight step back. On the plus side, the original car's odd 2+1 seating layout (with a centrally positioned small rear seat) was replaced by more useful 2+2.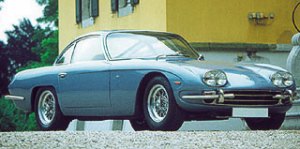 No matter 350GT or 400GT, they were praised for all-round ability. They steered, stopped and cornered as well as contemporary Ferraris while being more relaxing to drive. Contemporary road testers praised its V12 for smooth, linear and near silent. Therefore it was a better companion for long-distance touring. The Lamborghini was also praised for high standard of build quality and interior finish. The only aspect it failed to match Ferrari was probably its looks. Though the original design by Franco Scaglione was restyled by Touring for production, it still lacked the beauty of Pininfarina's works. Anyway, 350GT and 400GT had successfully established a strong reputation for Lamborghini and pave the way for the more exotic cars following.