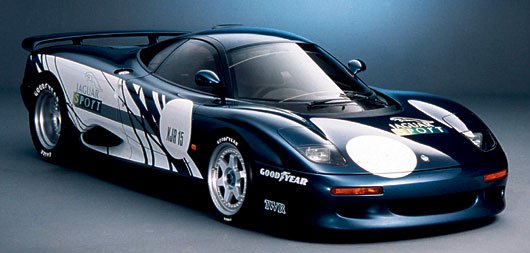 The arrival of Porsche 959 and Ferrari F40 kickstarted a supercar booming period from the late 1980s to early 1990s. Established sports car makers as well as new comers like Bugatti, Isdera, Cizeta, Dauer, Yamaha, McLaren etc. joined the gold rush quickly. During this period Jaguar also produced a couple of exotic supercars, XJ220 and XJR-15. While XJ220 was conceived in-house, XJR-15 was purely the work of Tom Walkinshaw Racing (TWR), which had been working successfully with Jaguar in Group C endurance sports car racing. The Jaguar XJR-8 and XJR-9 developed and raced by TWR won 2 straight world championships in 1987-88 and another 2 Le Mans victories. Although the racing program did not transform to sales success for the luxury production cars of Jaguar, Tom Walkinshaw believed it could provide a shortcut to supercar business. As a result, TWR developed the XJR-15 supercar based on its XJR-9 race car.

Jaguar was not happy about this, of course. After some negotiations, they agreed to form a new joint-venture to produce only 50 units of XJR-15. Though fully road legal, its design would be very track-biased in order to distinguish from XJ220. Furthermore, this car would be raced in a one-make series held in 1991. Each car cost an astonishing £500,000 (remark: Ferrari F40 cost £163,000), but that included expenses for three races and US$1 million prize award for the eventual winner.



To convert the race car into road car, TWR commissioned Peter Stevens to design its exterior. The ex-Lotus designer did a great job, giving it a very stylish, concept-car-like looks and eventually earned himself the design job for McLaren F1. Like the race car, the body was made of a combination of composites and carbon-fiber. Underneath was a carbon-fiber monocoque chassis with tubular frames mounting the engine and front suspensions. The engine and transmission were used as the load bearing for rear suspensions. All suspensions were double-wishbone type with pushrods operating horizontal springs and dampers, i.e. almost identical to the race car. Of course, suspension geometry and ride height were fully adjustable.

The engine was probably the only component originated from Jaguar. It was a distanced relative of Jaguar's production V12. While retaining the basic layout of SOHC and 2 valves per cylinder, many things had been changed. It displaced a full 6 liters, employed forged aluminum pistons by Cosworth, forged connecting rods, high compression ratio and racing electronic fuel injection and ignition system. Power output was rated at 450 hp, allowing the 1050 kg lightweight supercar to sprint to 60 mph in 3.1 seconds. It was geared to reach 185 mph "only", but the full ground effect body should enable enormous cornering speed.

Nevertheless, don't expect the XJR-15 to be a proper road car. Its cockpit was very cramped for two people. It looked not much different from a race car, let alone creature comfort or luggage space. The XJR-15 was actually a thinly disguised race car, more so than any other Jaguars.