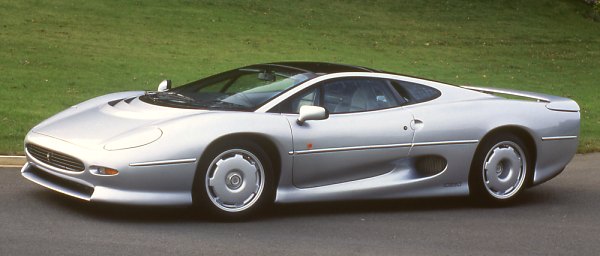 Many masterpieces in automotive history were created by passion. As the industry evolved, human passion was replaced by standardized procedures, committee meetings, accounting figures and market surveys. It is hard to imagine how XJ220 was created by some passionate people at non-office hours. The idea of creating a supercar for Jaguar was originated by its product development chief Jim Randle. It was a great idea in those days, unfortunately the financial conditions at Jaguar did not allow. Randle therefore gathered 12 voluntary engineers and stylists to work on the project during their spare time. As they usually held meetings on Saturday, they were dubbed the "Saturday Club".

4 years later, the XJ220 prototype was shown in Birmingham motor show and stunned the world with its beautiful design as well as its spectacular specifications: 220 mph top speed, 500 horsepower, 6.2-liter 48-valve V12, 4-wheel-drive and mid-engine… Unsurprisingly, it received hot reactions from the crowd thus Ford, the new owner of Jaguar, eventually greenlighted it for production.

Ford gave TWR the responsibility to reengineer as well as to produce the car. The target was a limited run of 350 cars, which would be profitable as each car was priced at a sky-high £403,000 - more than double of Ferrari F40 ! However, Tom Walkinshaw thought the brand-new V12 and 4WD system were too heavy, complex and costly to develop. Therefore they were replaced by a twin-turbo V6 driving the rear wheels. The 3.5-liter 24-valve V6 was based on the old Rover Metro 6R4 rally car. TWR had been developing it for the use in its new Group C race car XJR-10 and -11. With the addition of two Garrett T3 turbochargers, which boosted at most 1 bar, and two intercoolers, it exceeded the original target by 42 horsepower and 75 lb-ft of torque.

The use of a V6 instead of V12 also allowed TWR to shorten the XJ220 considerably, although it still measured nearly 5 meters long and 2220 mm wide ! The XJ220 would be remembered as the largest ever supercar, in contrast to McLaren F1. However, at 1470 kg it was by no means heavyweight. Aluminum was extensively used in its chassis and body. All body panels were made of aluminum alloy. The chassis was a combination of aerospace-grade aluminum honeycomb sandwich (tub and floorpan), aluminum alloy (engine and suspension subframes, reinforcement beams, bulkheads and suspension arms) and composites (bottom tray and venturi tunnels). With flat bottom and venturi tunnels, XJ220 was one of the few supercars that generated real downforce at speed, i.e. 270 kg at 200 mph, though this raised drag coefficient to 0.36.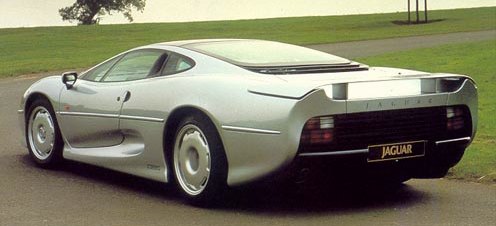 Unlike the race car-based XJR-15, Jaguar resisted to employ carbon-fiber tub on the XJ220. This allowed the XJ220 to have a roomier cabin and narrow sills like a proper road car. Unfortunately, the roomy cabin was not supplemented with build quality, which was poor for its price. To save money, the XJ220's cabin employed cheap plastics and switch gears sourced from Ford's parts bin. Outside, its taillights came from Ford Escort.

However, the XJ220 excelled on the road. With race car suspensions consisting of double-wisbhones and in-board springs / dampers operated by rocker arms, mid-engined balance and unassisted rack-and-pinion steering, Autocar magazine praised it as the finest handling supercar it had ever driven. In particular, it was impressed with the car's good damping that maintained composure over difficult roads. This was never achieved by other supercars before.

Nevertheless, the most memorable aspect of XJ220 was its speed instead. Autocar found it accelerate from 0-60 mph in 3.6 seconds and 0-100 mph in 7.9 seconds, both were the fastest ever times then. German magazine Auto Motor und Sport did not do so well, but its 0-100 mph figure was still better than its arch-rival Bugatti EB110GT. As for top speed, Jaguar set a new world record of 212.3 mph at Italy's Nardo test track (and even 217.1 mph after removing the catalytic converters). That meant on a straight track it could have been very close to the original 220 mph target.

Another memorable thing was its styling. Penned by Mark Lloyd and refined by Keith Helfet, the XJ220 combined the smoothness of E-type and a futuristic style not found in Jaguar before. It still looks very advanced even 2 decades later today. A timeless design undoubtedly.

Commercially, the XJ220 was not a success. Although all cars were presold back in 1988, when it went on market in 1992 the world was hit by recession while many new competitors emerged. Many customers canceled their orders. Some even sued Jaguar for not retaining the V12 engine of the prototype in order to get the deposits back. But the biggest blow came in 1993, when McLaren F1 stormed the world with unpreceding performance and engineering excellence. The Jaguar suddenly felt outdated. Although eventual production number was reduced to 281 units, there were still some cars unsold until at least 1996.

Sadly, millionaires seemed to have less passion for this car than the people who created it.