Jaguar Mk II (1959)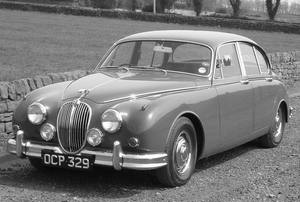 Jaguar established its reputation as a sporting marque by building SS100 in the 1930s and then strengthened its lead in the 40s with XK120. Nevertheless, its saloon range from Mark VII to Mk10 was less interesting. They were heavyweight luxury saloons thus hardly pleased enthusiastic drivers. Fortunately, in 1955 Jaguar launched a smaller sports saloon dubbed "Mk I". Four years later, it was replaced by an even better model called "Mk II".

The Mk II was heavily based on the Mk I, but improved over its predecessor in many areas, such as all-wheel disc brakes, independent rear suspensions and more powerful engines. Like all the best Jaguars, it was styled by no one other than William Lyons, the father of Jaguar. It got perfect proportion and many elegant details that were unique to Jaguar. The interior was finished in seas of wood and leather to justify its premium status. Today it becomes the best example of classical Jaguar saloon designs.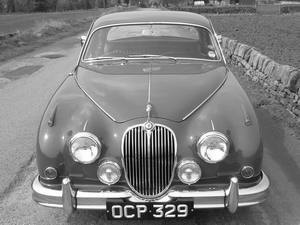 Like most other contemporary Jaguars, Mk II was powered by the famous XK straight-6 twin-cam engines. 3 capacities were offered – 2.4 liters, 3.4 liters and 3.8 liters. The latter produced an impressive 220 horsepower to enable a top speed of 125 mph and 0-60 mph in only 8.5 seconds. It was the fastest mass production sedan then. Furthermore, it had good handling and braking to match. No wonder it dominated touring car racing scene for more than 3 years, including taking the first European Touring Car Championship in 1963.

The Mk II survived for 10 years until 1969. After which Jaguar gave up this market segment and concentrated on the more luxurious XJ6. This handed a great opportunity to BMW and Mercedes-Benz. However, we should always remember that the German did not invent premium sports saloons. Jaguar was there first.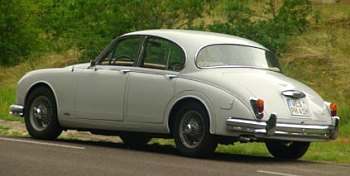 Specifications
| | |
| --- | --- |
| Model | Jaguar Mk II |
| Year of production | 1959-69 |
| No. produced | 91,210 units |
| Layout, Gearbox | Front-engined, Rwd, 4M |
| Engine | Inline-6, dohc, 2v/cyl |
| Capacity | 3781 cc |
| Power | 220 hp |
| Torque | 240 lbft |
| Weight | 1524 kg |
| Top speed | 125 mph* |
| 0-60 mph | 8.5 sec* |

* Tested by Autocar


---
Copyright© 1997-2009 by Mark Wan @
AutoZine