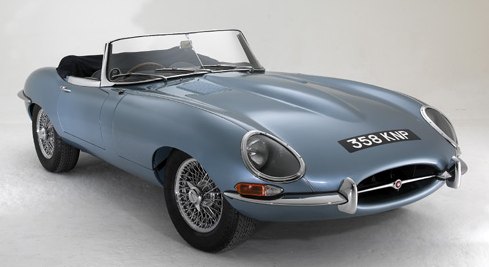 In this classic car archive two marques are most frequently associated with the word "beautiful". One of them is Ferrari, thanks to the work of Pininfarina. Another is Jaguar. Jaguar did not produce many sports cars, but nearly every one of them was regarded as the most beautiful car of its time. This observation applied to the SS100 of 1930s, XK120/140/150 of 1940-50s as well as the one we are talking now, the E-type of 1960s. They occupied a golden era spanning across 4 decades.

If you are familiar with me, you must know Jaguar E-type is one of my three favourite designs of all time. My love with this car started in the mid-1980s when a E-type roadster used to park nearby my home. I guess I am not alone. Enzo Ferrari, for example, was quoted as describing the E-type as "the most beautiful car ever made" - although he must have said that before launching his beloved 250GT Lusso. The E-type consistently ranked at the top three of many polls. It was also one of the two road cars permanently displayed at New York Museum of Modern Art – by the way, the other is Cisitalia 202, mainly chosen for its influence to subsequent designs.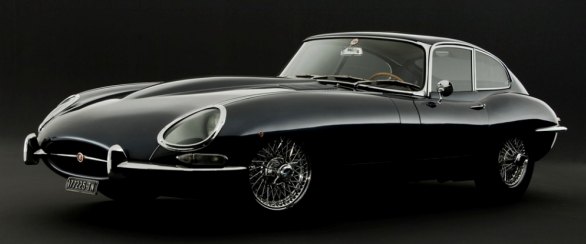 Surprisingly, this masterpiece was not penned by Sir William Lyons, who designed all Jaguars until then, but by his aerodynamicist Malcolm Sayer. No wonder it looked so sleek and windcheating. Air flowed gently from the oval nose over the curvy fenders towards the slim tail. Quite different from contemporary sports cars and even its predecessor XK150, the new Jag appeared to be much longer, lower, slimmer, smoother and therefore faster. But the most impressive of all was its purity.

Like the previous XK150, the E-type was powered by the well-known 3.8-liter twin-cam XK6 engine. It produced an impressive 265 hp and 260 lb-ft of torque at the flywheel. The engine was mounted completely behind the front axle to achieve 51:49 weight distribution. In the early tests conducted by Autocar, Motor and Road & Track in 1961, the pre-production E-type topped 150 mph, a first for production cars. Although the subsequent production car failed to repeat this, it was still comfortably the fastest production car in the world and ran remarkably close to the exotic Ferraris and Aston Martins that cost several times its price.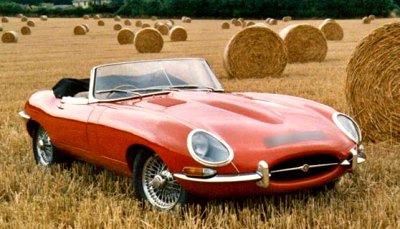 However, the biggest advancement from XK was chassis. E-type employed a semi-monocoque structure, i.e. the central section was monocoque while the engine, front and rear suspensions were mounted on tubular subframes bolted to the monocoque. This was much lighter than the previous body-on-frame structure, thus the E-type could undercut XK150 by some 200 kg ! The new car also bettered the old car by introducing independent rear suspensions and all-wheel disc brakes as standard. As a result, it provided much better handling and exceptional ride quality.





During its 15 years life time, the E-type evolved several times. The original Series 1 was available in 3 body styles - roadster, fixed head coupe or later on a long-wheelbase 2+2 coupe. In 1965 the engine was enlarged to 4.2 liters to improve torque output, while the 4-speed gearbox was upgraded to fully synchromesed. Series 2 was launched in 1968, which was mainly redesigned to cope with new US safety regulations. It introduced US-compliant bumpers and headlamps, which lost the transparent plastic covers.




Series 3 roadster


Series 3 from 1971 saw the biggest change - a new 5.3-liter SOHC V12 engine replaced the old straight-6. It might be not as powerful as Italian V12s, but it delivered exceptional smoothness and quietness that not even Rolls-Royce ever did. It was also the first mass production V12 in post-war era. To accommodate the V12, the Series 3 chassis got longer wheelbase, accompanied with wider tracks, wider tires, better equipment and a restyle with more chrome. However, the extra weight and drag offset most power gain, thus it wasn't much faster than the early cars. Nevertheless, Series 3 and Series 1 had very different characters. One was an effortless high-speed grand tourer. Another was a true sports car. Like apple and orange, it is hard to say which one was better.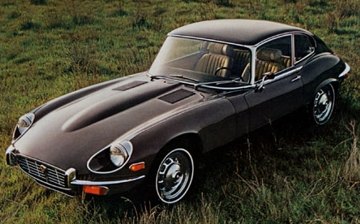 Series 3 2+2 coupe