Not many Japanese cars can survive for a full decade without a major make-over. Mazda MX-5, Lexus LS400 and Honda NSX ... that's all I can think of. All of them have a common reason to make them so durable - they are extremely good and won praises all over the world. Among them, NSX is especially highly admired by Japanese because it is the first (and still the only one) Japanese supercar.

When I say supercar, it is not defined by 0-60 mph timing. If so, there would have been a dozen Japanese cars worth this title more than the NSX. Instead, what we call "supercars" are those able to stand proudly beside Ferraris and Porsches, go as well and keep millionaires loyal to. Unquestionably, NSX is still the only supercar ever produced and engineered by Japanese.

Brief history

The NSX project started in 1984, when Honda's F1 racing engine started showing strong performance in Formula One scene which eventually dominated the second-half of the 80s and early 90s. Undoubtedly, Honda had been one of the most technological advanced car makers in the world (especially is for powertrain technology) and had already gained recognition from F1 insiders, however, the majority of road car customers were still yet to perceive that. From F1 to Civic or Accord, obviously, there was a missing ring to bridge the sophisticated image - a high performance mid-engined supercar. Therefore the NSX got the green light.

As I always said, being a Japanese (or Korean) car to gain respect from the Western must require 110% effort. Even so, the earliest NSX, which was launched in Japan in 1990, was still criticised by European magazines as lack of character. Otherwise, there were nothing to complain with. Its aluminium chassis was the first one applied to production car (be care, not "mass production" here) and guarantee lightness that the contemporary Ferrari 348tb lack of. The 3-litre V6 is unusually small compare with Ferrari's 3.4-litre V8 or Porsche's 3.6-litre flat-six, yet squeezed out some 270 hp with a revvy manner, thanks to the adoption of VTEC variable valve timing.

Originally, VTEC was not in the plan. The NSX prototype unveiled in 1989, as I remember, was lack of VTEC and produced only 250 hp. However, in response to the rumours that Ferrari would upgrade its 270hp 328GTB to 300 hp 348tb, VTEC was eventually carried over from the Japan-bounded CRX and Integra, hence adding 20 more horses. Such high specific output (that is, horsepower per litre) was also contributed by titanium connecting rods, which raised rev by 700 rpm due to its lightness. Therefore NSX became the first road car to use titanium con-rods.

As a result, the earliest NSX could do 0-60 in 5.7 seconds and top 168 mph, according to road test results from R&T. It's just marginally slower than Ferrari 348 and Porsche 911 Carrera. In terms of handling and ride, NSX displayed excellent road manner that was unheard before. While it handled at least as precise and as communicative as rivals, it rode more comfortable than Ferrari and being far easier to drive, thanks to the light clutch, slick gearchange, smooth power delivery, superb all-round visibility and ergonomical cockpit. Undoubtedly, NSX was the most refined and practical supercar ever made.

American journalists accepted this car right from the beginning, but European traditionalists still refused to accept a supercar coming from the East. Most criticism was about its lack of character - Japanese exterior styling, interior lack of sense of occasion, V6 did not sound as distinctive as Porsche or as exciting as Ferrrari. Although admitting all its objective goodness, they refused to rank it above the flawed Ferrari 348 tb, if not 911.

After winning "the best handling car contest" by Autocar and Car magazines, NSX eventually was given the title it deserved in 1994. Admittedly, Ferrari's 1994 conversion of 348 tb to 348 GTB was a decisive reason to the recognition of NSX. The newer Ferrari was actually more difficult to handle and is now regarded as one of the few failures from Maranello. Anyway, Autocar rated NSX first in a triple test against the 348 and Porsche 911 (964) Carrera.

From 3.0 to 3.2 - Technical Analysis

NSX enjoyed the crown from British motor press for less than a year. The debut of Ferrari's mighty F355 took it back. Porsche's much improved 993 Carrera became another great threat, especially it was cheaper.

Oddly, Honda reacted slowly to tough competition. The first major revision was not launched until 1997, or 7 years after debut. Yet the changes were rather modest compare with Porsche's upgrade from 964 to 993, or Ferrari from 348 to F355.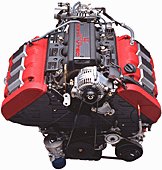 Highlight was a more powerful engine. The all-alloy V6 was bored out to reach a total capacity of 3179 c.c., compare to the original car's 2977 c.c.. Increment of bore was implemented by replacing the cast iron cylinder liner with ... guess what ? not Nikasil coating, it's fiber-reinforced metal (FRM) cylinder sleeve. It provides the same low friction surface as cast iron liner but is just 0.5 mm thick, thus enlarged the bore by 3 mm. Now the combustion chamber is even more oversquare, measuring at 93.0 x 78.0 mm, enabling 20 more horsepower without hurting revvability.
Benefited by the larger bore, intake valves were enlarged by 1 mm in diameter, together with revised rebound springs and valve seats. This alone contributed to half of the power increment. In the exhaust side, lightweight welded stainless steel exhaust manifolds replaced the original cast-iron ones. Otherwise were unchanged from the 3.0-litre unit. The VTEC is still there. Forged steel crankshaft is still there. Titanium connecting-rod is still there, despite of minor revision. The same variable volume intake system takes care the mid-range torque by opening the second plenum at around 4,600 rpm in order to create a resonance effect, which creates pressure wave matching the opening of intake valves, thus enhance cylinder filling. Doesn't it sound familiar ? you might have heard the same theory for Porsche's VarioRam system.
Mated to the V6 is a twin-plate clutch and a new 6-speed manual gearbox. The transmission is renowned for its compactness - with the same dimensions as the old 5-speeder. The extra gear enables closer ratio for all gears.
The aluminium chassis is basically unchanged except using a stronger type of aluminium alloy. The whole chassis and body weighs 208 kg, or some 40% lighter than equivalent made of steel. The structure is very complex. Main chassis rails and side sills are made of extrusion, then welded to stamped floorpan and body panels. Smaller parts, such as front and rear suspension subframes, are made of casting. The human intensive assembly process takes place in the Takanazawa plant near Tochigi.
Control arms for all double wishbones suspensions are also made of forged aluminium alloy for higher strength and lightness. Likewise, alloy wheels are also forged. Brakes were enlarged to cope with increased power.

On the road

Opinion about NSX's styling has been quite polarised. Some criticise its lack of artistic profile, memorable details or sense of occasion. Some criticise it as too civilised. However, it is not deniable that it looks exactly a mid-engined sports car as it is. The low shoulder line is obviously inspired by the Ferrari 308 / 328GTB, which was the benchmark during the development of NSX. Low shoulder line enables large windscreen and windows, not only benefiting all-round visibility but also makes the car looks clean and pure. Myself prefer such profile than Audi TT's high shoulder line / small windows. Admittedly, the world is rotating towards the opposite direction as the NSX. Look at the Ferrari 360 !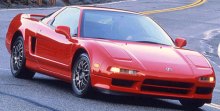 Compare with the latest Ferrari and Porsche, NSX's long tail seems rather outdated. Again, regardless to current fashion, I have no complain about that, especially is it enables a large boot at the back of engine compartment capable of storing 2 golf bags ! Ferrari and Porsche have to store that in the cockpit, behind the front seats.
Inside, lack of character is also obvious. There is high transmission tunnel to remind you that this is a mid-engined machine before starting the motor. Otherwise looks pretty civilised. The dashboard and center console are purely Japanese. Ergonomics, however, is not short of. Every controls are well-positioned, especially is that the pedals are not too offset towards the center. Seats are comfortable yet supportive. Head room is rather good for the time being, but no longer matching Ferrari 360 and of course, the tall 911. Driver sit very low, as expected for a mid-engined supercar, yet visibility is undoubtedly the best ever seen. Thanks to the huge windshield and glass-house like windows (especially is the swallow rear window), the driver can view objects over a wide 312° angle. Best of all, the lack of C-pillar provides a world-beating rear-quarter visibility.
The 3.2 V6 is no longer the most efficient normally aspirated 6 cylinder in the world - both Porsche 911 GT3 and BMW M3 reaches 100 hp / litre. However, it is still the highest revving six-cylinder in the world, with a redline at 7,500 rpm. Power delivery is very linear, perhaps linear enough to be called characterless. There's no explosive manner like 360 Modena at 3,000 rpm, not even the growl deliver such thrill. At all speed, the Honda VTEC unit feels less powerful than the Ferrari and 911 GT3, as confirmed by the specifications - 290 hp versus 400 hp and 360 hp. 224 lbft versus 275 lbft and 273 lbft. First round knocked out.
Nevertheless, the V6 is very smooth and eager, with a good manner that make it so drivable in city. The twin-plate clutch is light and progressive. New 6-speed manual is one of the best in the industry, slick and with short throw shifter. There's no sequential box like Ferrari's Selespeed, not even a 5-speed semi-auto like Porsche's Tiptronic, just a 4-speed F-matic. Worst of all, Honda's auto box cannot handle the torque of the 3.2-litre engine, so the old 3.0 V6 is the only choice for those require an automatic NSX. We'd better to forget that.
The NSX can do 0-60 in around 5 seconds, that's half a second off from Ferrari or 911GT3. Accelerate to 100 mph sees even greater difference - at least 2 seconds separate them.
Handling used to be NSX's strength, now being eclipsed by the latest Ferrari and Porsche. The lightweight chassis still balances beautifully. The double wishbones suspensions still provide good body control without sacrificing ride quality, thanks to low unsprung weight achieved by aluminium suspension and forged wheels. The soft-compound Yokohama rubbers are still glued to the ground when they are fresh. Narrow front tyres (just 215) and new electric power steering provides superb steering feel. However, at the limit, the NSX does not corner as swiftly as rivals. Here, the narrow tyres show their limit, especially at the latter half of their life (they are easily worn out). At high speed, the NSX is more prone to aerodynamic lift, unlike 360 Modena which keeps pressing to the ground. After all, the aerodynamics of NSX could be dated back to the late 80s. Drag coefficient is 0.32 while lift coefficient front and rear are 0.014 and 0.045 respectively. NSX's braking is also less impressive because it does not have discs as big as rivals.
As Ferrari has switched to aluminium chassis also, and Porsche managed to lighten the steel-monocoque 996, NSX has lost advantage in weight. According to official figures, a fully equipped NSX weighs around 1370 kg, just 20 kg lighter than 360 Modena or even 20 kg heavier than 911 GT3. Moreover, the chassis was virtually never altered during its 10 years history. Then the deficit of punch, braking power and cornering limit are even more obvious. No wonder NSX no longer won the heart of motor journalists. It's not outdated yet, just eclipsed by the substantial improvement made by European rivals.
Honda seems quite reluctant to replace it - the successor won't appear earlier than 2003 as we know. Strange but understandable. The mission of NSX was fully achieved - to raise the image of Honda. Today, continue developing the car would neither raise the image further nor generate profit. Until the end of 1998, Honda had sold only 17,441 NSX, and amazingly, some 8403 of which were sold in the first full year production, 1991. Since then public interest frosted rapidly ... in 1998, just 494 cars were built to meet the dying demand. At the same year, Ferrari built more than 2,000 F355. Obviously, the car has been making loss for years, especially considering the high cost of its complex aluminium chassis. With so much unoccupied capacity in the Takanazawa plant, no wonder Honda decided to build the new S2000 alongside NSX.