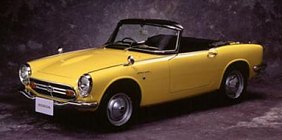 Honda S500 series was the first Japanese sports car that won admiration from the Western world. In the early 1960s, Honda had already dominated the motorcycle world, but Soichiro Honda wanted to go one step further – motor car production. His first entry to the car world was this little sports car.

Launched in 1963, S500 was considered to be much more advanced than contemporary British sports cars like MG Midget and Triumph Spitfire. In fact, many people compared it to the mighty Lotus Elan. The S500 was flyweight by any standards – 725 kilograms, 3.3 meters long and 2 meters in wheelbase. It was smaller than the aforementioned rivals. It had all-independent suspensions by A-arms and torsion bar up front, trailing arms and coil springs at the rear. Like motorcycles, the rear wheels were driven by chains from the differential. This means the differential split power to two shafts, one drive the left rear wheel through a chain and another drive the right rear wheel through another chain. This was a clever, if strange, solution to provide independent suspension.

However, the highlight of the Honda was its engine – all-aluminum, 4-cylinder, twin-cam cross-flow cylinder head and 4 carburetors, it was the most technological advanced engine people could imagined at that time ! In contrast, most British sports cars still employed iron engine with push-rod head. No wonder Honda could enter F1 racing in 1964. The high-tech features complemented the lack of capacity – like motorcycle engines, it displaced only 531 cc, but it could spin to more than 9500 rpm ! At 8000 rpm it produced 44 horsepower, giving the lightweight machine a respectable 80 mph top speed.

Nevertheless, to export to overseas market would require more power. In 1965, Honda enlarged the engine to 606 cc and raised its output to 57 horsepower at 8500 rpm. The resultant S600 could top 90 mph. Two years later, S800 was born with a 70 hp 791 cc engine and a top speed near 100 mph. That was also the ultimate evolution.

Both S600 and S800 enjoyed considerable sales success in overseas market, if not as successful as the later Datsun 240Z. People loved its high revving engine as well as its good handling. It earned Honda high regards in the motor car world and paved the road to its mass production Civic.