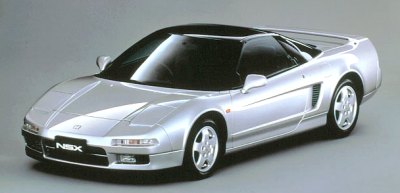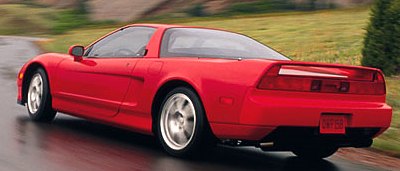 The birth of Honda NSX in 1990 represented the peak of Japanese motor industry in its booming period. At that time, Honda's racing engines had been dominating Formula One for several seasons. Its Civic and Accord also achieved sales success worldwide. However, to get the recognition from Western hardcore, the Japanese needed to do something even greater. While Toyota was working hard to build its first luxury car (Lexus LS400), Honda decided to develop a mid-engined sports car that could rival the best sports cars in the world, namely Ferrari 328 GTB and Porsche 911. This car turned out to be the NSX, whose name stands for New Sportscar eXperiment.

NSX demonstrated many of the world's most advanced technologies. At a time when Ferrari and Porsche still employed steel chassis, the Honda introduced the world's first aluminum monocoque chassis. It was constructed by extruded rails, stamped floorpan and casted subframes spot welded together, then covered with aluminum skins. The whole structure weighed just 200 kg, helping the NSX to achieve a low kerb weight at 1350 kg.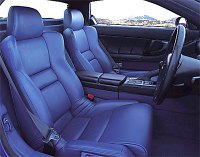 The NSX's exterior design often split opinions. Although it lacked the sexy shape of Pininfarina or the character of Porsche, its slim, low-slung and glasshouse proportion was a refreshment to our eyes. Purists loved its no-nonsense, function-oriented design. It offered excellent all-round visibility, a low drag coefficient (0.32), little aerodynamic lift and a large boot behind the engine compartment capable of swallowing two golf clubs. Inside, the cockpit was roomy and supplemented with excellent ergonomics. In addition to the Japanese reliability and good servicing, NSX was generally regarded as the most user-friendly supercar ever made.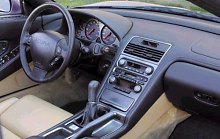 The original NSX was powered by a V6 displacing only 2977 cc. Never mind, the famous F1 engine maker had plenty of technologies to boost its efficiency - VTEC variable valve timing and lift system, resonance-type 3-stage variable volume intake system and the world's first application of titanium connecting rods on road cars. They raised its redline to 8,000 rpm and enabled some 270 horsepower at 7300 rpm. The engine was also very light - thanks to aluminum head and block - and space-saving - as it was mounted transversely behind the cockpit together with the 5-speed gearbox and limited slip differential.

The original NSX could top 168 mph on long straight. It took 5.7 seconds to accelerate from 0-60 mph and 13.1 seconds to 100 mph. Although these figures were competitive against the Ferrari and Porsche it benchmarked, they were not quite enough to match the new generation Ferrari 348tb and Porsche 911 Carrera.

However, the strength of NSX was handling and ride instead of performance. Excellent balance, superb agility, precise steering and good grip from the soft compound Yokohama tires were the result of tireless testing at Honda's Suzuka circuit and Germany's Nurburgring (Ayrton Senna also gave some help). Surprisingly, it even rode very well, thanks to the narrow tires and low unsprung weight made possible by the forged aluminum double-wishbones suspensions. Furthermore, unlike the temperamental European machines, NSX showed very high level of refinement in its controls. For example, the clutch was lightweight and easy to modulate. The gearshift was slick and precise. The engine was willing, linear and responsive. Never before a supercar was so easy to drive fast.




No wonder it won overwhelming praises from British car magazines. Autocar rated it first in a triple test involving Ferrari 348 and Porsche 911 (964) Carrera. It also won the magazine's Best Handling Car contest in 1991 and 1992. Similar titles were earned from CAR magazine and Performance Car magazine too. To sum up, let me quote the verdict from Autocar in 1992, "

The NSX is the best-handling and the most accomplished sports car in the world - a genuine marvel.

"



Evolution



When NSX was launched in 1990, it was a smash hit in Japan and USA. This must thanks to its talent as well as the advertising effect of Ayrton Senna. After the first wave, sales declined to merely a few hundred cars per year and kept until its production ended in mid-2005. During those 15 years, Honda made little changes to the NSX. Why ? Because the NSX was hardly profitable. Its aluminum chassis, bespoke components and human intensive production process resulted in extreme costs which was obviously unrecoverable from sales. As Japan went into a lengthy economic recession in the early 1990s, Honda could not afford to keep pumping big money into this image model.

7 years after launch, NSX finally received the first performance upgrade. The V6 was bored out to 3179 cc by using ultra-thin fiber-reinforced metal (FRM) cylinder sleeves instead of cast iron cylinder liners. Horsepower and torque increased to 290 hp and 224 lb-ft respectively. A close-ratio 6-speed gearbox replaced the 5-speeder. Larger wheels, larger brakes and wider rear tires were adopted. 0-60 mph now took 5 seconds dead.

However, the 1997 upgrade helped little its sales because it improved the car too little and too late. In contrast, Ferrari F355 and 360 Modena and Porsche 996 had taken a giant leap forward. Now NSX had lost its lead.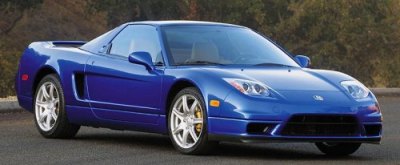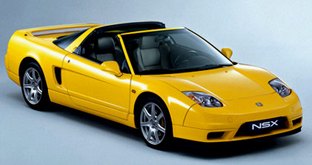 The NSX soldiered on for another 5 years before a facelift was introduced. The 2002 facelift replaced its pop-up headlamps (a trademark for 1980s sports cars) with fixed units under transparent covers. This slashed some weight and reduced drag coefficient to 0.30. As a result, top speed increased to 175 mph. Disappointingly, the engine and transmission were untouched, while the chassis received minor modifications like larger front wheels, wider rear tires and stiffer suspensions. Again, this facelift came too late and did too little.

By the time the NSX retired in 2005, Ferrari had produced 3 generations of its V8 line (348, F355 and 360) and Porsche had completed a revolutionary changeover from 964 to 993 to 996. NSX failed not because of its own fault, but the lack of commitment from Honda.
Honda produced two batches of limited production NSX-R (some referred to "NSX Type-R" but it was never the official name), the first from 1992-95, the second from 2002-04. Both of them concentrated on weight reduction and more aggressive tuning.

The first NSX-R undercut the standard car by 120 kg thanks to a stripped out cabin – by deleting air-con, power windows, power steering, audio system and sound deadening materials, by using lightweight Recaro bucket seats, Momo racing steering wheel and titanium gearshifter knob, and by ditching the spare tire. By the way, it set out the formula to be followed by the later Integra Type R and Civic Type R.

The 3.0-liter engine of the first NSX-R was tuned to deliver 10 more horsepower than the standard car, while a lower final drive ratio biased towards acceleration. As the car was set up for track use, its suspension setting was about 100 percent stiffer than stock. This inevitably came at the price of ride quality on regular roads.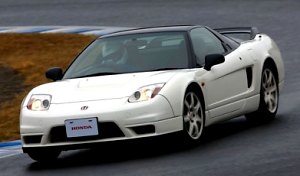 The second batch of NSX-R was derived from the facelifted (post-2002) NSX. It adopted the same weight reduction measures and suspension tweaks as aforementioned, further supplemented with some aggressive aerodynamic tweaks. The front bonnet (made of carbon-fiber) featured a large air outlet to generate positive downforce. A larger rear spoiler (also carbon-fiber) did similar thing to balance the weight distribution. A slightly higher drag (0.32) and lower final drive ratio resulted in a lower top speed than the standard car, but official figures of 0-60 mph improved from 4.8 to 4.4 seconds. It also set an impressive lap time of 7 min 56 sec in Nurburgring.

Officially, the 3.2-liter engine of NSX-R had the same output as the stock one, but in reality it was smoother, more responsive and more powerful at the upper rev, thanks to fully balanced pistons, con-rods and crankshaft. Each of these moving components were weighed and controlled within a tight tolerance. The electronic throttle was also tuned to be more responsive.

The NSX-R was a focused track car. This sounds at odds to the original NSX, which was renowned for refinement and user friendliness. However, motoring journalists loved its great handling, sharp engine response and pure communication through the unassisted steering. These qualities made it a match to Porsche 911 GT3 and Ferrari 360 Challenge Stradale. It also put a perfect ending to the once mighty Japanese supercar.