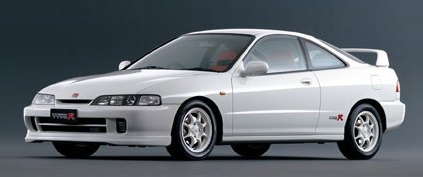 Japanese ITR had square headlights, while European had round ones


One of the stars of the 1990s. Many motoring magazines declared it as the greatest front-wheel drive machine ever made.

The Integra Type R was built on a solid basis - the third generation (codenamed DC2) Integra. It inherited the DC2's beautiful design, all double-wishbone suspensions and high-tech 1.8-liter VTEC engine. However, in the creation of Type R, Honda applied a lot of racing know-how and produced it in a human-intensive way. As a result, the Integra Type R was the closest thing to a race car in Honda's lineup. More so than any other affordable coupes. Think a Honda version of 911 RS 2.7.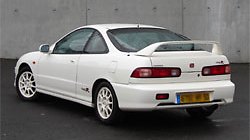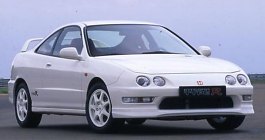 The ITR's B18C 1.8-liter DOHC VTEC engine was a work of wonder. Largely built by hands, it employed a lot of racing components, such as forged aluminum pistons with low-friction molybdenum coating, lightweight connecting rods, stiffer crankshaft, lightweight intake valves and hand-polished intake ports. The high precision tuning allowed a very high 11.1:1 compression ratio, higher valve lift and faster cam timing. Larger intake manifolds and smoother exhaust pipe welding enhanced breathing efficiency. In addition to Honda's unique VTEC system, which combined fast cams and slow cams on the same camshafts, this engine could rev to 8400 rpm redline and generate 190 hp (DIN) or 200 hp (JIS) at 8000 rpm, or 20 horsepower up from the standard Integra engine. Such figures were unheard for a production 4-cylinder engine of this size. Even today it still sounds incredible !


Unlike many Honda VTEC engines of its time, the B18C engine, which was a long stroke version of the B16 engine of contemporary fast Civics, produced satisfying amount of torque. Although peak torque of 131 lb-ft didn't arrive until 7300 rpm, at 3000 rpm there was already 125 lb-ft. In addition to a close-ratio gearbox and a lightweight chassis, performance was good enough to match many turbocharged rivals, for instance, Fiat Coupe 16V Turbo.

However, what made the Type R really outstanding was its chassis, which was both light and stiff. 40 kilograms were slashed by deleting air conditioning, sound deadening and stereo, by using thinner windscreen glass, lightweight Recaro bucket seats, Momo steering wheel and titanium gear knob. Suspension tower braces reinforced the chassis and reduced variation to suspension geometry. 10mm lower ride height, firmer suspension bushings and harder shocks and springs sharpened body control significantly. NSX-size brakes enhanced stopping prowess. Another important addition was a Torsen LSD. It proved that Honda was really serious to make the Integra Type R a racing car on the road.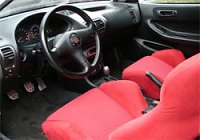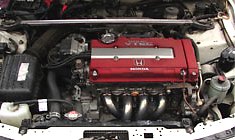 Such efforts paid off on the road. The car had super-sharp handling, strong grip and no torque steer at all. Ride quality was surprisingly forgiving, so it loved to be exploited no matter on glass-smooth highway or back roads. Its high-revving engine was addictive to use. Same for the slick and precise gearshift. Few cars in history achieved such a high level of precision and entertaining character at the same time. Even fewer were so affordable. The only small problem of the ITR was its steering, which could be more communicative.

Like many classic cars, its status is guaranteed by the fact that its successor did not live up to its high standard. The second generation ITR would become heavier, more standardized and more commercial-oriented, therefore less exciting to drive.