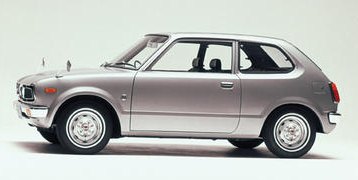 Civic Mk1 (1972-79)
The S500 series took Honda from a motorcycle maker to a sports car maker, but the ultimate goal of Soichiro Honda was to be a volume car maker like Nissan or Toyota. His dream finally came true in 1972 when he launched a mass production small car called Civic.

Viewing it today, the original Civic was neither beautiful nor innovative. However, thanks to the engineering-led approach of Soichiro Honda, it followed closely the latest development trend in Europe, more so than any other Japanese car makers. In 1971, Fiat introduced the trend-setting FF layout with transversely-mounted engine and all-independent suspensions to its 127 mini car. Just one year later, Honda Civic arrived with the same features. That was the same year as Alfa Romeo's Alfasud and 2 years earlier than Volkswagen Golf ! Of course, most other European car makers were still using rear-drive for their small cars, so you can see how advanced the Japanese new comer was. The FF layout gave Civic a relatively roomy cabin out of the 3.4 meters length, while the all-round strut-type independent suspensions gave it good ride quality. Besides, by using thinner gauge steel to construct its monocoque, it was lightweight, fuel efficient and cheap to build. A third place at the 1974 European COTY award proved how impressive it was in the eyes of European jurors.

The original Civic was also famous for state-of-the-art engines. Well, maybe not as outstanding as Alfasud's boxer engine, but for such a small and cheap car a 1.2-liter SOHC all-aluminum four-pot engine was the best people could dream of. Honda's expertise in motorcycle engines and racing engines guaranteed it produced a class-leading 60 hp even in the basic form, or 76 hp in the RS form. Therefore the Civic provided good performance for money.

Another milestone was laid in 1973 when the Civic introduced a 1.5-liter CVCC engine. CVCC stands for Compound Vortex Controlled Combustion. It added a pre-combustion chamber to each cylinder. Fuel was burnt in the pre-combustion chamber first and then spread to the main combustion chamber. This approach allowed leaner air/fuel mixture than conventional engines thus more complete combustion. As a result, the CVCC Civic was the only car meeting the stringent requirements of 1975 US Federal emission regulations without resorting to catalytic converters (hence a cost advantage over competitors). Moreover, it was rated by EPA as the most frugal car in the USA.

Thanks to the 1973 Energy Crisis, the fuel-efficient Civic became an immediate hit in the US market. It opened the gate for volume export to the America and lifted Honda to be a volume car maker.

Evolution
| | |
| --- | --- |
| Mk2 (1979-83) | Mk3 (1983-87) |
| | |
| Mk4 (1987-91) | Mk5 (1991-95) |
| | |
| Mk5 sedan (1991-95) | Mk5 sedan (1991-95) |
| | |
| Mk6 sedan (1995-2000) | Mk6 hatch (1995-2000) |
| | |
| Mk7 sedan (2000-05) | Mk7 5-door hatch (2000-05) |
| | |
| Mk8 sedan (2006-11) | Mk8 hatch (2006-11) |
The original Civic was finally replaced in 1979 by the second generation, then the third generation in 1983, fourth generation in 1987, fifth generation in 1991... The speed of development shocked Western car makers. Compare with contemporary European rivals, Civic usually looked more modern and equipped with sophisticated technology unavailable to its rivals. For example, the 3rd generation Civic put 3-valve-per-cylinder engines into mass production, a first for the industry. The 4th generation upgraded to 4 valves per cylinder, again earlier than everybody else. The 5th generation made VTEC (variable valve timing and lift control) standard. Honda used advanced engines, all-round double-wishbone suspensions and sporty styling by means of low seating position and a sloping bonnet (which was made possible by leaning the engine forward) to create a sporty image for the car, although it didn't really handle as well as the best European hatchbacks. Anyway, it successfully lured younger customers from Toyota and Nissan.

In my opinion, the golden years of Civic ran from the third to the fifth generation, as each of them brought a surprising level of progress no matter in performance, styling or build quality. After that, the Civic suddenly went conservative in the 6th generation (1995-2000). The 7th generation (2000-05) attempted to diversify itself to suit different markets, but it still failed to capture the forward thinking spirit of the 3rd to 5th generation. The 8th generation (2006-11) might look more radical, but underneath the skin was actually an average machine.

Through the years Civic was never lack of fast versions. However, the hottest of which was undoubtedly Type R. Honda introduced the "Type R" label for the first time in 1995 on Integra. Instead of the usual performance enhancement, the Type R represented a really hardcore conversion ranging from stripped-out cabin, hand-built engines to the use of many expensive components. Therefore the Type R was produced in limited numbers and reserved for the domestic market.

First generation - EK9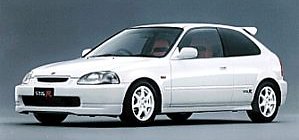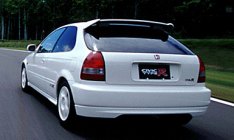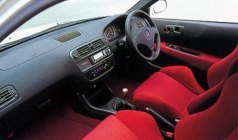 In 1997, Civic also received the Type R treatment. Based on the 6th generation Civic's EK9 3-door hatchback body, it was commonly referred to EK9 Type R. Its B16B 1.6-liter DOHC VTEC engine got aggressive tuning including higher compression ratio, lightweight forged pistons, hand polished intake ports and more aggressive VTEC setting. This raised its red line to an astonishing 9000 rpm, maximum power from 170 hp to 185 hp at 8200 rpm. That was some 116 horsepower per liter ! At the time it was the world's most efficient naturally aspirated engine. On the downside, the small engine capacity limited its max torque to 118 lb-ft and it was delivered in a peaky manner. To compensate for the lack of low down torque, Honda fitted a close-ratio gearbox and ordered its chassis to undergo a strict diet. The result was the deletion of air conditioning, power steering, sound deadening and ABS. Besides, the regular seats were replaced by lightweight Recaro buckets, accompanied with serious-looking Momo steering wheel and titanium gear knob. As a result, the Civic Type R weighed only 1040 kilograms. Use its high-revving power smartly, it could accelerate from 0-60 mph in six point something seconds and flat out at near 140 mph.

The chassis of Type R was reinforced by using seam welding and suspension tower brace front and rear. Of course, the double-wishbone suspensions were stiffened a lot to enable flat cornering, while Bridgestone Potenza RE010 tyres provided extra grip. A helical LSD (limited slip differential) was added between the front wheels to ensure no wheelspin during hard cornering. The first generation Civic Type R was a hardcore driver's car, more so than any hot hatches at the time I could think of.

Second generation - EP3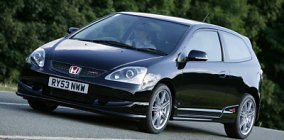 The second generation Civic Type R was derived from the EP3 body of the 7th generation Civic. Surprisingly, it was produced exclusively in the Swindon plant in UK because Honda no longer produced Civic hatchbacks at its home country. Also changed was its market positioning - no more exclusive hardcore driver's car, now it wanted to sell large quantity in the European market. That means it had to sacrifice the expensive limited slip differential and Recaro seats. The chassis was much the same as the standard car except riding on 15 mm lower ride height and reinforced by tower bars. The engine was no longer hand-built, but a detuned version of the contemporary Integra Type R's unit. To make it easier to live with, its cabin had all the creature comfort of the regular car, while the suspensions were set to be far more absorbent than the first generation Type R. Now the whole car weighed some 1200 kg.

Nevertheless, the EP3 Type R was still quicker than EK9 in real world, thanks to a larger K20A 2.0-liter DOHC i-VTEC engine. The K20A might had lost human intensive treatment, but its 400 cc extra capacity and the adoption of new i-VTEC system, which added continuous variable intake cam phasing to the existing cam-switching VTEC mechanism, pushed maximum output to 200 horsepower at 7400 rpm. The engine was not as high-revving as before, but it produced far superior mid-range torque - from 3000 rpm upward there was at least 90 percent of the maximum 145 lb-ft available. In addition to the new 6-speed close-ratio gearbox, the new Type R could top 146 mph and did 0-60 mph in 6.7 seconds.

Although hardcore drivers never adored the EP3 like its predecessor, its wonderful engine, strong performance, slick gearchange, accessible handling and roomy cabin won high acclaims from the British press. It was also once the class leader in AutoZine's hot hatch rating. Its biggest weakness was a numb steering, blame to the use of electric assistance. Some people disliked its tall and fat appearance, but with the Type R cosmetic enhancement it actually looked prettier than the EK9.

Third generation - FD2 and FN2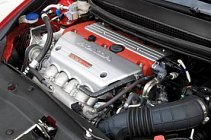 FN2: European Type R hatchback
The third generation Type R followed the regular Civic Mk8 to provide 2 different versions. FN2 was derived from the European Civic hatchback and again it was assembled at the Swindon plant. While its exterior and interior design looked radical, its mechanicals were less so. The engine was again that high-revving K20 2.0-liter i-VTEC, tuned to deliver a slightly flatter torque curve, a smoother but less exciting VTEC switchover and better refinement by the addition of balance shafts. However, its maximum power remained much the same at 201 hp, whereas kerb weight was up by 67 kg, so its performance was unchanged and now overwhelmed by many turbocharged European rivals. The hatchback's downgrade to torsion-beam rear suspension hurt body control on bumpy roads, although ride refinement was actually improved from the old car. A quicker ratio steering, wider tracks, larger brakes and fatter tires clawed back some marks, but not enough to put it back to the top of the class.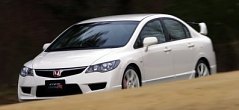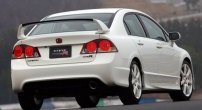 FD2: Japanese Type R sedan
Interestingly, the FD2 Type R based on Japanese/American Civic sedan might look more civilized but it was actually the more hardcore choice. Its Japanese spec. engine was more highly tuned, running 11.7:1 compression instead of the hatchback's 11.0:1, plus larger diameter throttle body and higher flowing intake and exhaust manifolds to deliver 225 hp (JIS) at 8000 rpm, giving it an edge in straight line performance over the hatchback.

Although the sedan body was larger, it was also stiffer than the hatchback. It weighed the same too, thanks to a striped-out interior. Besides, it got stiffer springs and dampers, lower ride height, larger Brembo brakes, a standard Torsen LSD and a large rear spoiler. The multi-link rear suspension delivered superior control over the semi-independent stuff on the hatchback. The handling was sharp and precise like a track car, as was the rock-hard ride. The hydraulic steering offered more direct feel than the usual electrical power steering. All in all, it was a superb hardcore driver's car like the original EK9.