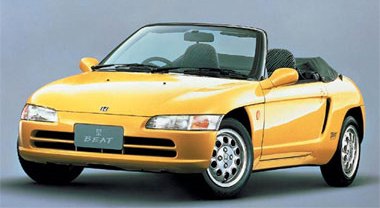 After the stunning NSX supercar, Honda shocked us again in 1991 by introducing the world's smallest mid-engined roadster, Beat. Measuring just 3.3 meters long and powered by a 660 cc engine, it was not only smaller than Fiat X1/9 and Toyota MR2, but actually fell in the Japanese Kei-car category. People usually described it as a mini-NSX or a modern S800.

Developed by a team of engineers averaging less than 30 years old, Beat had a funky exterior and interior design which turned out to be popular to young people. Despite of the small size, its cockpit was pretty roomy. This must thanks to the compact Kei-car powertrain which came from Today (Honda's production Kei-car) and installed at the rear axle. The powertrain was offset to the left in order to allow the fuel tank to locate at its right side. Each corner employed space-saving MacPerson strut suspension. The only weakness was luggage space, or the lack of it, since the front boot was almost fully occupied by the spare tire.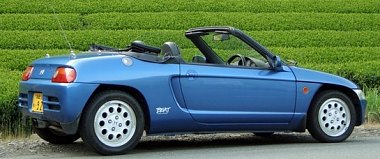 The small 3-cylinder engine employed a single camshaft driving 4 valves per cylinder. Worth-noting is that it used drive-by-wire throttle and each of the cylinder had its own throttle butterfly, very advanced for its time. This resulted in a smoother intake flow thus explained why the naturally aspirated engine could produce 64 horsepower at 8100 rpm. Following its tradition, Honda resisted the temptation of turbocharging, so the Beat was quite short of torque. However, it rewarded its driver with a linear and high-revving power delivery, plus an exciting engine noise.

The Beat was slow by sports car standards. Its top speed was electronically limited at 135 km/h according to domestic regulations. 0-60 mph took as much as 13 seconds, considerably slower than its main rival Suzuki Cappucino (which was turbocharged). However, in subjective terms it felt faster than it actually was, thanks to the loud, motorcycle-like engine note and the open air experience. It felt even better in the twisty, where its superior agility, balance and precise steering excelled.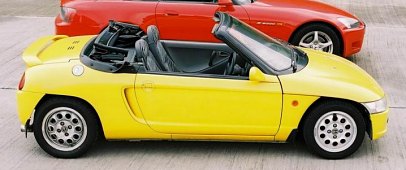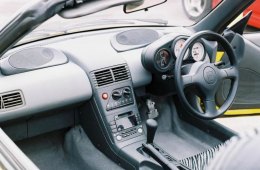 Nevertheless, the love affair with Beat didn't last long. After a hot start, its sales cooled down quickly. The market simply did not have enough customers looking for a Kei-car roadster while could forgive its high price, slow performance and lack of luggage room, especially when Japan was getting into economic recession. Beat went into history book in 1996, after 33,635 units built.